Mohawk Valley Community College's Rome campus was the perfect venue to showcase the Ed McCain Acoustic Trio and the sold out crowd was treated to an amazing performance.  Ed McCain, best known for his songs, "I'll Be" and "I Could Not Ask For More", played these crowd favorites along with many more that spanned his 20+ year career.  Joined on stage by Craig Shields on saxophone and wind instruments and Larry Chaney on lead guitar, the three performed seamlessly together.
Many times you see acts that sound awesome from the studio and their live show doesn't live up to the hype. Not in this case with Ed McCain.  The live show sounded as good if not better than the recorded versions.  Ed's strong voice and personal presence wins over the crowd immediately, and his personal narration of songs and their road to the studio makes the song more meaningful as though it was now a personal story for the listener.  When Ed shared stories of how the songs came about, the subjects they covered, or the people he introduced to you through the songs there was no way you could hear the song again and not reflect back on the story.
Never again will I be able to hear Marvin Gay's "What's Going On" without thinking of RJ's Barbecue and the story Ed told of this amazing man and his friendship.  Nor will I ever not think sax players have it going on since hearing the story behind the song "One Thing Left" and how no matter how charismatic Ed was that evening, it was Craig that had the pretty girls attention.  Then there was the song "Sign on the Door" that came about after Ed lent an ear to someone sitting next to him one night at the bar.  Songs are written by artists for a variety of reasons.  Sometimes they are to celebrate, sometimes to heal, but no matter how they came to be, we tend to apply to our personal lives.  It's this gift of story telling that makes Ed McCain an amazing writer, performer, and entertainer.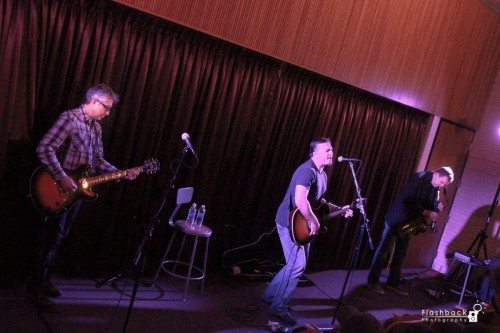 It was a pleasure sitting down and talking to Ed about music, life in Greenville, and his passions for every day life.  This passion that comes across in his music, as well as his genuine love of family, music, and surroundings are what makes his music so personal and loved by many.