Macklemore & Ryan Lewis hit the stage in Buffalo's First Niagara Center with a burst of energy that burned bright throughout their nearly two hour performance.  Opening with, "Ten Thousand Miles", they immediately ruled the stage with unbound force and excitement.  Complete with a violinist, cellist, horn, dancers and pyrotechnics, Macklemore and Lewis came prepared to blow the crowd away.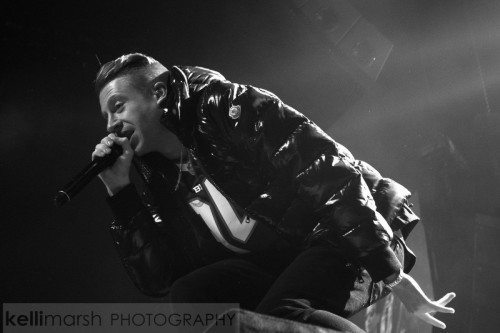 Playing many favorites from their newest album, The Heist kept the fans on their feet and singing along to hits such as, "Thrift Shop" and other favorites "Make the Money" and "White Walls".  Performing to a crowd of about 5000, Macklemore, (Ben Haggerty), took a moment to reflect on their last visit to Buffalo a few short years ago where he remarked "there were about 20 people in the crowd".
Haggerty perfectly balanced the explosive performance with moments that felt intimate and warm.  Between powerful songs that had him jumping and throwing fists into the air, he softened when speaking of lessons learned when he struggled with addiction, which he said "Starting Over" was written about.  He also talked about the importance of accepting people as they are, before singing the hit song penned in support of gay rights, "Same Love".  Haggerty's keen ability to combine the liveliness of his rap songs with his soft spirit made the night's performance dynamic and heartfelt.
Macklemore & Lewis have come a long way, but haven't forgotten where they came from.  Before closing with a reprise of  "Can't Hold Us", Haggerty expressed sincere gratitude to the audience for their support of independent artists remarking, "Without you, there is no us."
Setlist:  Ten Thousand Hours, Crew Cuts, Life is Cinema, Thrift Shop, Otherside (A Capella), Starting Over, Make the Money, Freestyle, Same Love (with Mary Lambert & Ed Sheeran), Can't Hold Us, White Walls, Wing$
Encore:  And We Danced, Irish Celebration, Can't Hold Us (reprise)