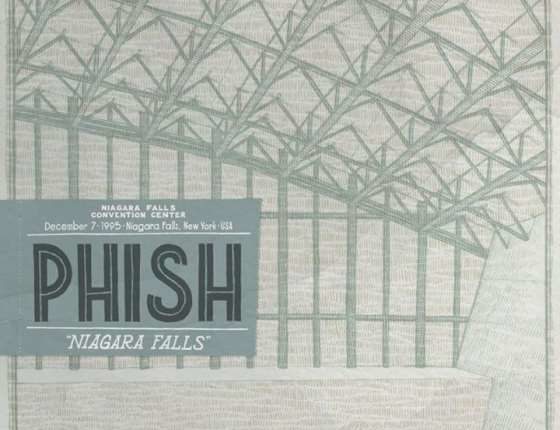 On November 12, the newest edition of the Live Phish series will be available for purchase and features a classic show from one of the seminal eras of Phish history. The selection is the December 7, 1995 show at the Niagara Falls Convention Center, plucked from a time where Phish began to shed the smaller theaters and arenas of the early 90s, but before they embraced the massive popularity they enjoy today, this show contains almost every element that makes this band one of a kind and serves as a can't miss purchase this holiday season.
Listen to Taper Lenny Stubbe's recording of the show

Phish greets the crowd with a somewhat fitting opener in the form of 'The Old Home Place'. After all, they are in Upstate New York, the scene of many memorable shows in their formative years. Bassist Mike Gordon belts out the lyrics in this short but sweet opener before the band gives way to 'The Curtain', one of their earliest original compositions and a somewhat more logical choice to open a show based on the title alone. This is a short but technically sound version and the final guitar chord struck by Trey Anastasio ushers in the beginning of another old school original, "AC/DC Bag", a segue in the truest sense of the word. Here, the band finally gets a chance to let loose and develop the first true jam of the evening as the energy and power of this Gamehendge classic builds to a frantic finish. As it always does, the jam eventually dissipates, with drummer Jon Fishman immediately moving to the hi-hat and begins 'Demand', a short and rather odd original that is found on the band's fifth major album, Hoist. The first set energy picks back up instantly as Phish dives into the title track of their fourth album, Rift. Poignant solos by both Anastasio and keyboardist Page McConnell highlight this song which is played with a fervor so typical of this band in the early to mid 90's.
With energy in the room at a peak, the choice is made to go big with 'Slave to Traffic Light' and big they went. Even though this may be an odd song placement by today's standards, Phish destroys this version with all the passion and exuberance of a show closer. The song's signature slow build is executed to complete perfection and gets capped off by yet another rousing guitar solo that surely left an audience member or two with mouths agape. 'Guyute', a song that made its debut the year prior, follows and 'Bouncing Around the Room' then gives the Niagara Falls crowd somewhat of a chance to catch their breath. This turns out to be important as an absolutely smoking 'Possum' is then delivered replete with scorching guitar licks and precise drum fills courtesy of Anastasio and Fishman, respectively. The two are clearly locked in, as is the whole band really, and this 14+ minute version goes through many a twist and turn before climaxing. While some may say it's a song overplayed these days, this version is surely one even the most jaded vet wouldn't mind hearing on a regular basis; it's that good. A rare first set a capella closer in 'Hello My Baby' follows before Trey tells the audience they'll resume melting faces in 15 minutes.
The second set picks up right where the first left off with a stellar rendition of 'Split Open and Melt' that features a prominent 'In-A-Gadda-Da-Vida' tease at the outset of the jam. This song shows Phish at their improvisational best as the jam just drives along and slowly but surely picks up energy and intensity along the way. More inspirational guitar work and well placed piano fills from McConnell highlight this version which clocks in at over 17 minutes. Always cognizant of the ebb and flow of a setlist, 'Strange Design' then follows which is succeeded by the primitive version of 'Taste' which went by 'Taste That Surrounds' in this era. In fact, this song made its debut not even two months prior and is now a regular on setlists. Feeling the crowd has had a sufficient chance to regain its collective faculties, the Vermont quartet delves into an almost comically uptempo version of 'Reba'. The composed section is played with such a frenzy that if this were a cassette recording, one might think the stereo was in 2x or fast forward mode; it's not even close to the speed of a modern day rendition. However, the ensuing jam slips back into classic 'Reba' mode as the band moves fluidly and cohesively towards yet another stirring peak, highlighted by sublime bass playing and tempo control from Gordon. This is a truly special version and a must hear if only for the novelty of the composed section and the spaced out "sustain" ending. Instead of the typical "whistle" ending, Phish keeps its moving with a standard (read: powerful) version of 'Julius' that allows McConnell another chance to show his chops much to the audible delight of band members and crowd alike.
'Sleeping Monkey' and 'Sparkle' then follow and serve as two short and sweet second set fillers before giving way to one of the true treats of this show, an absolutely stellar 'Mike's Song -> Weekapaug Groove'. They tear through the composed section of 'Mike's' and immediately find themselves locked in a tight, thick groove, no pun intended. Anastasio once again shows off his prowess on the sustain pedal before jumping onto his percussion kit, a staple of the mid 90s's, and leading the group through yet another monster 17+ minute joy ride that's equal parts drum circle and arena rock throwdown. Instead of something light and easy to segue into, Anastasio slowly but surely begins to structure the opening of 'Weekapaug', the rhythm section soon follows suit and an impeccable segue ushers in the arena rock anthem that is 'Weekapaug Groove' that's played with its typical force and energy before yielding into a somewhat spacey finish. Fishman then seems to start the hi-hat intro that signifies the beginning of 'Maze', which surely would've blown the roof off the Convention Center, but instead the band vamps out the ending a little before shutting it down altogether. Never ones to be slaves to conformity, an a capella number also closes the second set in 'Amazing Grace'. 'Uncle Pen' serves as the encore which is another seemingly odd choice for a show with such classic hits and magical moments. As an added bonus, this Live Phish release contains a cut from the show's soundcheck.
This is a fantastic show selection from one of the seminal points in this band's history. It has everything from fun bluegrass covers to classic originals, from precise technical compositions to long, free form improv, from breathers to ragers – all the things that make up the very essence of this band. Live Phish has struck gold once again with this release which is sure to please fans of all varieties.
Key Tracks: AC/DC Bag, Slave to the Traffic Light, Reba, Mike's Song -> Weekapaug Groove