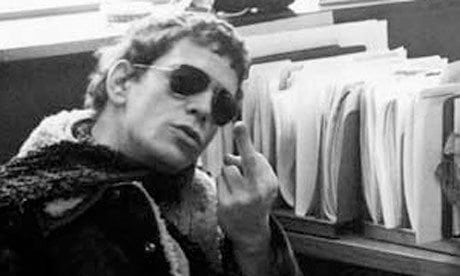 I experienced Lou Reed by proxy while attending a creative writing course at a community school in Troy, NY.  Joe Cardillo walked into his class room, always wearing a black sweater, black leather jacket, Army-issue pants, black-leather boots, topped off with a black beret.  The beret partially covered his black, curly hair, and once the attention to his attire was broken away, his tough, leathery skin revealed he was not among my peers of twenty-year olds.
He was a beatnik who admired Patti Smith.  He smashed the rigid lesson plans we were all familiar with in high school.  Writing did not have to follow a set of rules.  Poetry didn't have to rhyme.  Stories didn't have to flow chronologically (see also Robert Coover's The Baby Sitter).  The very structure of a paragraph need not be followed. 
In my mind, as I write this now, Joe Cardillo was Lou Reed.  If, only, because he looked like him.
Now, that is the extent to my experience with Lou Reed.  Before I heard of his passing yesterday, I knew little of the man.  I knew him to be the man who sang, "Take a Walk on the Wild Side."  On a good day, I may have been able to remember he was in a band known as the Velvet Underground.  I'm sorry to admit that, but at the same time, I grew up on Neil Young, The Eagles and The Beatles.  As a know-it-all teenager, and college student, I would see Reed in his ever-present black shirt, and sunglasses, and I would see a caricature of a man from a time I recognized was twenty years behind me.
So, as I read about the man, I'm less inclined to read over the details that encompassed his life recently.  I'm more interested in how it all started. 
He graduated from Syracuse University in 1964, where he studied journalism, film directing and creative writing, but not before developing a fondness for rock and roll.  As a songwriter, he set out to tell a story.  But, he wasn't invoking Pete Seeger through  folk songs he penned.  He was cynical,  Not because it was cool, but because he had reasons to be cynical. He was Jewish. He was guant.  He was bi-sexual.  (As a teenager, he suffered through electro-shock treatment to "cure" him of such acts.)  He wrote about drugs and sex, not vaguely, but quiet directly. His Velvet Underground was a mid-20th century version of a chamber orchestra for artist Andy Warhol and his factory of artists, writers and actors – a place for exchanging ideas, freely.  (Warhol?  Campbell's soup?  Meek looking, bi-speckled gent with crazy hair?  I've seen him before.  Warhol was shot by a man-hating lesbian?  See also Valerie Solanas – and, yes, she hated men.)  In 1975, Reed released a solo double-album called Metal Machine Music, which included nothing but over-modulated feeback and guitar effects.  Years later, he would collaborate with Metallica, and claim he established the Heavy Metal genre. Others still see it as Reed throwing up a middle-finger to conformity. I only now appreciate the fact that Reed was not a product of non-conformity, it was his non-conformity that established a product – a way of holding one's self in a society that did not accept differences. 
By now, every Lou Reed obituary is quoting from music producer, Brian Eno, who said, "The first Velvet Underground album sold 30,000 copies in the first five years. I think everyone who bought one of those 30,000 copies started a band!" But, it speaks of how Reed's popularity germinated from the 60's and seemed to blossom over the decades.  He was "avant-garde" when it was more hip to say "avant-garde."  As the baby-boomers of his generation grew older, his talent was appreciated more commonly.  And, the following generations seemed to catch on.
Joe Cardillo was blowing my mind while I was still an easily impressionable man of eight and ten.  I still take some of the things I learned from his class with me everyday.  I think it's clear now that Lou Reed had a profound influence upon my instructor. So much so, it permeated into my lessons. I still don't think I'm the right person to be writing this.  I can not properly articulate the influences Lou Reed had upon the masses who now mourn his death.  But, to see some of the names who speak out with such reverence for the man, who am I to think I need to define his legacy? I'm just ashamed that I've only now recognized that Reed is… was prototypical.