As the dog days of summer are coming to an end, there's still time for one last big bash to complete the 2013 festival season. The 4th annual Catskill Chill is set to kick off next week, September 6th-8th, at the scenic Camp Minglewood in Hancock, New York. This camp was made for a music festival, given its secluded location with beautiful views of the Catskill Mountains overlooking a crisp blue lake with plenty of tent space and cabin rentals. One of the many ways the Chill manages to keep a cool and relaxed vibe is keeping the capacity under 5,000, creating an intimate festival experience for fans as well as the musicians.
This year's featured artist includes: The Meter Men featuring Zigaboo Modeliste, Leo Nocentelli and George Porter, Jr. with special guest Page McConnell; Lotus; Galactic; Conspirator; Lettuce; Papadosio; Tea Leaf Green; The Motet – Funk is Dead; Particle, Dopapod; Kung Fu; Sister Sparrow & the Dirty Birds and many more. The parking lot and campgrounds will open Friday at 9 am with music set to start at 3pm and lasting until the early morning of each day. Guests will be allowed to enter the parking lot and campgrounds whenever they are needed with shuttle services provided around the clock. There will be no car camping allowed, so be prepared to carry or wheel in all your gear.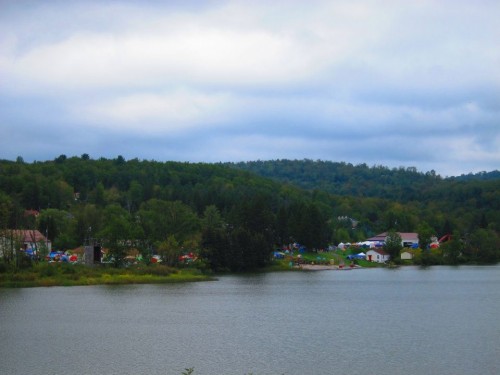 One of the newest additions to the Chill after last year's positive feedback includes a bigger Acoustic Junction stage featuring returning acts Consider the Source,  Brock Butler, The Brummy Brothers , Dan Collins, and new comers Tom Hamilton & Friends, Primate Fiasco and MUN. There will also be a new campsite DJ stage playing host to such acts as Outlet, Horizon Wireless, and Speakerbot. Club Chill has an extended schedule this year giving fans longer sets and dance sessions with artists such as Solaris, Fikus, Shwizz, Aqueous, Spiritual Rez, and Lucid.
There will also be additional yoga sessions with expanded classes, some of which will be accompanied by live music from Cosmal and a Local Farmer's market serving fresh and local produce in Vendor Village. Returning guests, known as The Chill Fam, can look forward to the free parking and camping, the 3 covered main stages and 2 outdoor stages, live art, and on stage-open mic sessions.
The Catskill Chill recently announced the festival closing act will be "Dopadosio" a collaboration featuring all members of Papadosio and Dopadod together, performing Sunday night at 2am. Guests have until Monday September 9th at 3pm to leave the campgrounds. Tickets are still available for $150 but will go up to $175 at the gate with VIP prices set at $235 which includes private viewing sections, commemorative gear, VIP Mimosa Brunches plus much more.
It's hard to believe that with a jam packed weekend schedule featuring a variety of talented musical acts and a limitless activities list, the last thing concert goers will be able to do is chill. However, the festival is going strong with a dedicated Chill Fam that continues to spread peace and love, knowing that when there is a will to Chill, there's a way.