Now in its fourteenth consecutive year, the moe.down music festival has comfortably settled back into its original home at Snow Ridge Ski Resort in Turin, NY. Once again, moe.ville will be alive as fans get down to a dozen bands, including hosts moe.
For the past few years, moe. has been experimenting with new formulas; the attempted change in location (Gelston Castle in Mohawk, NY) for #11 & #12 was a major disappointment to most, but the weekend change from Labor Day weekend to mid-August seems to be accepted by the majority. This year was their first attempt at a VIP upgrade ticket option, which offered a fenced-off section a few hundred feet back from the stage and off to the side, containing its own beer tent, porta-potties, and covered seating area. It also allowed for earlier entry to the site on Thursday, including a pre-festival show and moe. soundcheck, while general campers were still forced to stay in line with their car until the next morning.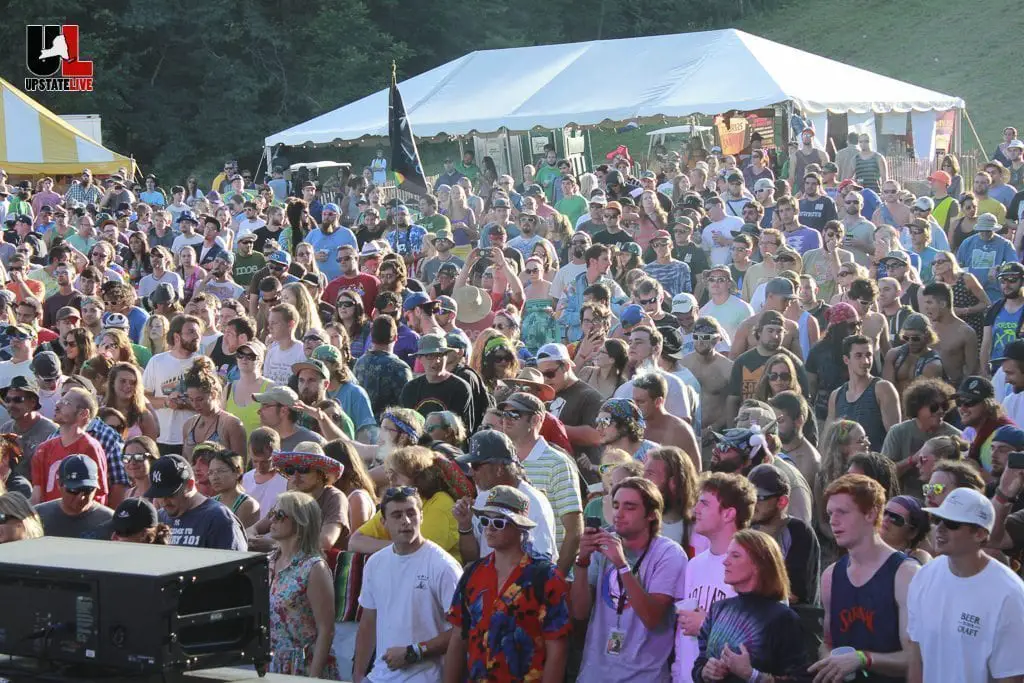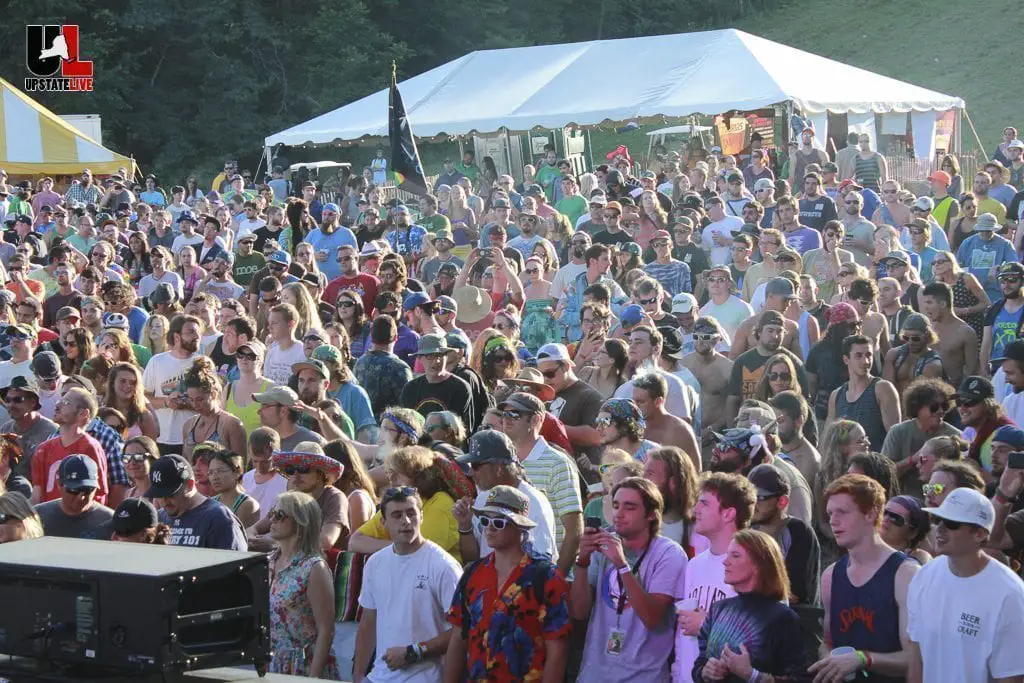 Thursday night into Friday was gloomy and drizzling rain. This is not unfamiliar territory for the dedicated, experienced moe.ron; on Labor Day weekend in years past it was not unusual to have oppressively high 90s heat, pouring rain, or even snow. As usual, the crowd in line Thursday night showed their excitement for the festival by partying all night long, sometimes alongside the nicer of the two groups of security hired for the weekend. Gates opened around 8:30 am Friday morning, and everyone scurried to their favorite campsites with tarps to hold their spot while taking the multiple trips required to cart their weekend's worth of belongings from the parking lot. Music didn't start Friday until 4:30 pm, allowing plenty of time for set up and even a nap. The weather gods were in sync with moe. this year, and the rain stopped just before Pennyshine, Al Schnier's wife Diane's new project, took the stage. Del McCoury's band followed on the main stage, dressed to impress wearing three piece suits and showing the crowd how it's done. Eastbound Jesus gave a great two set moe.down debut and featured the tunes getting some well deserved attention in Upstate NY.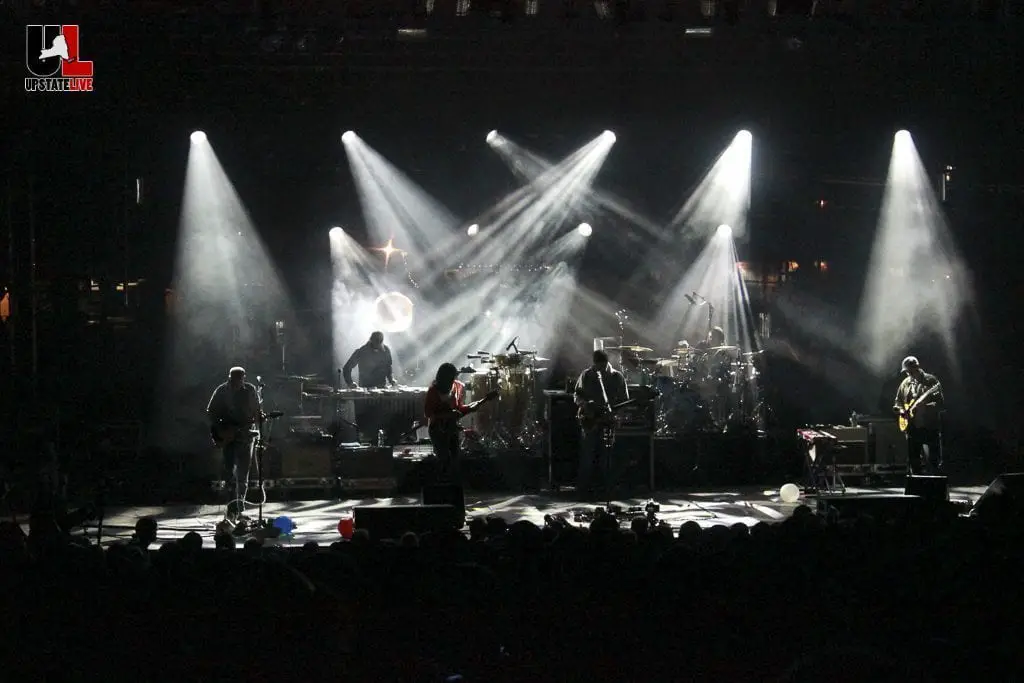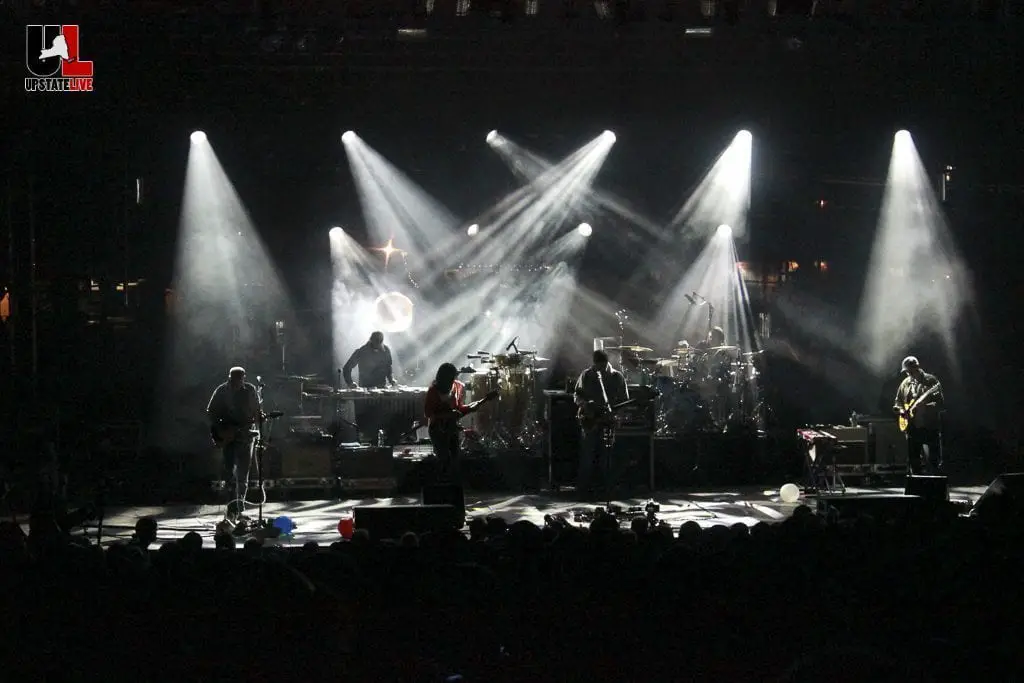 As moe. took the main stage for their first set of the weekend, the lights hit it off magically with the mountain air dew, making a sick show on the ski hill behind. As a tribute to Jerry Garcia on the anniversary of his death, moe. played "Casey Jones" to a crowd singing along in appreciation and reverence. Later on in the evening, to tip another hat to the bearded legend, "Deal" was met with more hoots, hollers and dancing.
Anyone who checked out Steve Kimock Band's late night set Friday agreed it was one of the top performances of the weekend. The band was on fire. Bernie Worell, the keyboardist from Parliament Funkadelic and the Talking Heads, ripped it apart. After a funkalicious "Come Together" cover and later a "Burning Down the House", the crowd left the stage sweaty and glowing.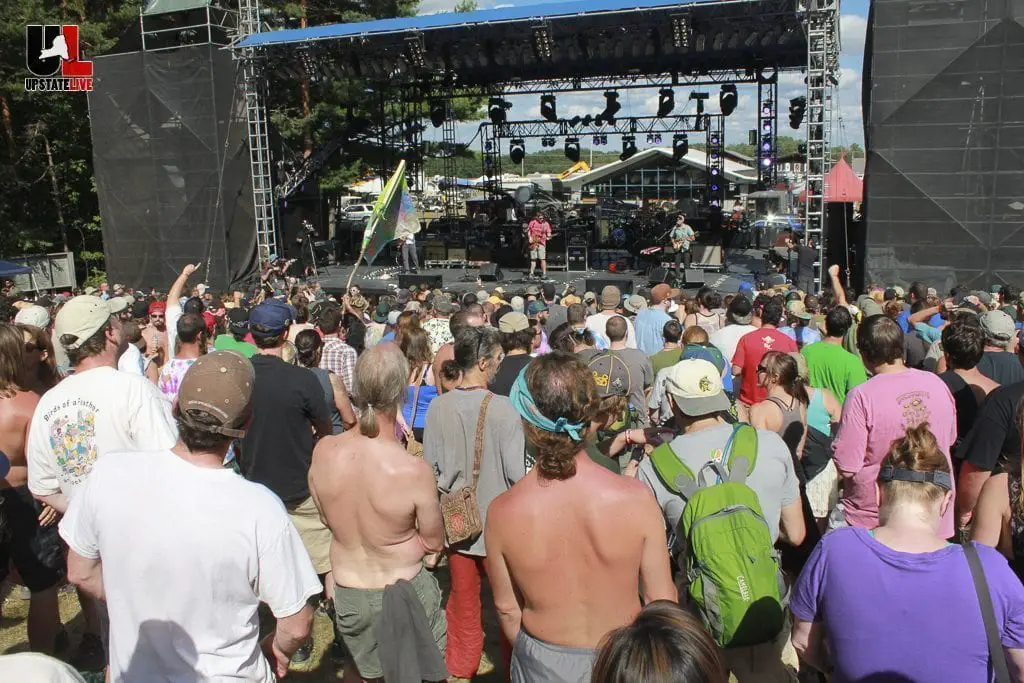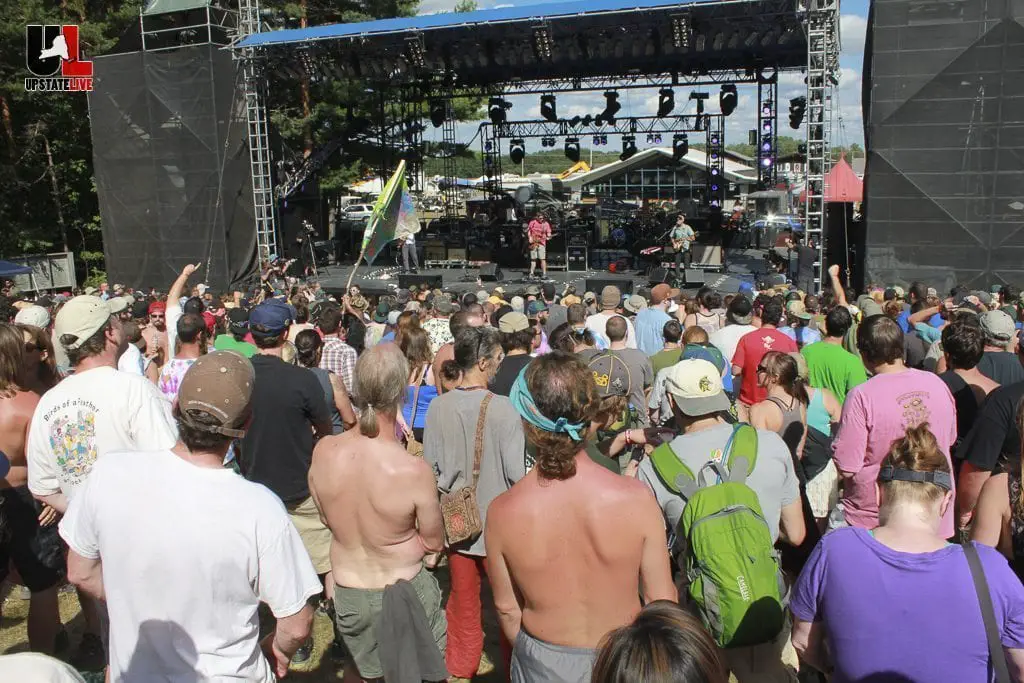 Another perfect day Saturday brought two solid sets by a fan favorite from Upstate NY's past, Conehead Buddha. By now it was very clear how much moe.down, its moe.rons, and its performers have grown, as kids of all ages with huge headphones populated not only the audience but also the stage. Terry Lynch's adorable toddler Felix joined his dad for most of the first set, staring at the dancing crowd with a shaker in his hand.
Later during moe.'s set, the three horns from Conehead returned to play a spooky and yet rockin' "Plane Crash." Also welcomed to the stage that night was Chris Michetti (Conspirator, Raq) for "Godzilla." Their second set's "Recreational Chemistry," "Akimbo," and "Meat" with dueling solos from Vinnie and Rob was arguably the best of the weekend, and after the customary announcements of birthdays, engagements and landmark show celebrations, the encore was in tribute to the late JJ Cale who passed away two weeks prior, and also to Mikey Houser who passed away 11 years ago that night, with a song Widespread Panic also often covered, "Traveling Light".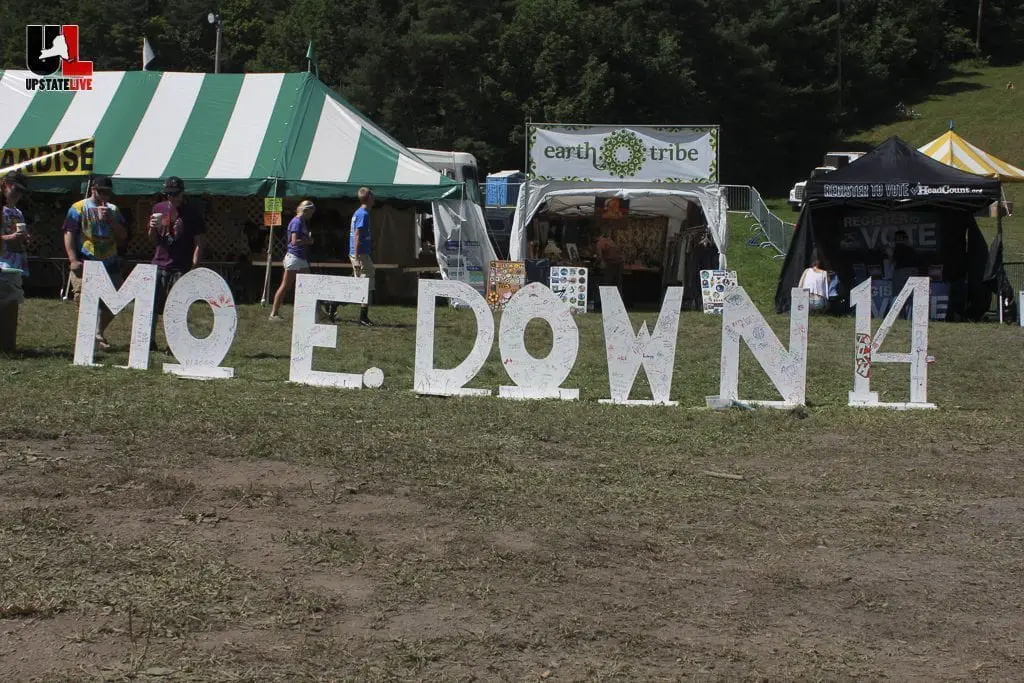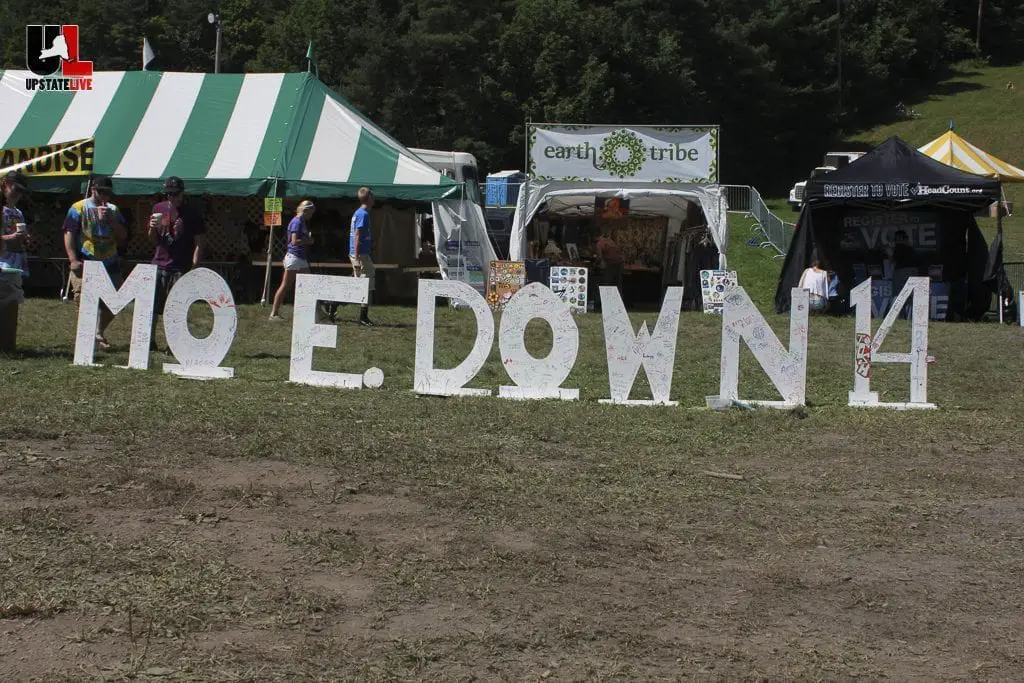 With a third day of awesome sun and mountain breeze, many fans took advantage of the chair lifts for an even higher experience. Others staked out front row territory for the two sets of Raq on the side stage. Raq has received a huge response from their comeback shows in recent months, and this weekend was no different. Keyboardist Todd Stoops, with his normally worn tRAQ suit jacket draped on his keyboard stand, joked with the crowd, announcing that Sam Levey (owner of Westcott Theatre in Syracuse) had ruined his ensemble. (Sam, as well as friend Kyle Shay of KRock Jam Sessions, have been doing some 'Stoops tour' in matching tRAQ suit outfits in the front row.) Be assured, these Stoops fans are great guys and normally dig the ladies. It was like the whole crowd was one big group joking and busting on each other like old friends.
In years past, Sunday was the last chance for a mayoral candidate to petition the voting crowd with their qualifications for election as the Mayor of moe.ville, a title which has never carried any weight except some drunken notoriety the Sunday of the next year's festival and very few "I'm kind of a big deal" points with the other '.rons. In prior years there were often bribes of free bacon, shots of liquor out of a cow costume's teat, and chuckle-worthy posters on every porta-potty door and tent pole. There was noticeably less petitioning than usual, possibly because there hasn't been an actual person winning the mayoral race in years. Cows, buttscratchers, squirrels humping Utica Club beer cans and 'Tits & Whiskey' have been some of the most current moe.ville political figures. This year Rex and Lloyd lost to "Ditch" – Ditch being a well-known location in "Turwookistan" camping area where the sketchiest of sketchy happens til dawn or later. And the mayor relinquishing their title from moe.down 13? That would be Gold Bond. The powder.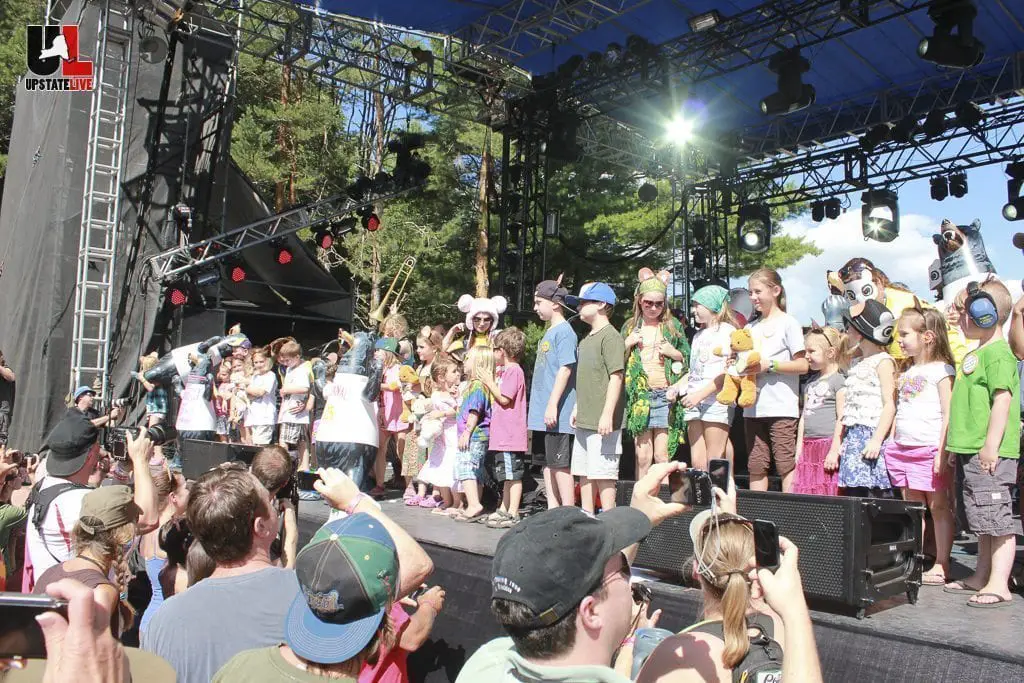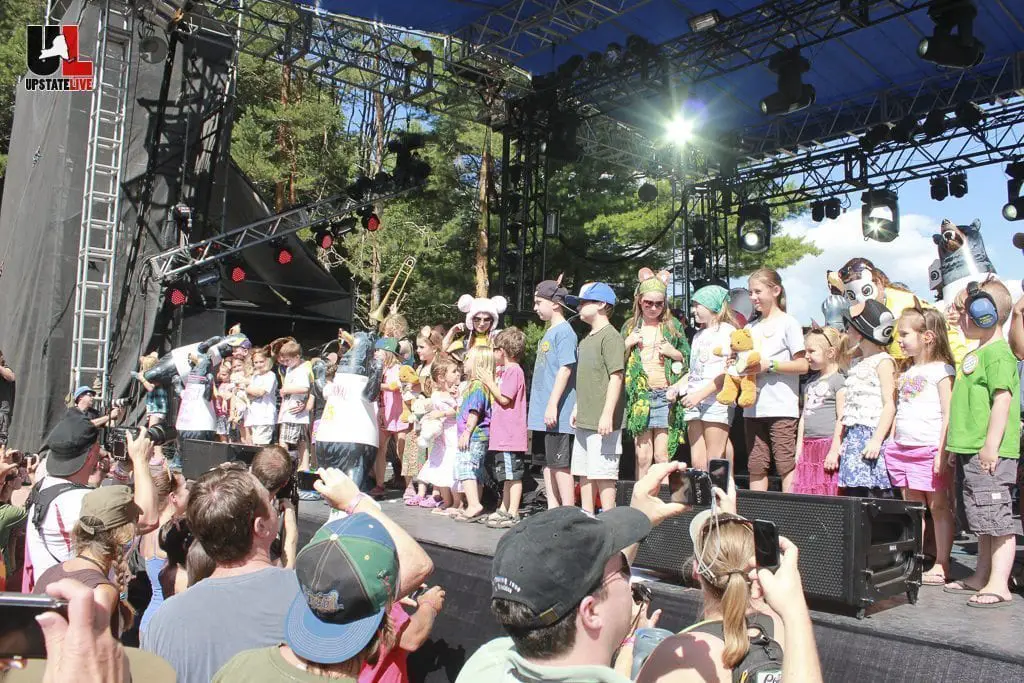 Stanley Jordan Trio was a huge hit for the weekend. A band with mind-blowing chops, Stanley can play his guitar like a piano and then seamlessly go into jazz comp chords with one hand while soloing keys with his other. This didn't stop with Stanley Jordan himself, as his drummer then busted out one handed solos on keys while playing his drum kit with other hand. This talent on top of diversity of playing Mozart in the same set as Katy Perry's "I Kissed a Girl", was something you walk away from still wrapping your head around what you saw.
That wasn't the last the weekend would see of this Trio, for as moe. began their two sets, Stanley was welcomed back to the stage for "Yodelittle" -> "Meat" (finishing with force the "Meat" from the day before.) And again Stanley was up on stage to close out Sunday's encore of "Rebubula" and "Happy Hour Hero," this time with his drummer as well, before the customary fireworks ended the music for the weekend just after 11 pm. In a world full of terrible twists and tragic turns, moe.ville continues to be a solid staple for family fans of any age. Never a disappointment. Let's hope that Mayor Ditch doesn't do us dirty next year.