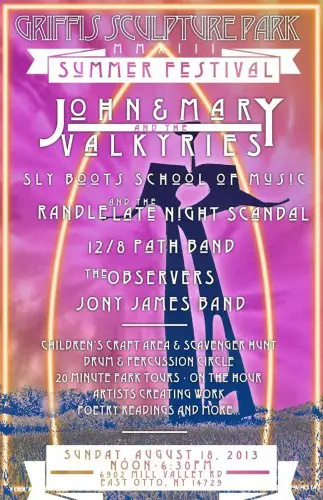 Celebrate a wonderful day at the Griffis Sculpture Park surrounded by art, musical performances, tours, artist displays, and a children's craft tent.
Musical performances from: John & Mary and the Valkyries, Sly Boots School of Music, Randle and the Late Night Scandals, The Observers, and Jony James Blues Band.
Tickets $10 for adults, children 12 and under FREE!
Tickets available at the gate.
Gates open at 11:00 a.m.
The Griffis Sculpture Park Summer Festival will be taking place at the Mill Valley section of the Park. Most of the activities occur at the main stage up on top of the hill. Translation: be prepared to walk 10 minutes up hill to the festival area.
Don't forget to RSVP to the FaceBook event!