This week, Halestorm hits the stage for the first time with Daughtry and 3 Doors Down on several select dates, including Big Flats, NY on July 13th and Canandaigua, NY on July 16th.
Halestorm: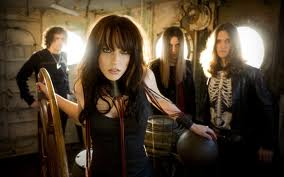 From Red Lion, PA, Halestorm has not stopped rocking the stage since 2006, opening for bands like Chevelle, Shinedown, Evanescence, Stone Sour, Three Days Grace and many more. Band members consist of the Hale siblings, Lzzy (vocals/guitar) and Arejay (drums), Joe Hottinger (guitar), and Josh Smith (bass). Halestorm has released two full-length albums, their self-titled (2009) and The Strange Case Of…(2012). Through their hard work, the band won a Grammy for Best Hard Rock/Metal Performance for the song "Love Bites (So Do I)". For sure, Lzzy Hale is ready to knock everybody out of the ballpark with her powerful pipes.
Daughtry:
Fronted by American Idol's season 5 finalist, Chris Daughtry, this five-pieced band from McLeansville, NC hits the stage for a third tour leg with co-headliner 3 Doors Down. Band members consist of Chris Daughtry, Josh Steely (guitar), Brian Craddock (guitar), Josh Paul (bass), and Robin Diaz (drums). The band has released three albums, Daughtry (2006), Leave This Town (2009), and Break The Spell (2011), with a total of over 6.7 million records sold in the United States. Hit singles include "Over You", "Home", "It's Not Over", "No Surprise", and many more. Daughtry is more than ready to show everyone what they have in store for this tour.
3 Doors Down:
Hailing from Escatawpa, Mississippi, this five-pieced band, consisting of Brad Arnold (vocals), Chet Roberts (guitar), Chris Henderson (guitar), Todd Harrell (bass), and Greg Upchurch (drums), hits the stage with Daughtry for a third time since the start of their co-headlining tour in December 2012. 3 Doors Down has released a total of five albums, The Better Life (2000), Away From the Sun (2002), Seventeen Days (2005), 3 Doors Down (2008), and Time of My Life (2011) with a total of 23 singles including "Kryptonite", "Here Without You", "When I'm Gone", "Citizen/Soldier", "It's Not My Time", "When You're Young" and "Every Time You Go". 3 Doors Down knows how to put on a hell of a show and they are ready to do so this summer.
Be sure to check each of the band's Facebook page for tour dates. This is a show you will not want to miss!