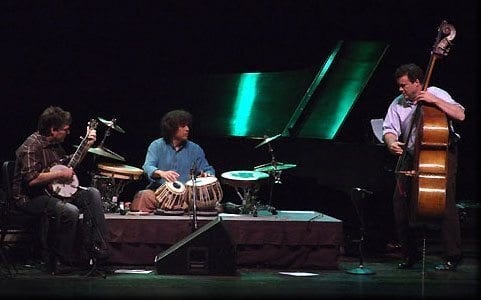 Bela Fleck will be performing his first every concerto for the banjo with the Buffalo Philharmonic Orchestra on March 16th and 17th at Kleinhans Music Hall. Fleck talked to 's Pete Mason to talk about "The Imposter Concerto", his recent trip to India and Oman, his banjo documentary 'Throw Down Your Heart', as well as bluegrass in Upstate New York.
Pete Mason: Why make a documentary about the banjo?
Bela Fleck: I felt there was a lot about the banjo that had been forgotten and distorted. The banjo came from the slaves, but southern white banjo music had wiped all evidence of that off the face of the earth, if it weren't for Earl Scruggs. But the story of the banjo is a lot deeper than that and you can play different styles with it – there was a banjo player in the Louis Armstrong Band – it's originally made for African music, and that wasn't coming out so bringing the banjo in its modern form seemed like an opportunity that was very special. Kinda precious.
PM: Had you done research on the banjo earlier in your life, or just before you headed to Africa?
BF: The idea came from knowing the history of the banjo, but it didn't really have that much to do with me, until I found myself passionate about traditional African music. It was sort of connecting the dots and going there and interacting with African musicians and the remainders of banjo music there, and that was a good opportunity for me. The documentary doesn't have a stiff tone, but it captures those honest interactions and while there we did some research, but that's not the fundamental point of the movie.
PM: What is that?
BF: I don't know, but it's not that (laughs).
PM: Were you expecting, or at least familiar with, the variety of instruments you encountered in Africa, such as the finger piano, various percussion instruments, versions/variations of banjos and other stringed instruments? Anything new?
BF: Pretty much everything we saw were things that I was expecting to find. I knew we were very well researched on what we were going for and had a crew that necessitated doing research in advance. I knew we were going after the giant marimba, and there were a few surprises but everything was a phenomenal experience.
PM: How has the recent violence in Mali affected you and any musicians seen in the film?
BF: Well, I was on tour with Oumou Sangare and when I was in Mali, a musician I stayed with had to leave his home, so there are a lot of musicians in the Mali scene that are impacted by the violence. I'm glad that France has gotten in there and that we are helping somewhat. They made it a law that Africans can't play music, and that is so oppressive, that you can't even breathe. This is one of the most unique places in the world and it's as criminal as anything else in the world.
PM: When did the idea arise to go to India and play music over there?
BF: Zakir Hussain, an Indian percussionist and musician who has played with John McLaughlin, and whose father played with Ravi Shankar, he offered to bring myself and (classical bassist) Edgar Meyer to India, playing big concerts with huge crowds. Zakir is the best tabla (an Indian drum) player of the last couple decades, a genius musician. He even lined us up to play with a symphony.
PM: Where did you play?
BF: Bangledesh, India, Dubai, Muscat in Oman, and now I'm back. It was a great trip and learning experience. Now that I'm back I have a pile of things including a film based on the banjo concerto I'm writing, meeting up with Edgar and Zakir in San Francisco for a show and playing the concerto in Buffalo. Two weeks playing with four different groups, that's what I like.
PM: What was the reception like from audiences?
BF: Great. We're playing with one of their bigger stars and we're a wonderful surprise. We were new information.
PM: Tell me about the Banjo Concerto you will be performing with the Buffalo Philharmonic Orchestra.
BF: Well the Banjo Concerto was something I wanted to do for a long time and after seeing Edgar Meyer and Mark O'Conner doing pieces for their instruments with an orchestra, I knew it was something I was going to do one day. The National Symphony offered me a chance in 2010 and I took it seriously and after a year, I came up with a piece I am very proud of. A lot of people said I wouldn't get bookings but it's seeming to get some unique opportunities, such as with the Cleveland Orchestra, Philadelphia Orchestra and Buffalo, which I'm told has a wonderful symphony.
I actually titled it "The Imposter Concerto", with the banjo sneaking into the orchestra as an instrument, which sounds funny to me. The first part could be titled "Infiltration", where the banjo sneak in, the second part "Integration", where the banjo works into the orchestra, and "The Truth Comes Out" for the third part, which has a 'Scruggs' breakdown.
It was an opportunity to write for all 80 instruments and I've never written for them myself; I've done it with Edgar but never did it on my own. I had to take the responsibility for how it turned out, good or bad, based on the listener's decision. Gramophone is putting it out so I'm glad they thought it was good.
PM: Did playing with Edgar on Music for Two presage the writing of this concerto?
BF: He's my best friend in the classical world, and watching what he's been doing has been very inspiring. He's always the first to teach me Bach pieces, how to work equipment, the first to show me how to edit audio, and in a weird way, even though he's younger than me, he's almost like a big brother. His compositional skills are immense. After studying him informally and being around him a lot and watching him, writing two concertos with him – they were sort of master classes for me and I contributed what I could – then I had to walk away and do something on my own to establish my own point of view. We have different strengths and points of view and I wanted to see what I could do on my own. I felt I had a little to prove – a lot of people would presume Edgar wrote it all, and he wrote a lot but I did as well – now that I've seen how one of the greats does it, how would I do it?. I used it as a strength, that I had never orchestrated before.
PM: How did growing up in New York City influence your musical inclination and upbringing?
BF: Well I think the main thing of growing up in New York is that I didn't approach the banjo as having a southern heritage. I love that part of the banjo but I'm interested in all parts of the project. There was incredible music in New York City – salsa, rock n roll, The Beatles were kickin'. I think I was very open in my New York upbringing, in a way someone from North Carolina may not have been. I wasn't stuck on context and I was open to anything else.
A lot of great banjo players come out of New York State and New York City and they bring something that the folks down south don't.
PM: We do have one of the bigger bluegrass festivals in the country with Grey Fox.
BF: Every festival you went to back then was because of the parking lot pickin' and to see the bands on the stage. Good festivals drew good parking lot pickers.
PM: Did you have any adventures in Upstate New York when you were younger?
BF: Before it was Grey Fox, it was Winterhawk, and before that Berkshire Mountain Bluegrass Festival. There was a great one in Corinth. I went to all of them in high school, and then I started getting to perform there after high school. There's a great deal of New York bluegrass musicians, more than people know.
PM: Looking back on a long line of bands you have played with, which memories stand out the strongest among them all?
BF: There's been some pretty incredible ones. That's tough because there's so many great experiences, I wouldn't want to reduce it to any one. It's great how often I get to play with great people. When you play with people who are heroes of yours personally, that's something special. When I played with Tony Rice the first time it was a mindboggling experience; (playing with) Chick Corea, I couldn't have conceived that could ever happen. With Jerry Garcia, the three times we played together were amazing; playing with people in their musical environment, like the musicians in Africa, those are pretty awesome. I'll have to plead the fifth. I've had more than my share of mindboggling experiences and I am incredibly fortunate that these kinds of things can happen regularly.
Catch Bela Fleck with the Buffalo Philharmonic Orchestra performing "The Imposter Concerto" on March 16th and 17th at Kleinhans Music Hall. Get tickets here.