Trey Anastasio loves Albany – for evidence, take a look at his opening words to the sold out house at The Palace Theater in Albany on a frigid January 26, 2013. "Thank you guys, this is the … I just want to say how much it means to me whenever I come here … I have so many friends here tonight from this part of the country … Thank you so much. This is also the last show our tour, so lets celebrate … Thank you for sharing it with us."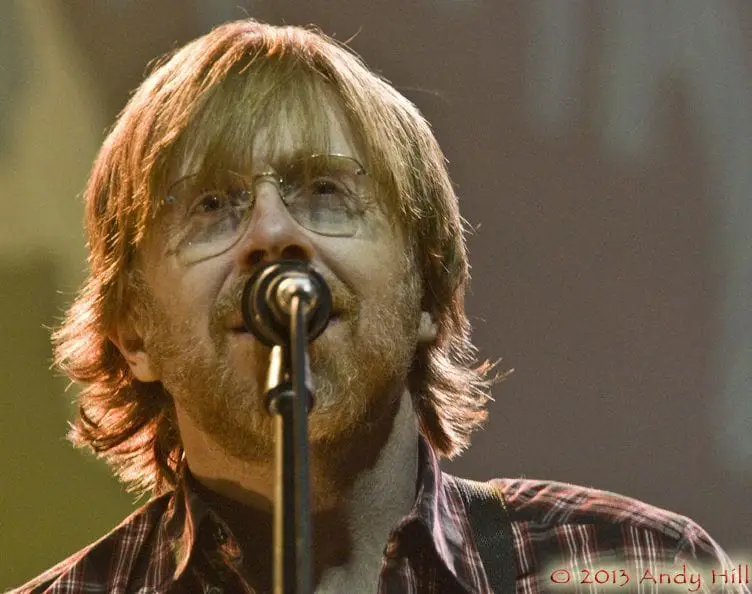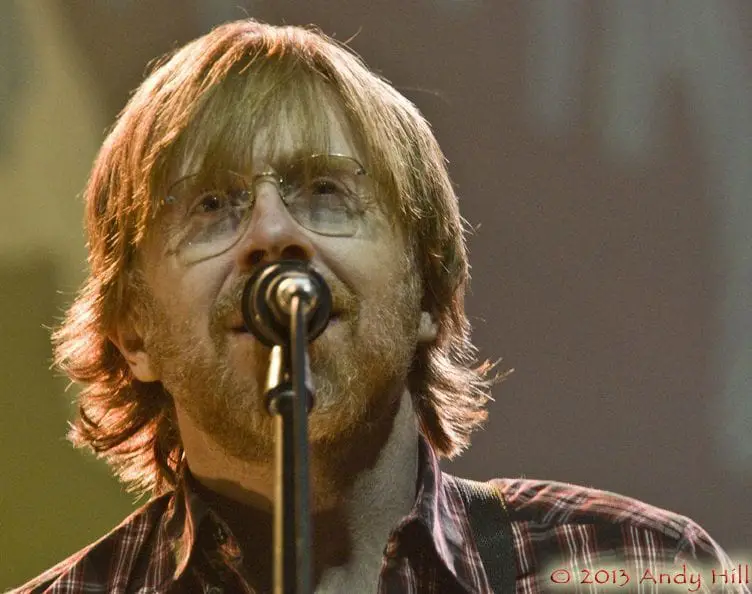 And with that, Trey led his band into the song that the original trio of Trey, drummer Russ Lawton and Saratoga Springs resident Tony Markellis wrote back in 1998, "First Tube". A Grammy nominated rock instrumental that usually closes down these TAB shows, "First Tube" got the crowd moving early on. "Cayman Review" followed, now a classic first set staple for many years now that features Ray Paczkowski on clavinet to drive the funk into the song. With the crowd settling in, they were treated to "Alaska", one of the handful of crossover songs that Phish and Trey Band both play.
Rather than drop this tune in the middle of set two, per usual on Phish tour, Trey brought it out early and let the song shine in its proper venue – with TAB and with horns. The placement wasn't just great – the version of the song was impressive as well, with some extra licks from Trey while Jennifer Hartswick, Natalie Cressman and James Casey (Lettuce) continued to pepper the tune with just the right dose of horn. "Tube Top Flop" (ne, Wobble), surprisingly showed up net, as this is one of the earliest songs from TAB, debuting in 2001 on his first big band tour. Although it fell out of rotation, its appearance tonight elicited great cheers from the older TAB fans who followed the bob and rhythm of the horn-driven piece.
"Pigtail", possibly the most poppy Trey song to date, and written by longtime writing partner and friend Tom Marshall, has become a staple of Trey shows in the past two years, its flirty lyrics and confusion-inducing refrain, "I'm conscious again, unconscious again, I'm conscious again, unconscious again", is the kind of tune that sticks in your head, pleasantly, and accented by Trey's guitar bursts at the end of each refrain. What was once a 20-minute song in 2001, "Last Tube" is now half that but compressed into an equally stellar song. This high energy, spastic tune with a dash of Caribbean Island music gets the band firing on all cylinders at once, blowing up the song before crashing it down with a big band finish that peters out. "Last Tube", welcome back to TAB! The Bob Marley classic "Small Axe" followed, as did two new songs, "Dark and Down" and "Scabbard", off the new album Traveler.
"Dark and Down" was more somber than anything else up until this point of the show, while "Scabbard", a Zappa-esque single, captures the best of Trey's songwriting skills and multi-instrumentalism of this band. "Greyhound Rising" provided the other piece of somber bread for this relatively new music sandwich. "Shine", Trey's breakout single from 2005 has proven to grow as a crowd favorite and continues to take shape in the regular rotation. Set closer "Money, Love and Change" was another oldie and goodie that can still find the nasty notes to cap off a set.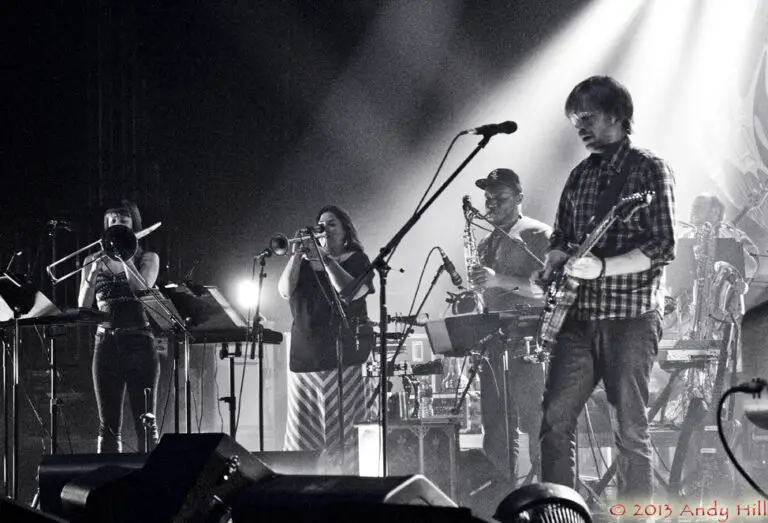 During setbreak, it was easy to observe that the crowd for a Trey Anastasio Band show is different that a Phish crowd. At SPAC in the summer, the crowd is typically 80/20 guys/gals, but at TAB it is closer 60/40, plus some older fans who come out in larger numbers to the Palace. The band attracts more couples to shows, either as a segue to seeing Phish, or replacement value for Phish shows not seen/enjoyed as a couple. The ornate building's interior continually looks sparkling and new (The Palace is nearly twice as big as the past week's show at the Landmark Theater in Syracuse) and the broad interior walls gave the light show room to make an incredible visual spectacle throughout the show as the lights danced all over.
Set two began with the Afrobeaty "Curlews Call", building the band's sound up, particularly with the percussion supplied by returning TAB member Cyro Baptista, whose inventive percussion instruments (gong and flippers, anyone?) make him not just a band member to watch, but one to listen for on show recordings. "Gotta Jibboo" is never a disappointment and having horns once again adds an extra layer to the upbeat tune. A standard "Alive Again" came next, then a trio of songs from Traveler: "Land of Nod" is incredibly horn driven, especially Natalie Cressman's trombone, while "Valentine" was played much like the album version, although that's hardly a bad thing. The reworking of "Valentine" for Traveler includes more vocals from Cressman and Hartswick, and although when performed live, the song could have been stretched out a bit by Big Red, the true highlight in this song is the visual interpretation that one can gather from the lyrics:
"Jagged beams of light, explode and dance in the darkness around me. And I can reach out and touch the beams and the light turns sold and wraps around my wrist. One makes a loop, a thousand more follow, a thousand more follow till my arms are surrounded by a conical web of light. My arms in the eyes of a web of light, a tornado of light beams and I feel the pull and start to rise, and every beam is there to guide." 
In a recent interview with NPR, Trey mentioned how this song reflected his time getting sober period while living in Saratoga Springs, a Valentine letter to God. Listen around the 7:40 mark of the interview to hear Trey talk about the genesis of the song.
Speaking of great lyrics, "Architect", while a bit mellower, still carried the themes from "Valentine" that are marks of Trey's life from 2006-2008. Fan favorite, "Sand", recently destroyed by Phish the past few years at 18 minute clips, is a staple from the original trio. But with horns, again, it's just sublime. Although Phish fans are getting spoiled with these extended versions on Phish tour, the reserved Sand on TAB tour not only suffices, it gives a new spin to a classic. The strong anthem of "Tuesday" stepped in, where the vocals of Hartswick and Cressman continued to dominate, but not overpower the song. Then there's "Clint Eastwood", the Gorillaz original that debuted as a cover last year at The Palace. Jennifer Hartswick's powerful vocals are not to be missed – you'll still be amazed that she did the lyrics for the album version in just one take.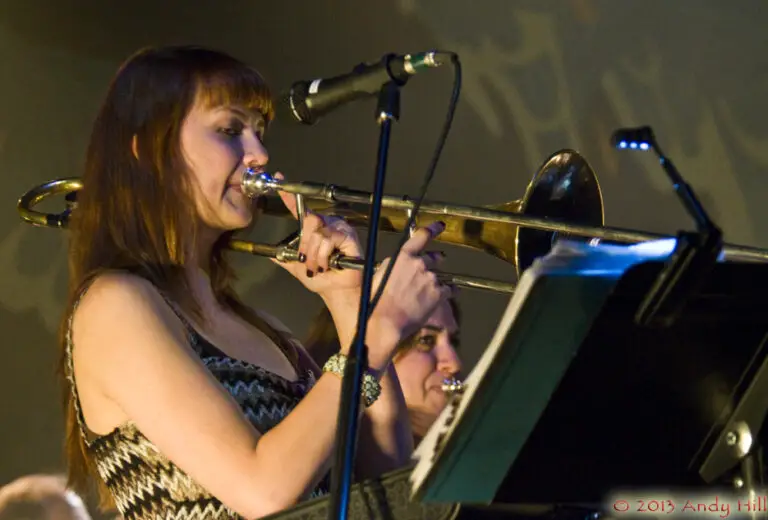 With the show winding down, "Traveler" appeared, and while it started out slow, grew into one of the more impressive tunes of the night, generating swaying motions from the crowd amid the lyrics "Maybe if you stand still, you are traveling too, making it easy for someone to choose you". Trey took a moment to introduce the band as the song's chorus was repeated, then delved into "Push on Til the Day", one of the most popular and well known TAB tunes, where it is always fun to watch Trey spin around with his guitar leading up to the triumphant big band ending. An encore of The Five Steps' "O-o-h Child" was very apropos for the evening for this reviewer and capped off a whirlwind tour for Trey Anastasio Band.
Even though he didn't play some tunes that have been staples of his shows – "Drifting", "Sultans of Swing", "The Devil Went Down to Georgia", "At the Gazebo", "The Way I Feel", or "Burlap Sack and Pumps", – it became clearer during this short tour that Trey's catalog for TAB has grown so much that you can start to expect the unexpected and never get the same show twice. Trey has grown as a band leader with TAB and expanded his catalog with both bands. It is impressive enough to see him with Phish, but with TAB, it's a completely different experience, and one that is continually changing and improving.
Out into the cold night we went…
Setlist
Set 1: First Tube, Cayman Review, Alaska, Tube Top Flop, Pigtail, Last Tube, Small Axe, Dark And Down, Scabbard, Greyhound Rising, Shine, Money Love And Change
Set 2: Curlew's Call, Gotta Jibboo, Alive Again, Land Of Nod, Valentine, Architect, Sand, Tuesday, Clint Eastwood, Traveler, Push On Til The Day
Encore: Ooh Child
Download bvaz's recording of the show
Download andyjah's recording of the show