December 30th has always had a somewhat special place in Phish lore and there's some that say this night has produced better shows than the far more renowned New Year's Eve.  With this being the third show of a four night run at the mecca of rock and roll, Madison Square Garden, it was safe to say all bets were off and hopes were raised high this evening.  As they always do, Phish delivered in its own unique way with a show that may not necessarily go down in the annals as a legendary one, but certainly one with some incredible musical moments that featured some memorable jamming.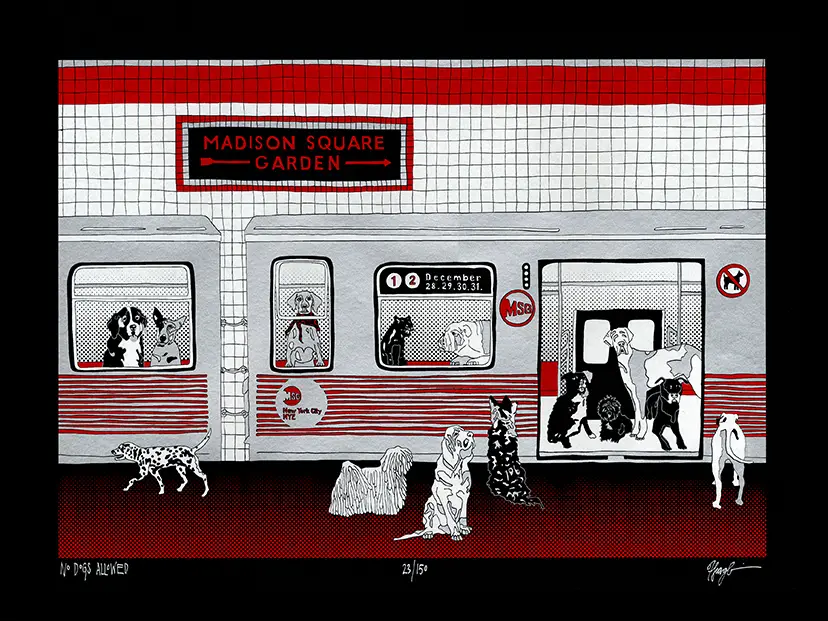 Those who called a 'Runaway Jim' to open on this night were right and Phish wasted no time in delivering a fairly standard version of this classic show opening song which certainly did nothing to dampen the already high energy level in the Garden.  After some soft early interplay with keyboardist Page McConnell, Trey Anastasio's guitar licks gradually grow in intensity and precision as the song comes to its peak before finishing.  The short, but emotive, jam seems to serve  as the perfect musical warm up for both the band and the fans, giving everyone a chance to get stretched out and warmed up for a long night of music. This reviewer was hoping they'd open with an old school flair and follow this up with a 'Foam', but instead, after a short discussion, the decision was made to go with 'Cities'.  This Talking Heads cover  is no stranger to Phish first sets and the group plowed with through with a clean, yet fairly meek rendition that didn't feature much of a jam unlike some 'Cities' of yesteryear (see: 1997). Batting in the third spot this evening was one of Phish's oldest and most iconic numbers, 'The Divided Sky'.  This song with its exquisite composition, multi-layered sounds and unique vocal section exemplifies the essence of this band and is generally a crowd-pleaser.  While Trey was slightly off on some of the early 'technical' parts, he and the group more than made up for it with a rousing and powerful finish to the song that re-established the high energy level in the building. To keep things moving, it was time to 'Back on the Train'.  Another crowd favorite, this version saw Mike Gordon and Jon Fishman shine on bass and drums, respectively, as they spearheaded the effort through a shuffle type jam that finally brought about  the first glimpses of group improvisation on this night.  Next, came another cover as Page led the group through a short and fairly standard 'Ride Captain Ride'. So far, the first set saw all the songs played more than adequately but without much jamming or extended improv.  'Ocelot' changed all that in a hurry with a stirring 11 minute version that finally saw the group get into an extended jam and stretch things out a little.  This version saw Anastasio and McConnell once again complimenting each other wonderfully in a jam that took its time and was played to perfection.  While it didn't seem incredibly too well received at its inception, the crowd got loud and made sure the band's effort on this one was appreciated at the end. This was followed by 'Ya Mar', another one of the band's older numbers (and another cover).  The calypso-groove classic kept everyone moving, but again, a fairly routine and uneventful version was played as the song selection in the first set continued to be all over the map with few continuations or any innovative segues between songs. Keeping in line with this, 'Horn' was played next to little fanfare and this parlayed into 'My Friend, My Friend'.  Both songs again gave Phish a chance to show off some of their compositional wizardry and prowess, but also didn't feature anything out of the ordinary. With one last bullet in its holster for the first set, Phish made it count with the always entertaining 'Run Like an Antelope' set closer.   This vintage Phish staple gave everyone a final chance to cut loose this set and the boys delivered a high octane rendition that served as a fitting end to the set in that it was played flawlessly but without anything truly memorable.  No extended build up, no guest vocalists, not even a slight lyrical alteration.  Not that these things are necessary by any means, but hopes are a little higher and dreams a little wilder on a night like tonight. To recap, the first set had several very enjoyable songs (Divided Sky and Back on the Train) and featured one quasi-intensive jam (Ocelot), but overall lacked a sense of continuity and explosiveness often felt in other 12/30 shows of the past.  Set break served as an opportunity for everyone to recharge and wonder what lay in store next.
The second set is typically the time the band will really delve into the heavy improvisation and 'darker' jams and this set proved to be absolutely no exception to that rule.  'Down with Disease' let everyone know it was game on for the second set as the corresponding jams in this tune have the capability of reaching epic proportions.  The first several minutes of such proceed in a typical fashion and the high tempo rocker has everyone moving along and anticipating a big second set.  Around the ten-minute mark, Fishman starts to slow the tempo slightly with Page throwing in delicate piano fills.  Shortly after, Trey takes the reigns with some guitar play that seeks to bring the tempo back up and it's clear each band member is prominently involved in this one – always a clear indicator of a good jam. As the second set opener continues to march on, Trey soon introduces some darker, mysterious tones to the jam before finally dissolving into some familiar, spacy 'whale call' sounds – somewhat of a staple of the Phish 3.0 era.  Not much time is wasted on this and, before long, the jam begins to pick up pace and intensity again.  At this point, it was all over the map, but in a good way.  Gordon then takes his turn and introduces a sinister bass effect that drives the jam to a new level of darkness and fun.  When all is said and done, the 'Disease' clocks in at almost 20 minutes long and finally gives everyone a taste of the spontaneous and cohesive playing this band has hung its hat on its entire career.
As a breather of sorts, Trey then starts up 'Twenty Years Later' which seems to always find a home after an intense second set jam.  This fairly new original is played to perfection and does little to diminish the still high energy level that's present.  Upon its completion, Trey immediately starts the opening riffs to what many are already calling one of the highlights of this four night run, 'Carini'.  This powerful number has been taken to a new level in the 3.0 era and this version followed suit and then some.  For the next few minutes or so, Phish builds on an already dark and powerful number and gives it a menacing jam that at one point drops off into an almost eerily ambient one.   This one is Phish at their finest – dark, melodious and full of improvisational goodness.   At one point, during one of the more menacing portions of the jam, it even sounds like Trey makes a half-effort to re-introduce the 'Little Drummer Boy' theme that was so prevalent on 12/28/12.  There's also somewhat of a 'Crossroads'-esque section introduced by Trey before the jam blisses out and ends almost 15 minutes after the start of the song.  Three songs into the second set, Phish has already dropped two noteworthy and inspiring jams. Seeking to keep momentum going, Trey then begins 'Backwards Down the Number Line' which seems to be a hit or miss song with the crowd these days and, in this spot, may be more miss than hit.  However, that didn't stop the group from delivering a soulful and inspired version of the song that gives Trey a chance to shine with some inspired guitar play in the jam that ensues.  It certainly kept the second set energy high and Page's complimentary play on both piano and organ is stunning on this version.   One can tell that the band just simply loves to play this song and this energy always seems to carry over into the crowd by song's end. Before Fishman even hits the last cymbal crash, Trey has already started the opening riff to a somewhat older Phish 'rocker', 'Julius'.  This leads to another eight minutes of high tempo, fun arena rock that has the Garden again moving as a collective whole.  It's cleanly played and brings to the forefront, once again, the cohesiveness and skill of these longtime friends who have now been playing together for over 30 years!
With a monstrous second set already under its belt, the call is made to have the classic hit 'Slave to the Traffic Light' bring things to an end as only it can do.  This is met with great approval and seems to be the perfect choice to cap off a memorable and truly innovative set.  This is another song that fits the 'exquisite composition/odd vocal styling/mind-blowing performance' mold of song that Phish has officially perfected.  A truly masterful 'Slave' jam that takes its time and builds to perfection follows and leaves the crowd standing in applause as the foursome takes a well-deserved and long bow on stage. A somewhat of a two-faced encore followed as it began with a sterling rendition of the crowd favorite, 'Harry Hood'.  This gave the group one last chance to bob and weave through a 12 minute musical masterpiece while taking everyone in the Garden along for one last ride for the night.  This 'Hood' was typical of all good ones: slow, patient and bursting with energy by song's end.  The show could have ended right there, but instead, 'Show of Life' took the honors and was met with some groans by the crowd, as it usually seems to be.  The short, but powerful, number served as a fitting end to a show that had a little bit of everything. [vimeo http://www.vimeo.com/56567290 w=400&h=300] Overall, Phish delivered a fun and memorable show like they always do.  While some of the song selection was sporadic at best in the first set, they more than made up for it with intense, thoughtful and innovative jamming in the second.  The stage was now officially set for New Year's Eve where, as we all know, anything can (and did) happen.