Soule Monde is a power funk band from Burlington, Vermont, composed of drummer Russ Lawton and multi-instrumentalist Ray Paczkowski. The duo's moniker, pronounced "SO- lay –MON-day," is a combination of Lawton's middle name (Soule) and Paczkowski's first name (Raymond). "Mond," in Haitian Creole, translates to "world," and the worldly influences drawn by Soule Monde are apparent in their music, presumably resulting from Lawton and Paczkowski's experiences playing with a number of different bands in the past. Paczkowski has toured with Dave Matthews and Friends, while also playing in the jazz group, Vorcza. Similarly, Lawton was a member of Afro-beat band, Zzebra, among others, and has played drums for various independent films. Together, Lawton and Paczkowski are part of the Trey Anastasio Band, a side project created in 1998 by Phish frontman, Trey Anastasio.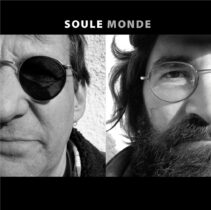 Paczkowski and Lawton have just recently, however, come together as a two-man band. On November 17, Soule Monde will release its self-titled debut on Cornmeal Records. The album is eight tracks and forty-two minutes of funked-out instrumentals, originally composed during improvised jam sessions at Slidebrook, a bar in rural Vermont. Since Sole Monde's conception at Slidebrook, Paczkowski and Lawton have fine-tuned each song in the studio, putting together a record that represents the musical capabilities developed over the years by the duo.
Soule Monde opens with "Bernard," a track in which Lawton's drums, playing quick, complicated beats, remain constant while Paczkowski's instruments produce a call and response. Throughout the album, Paczkowski demonstrates his skills on the Hammond organ, the clavinet and the left-hand bass. "Tango," the album's seventh track, is dominated by Lawton, however, as his drums, which include timbales, exemplify a Latin influence, providing a fitting sound for the song's title. As the song finishes, the listener is able to make out a faint "Victory!" expressed by one of the band members. Although "Tango" does not conclude Soule Monde, this expression could be used to describe the entirety of the album, as the compilation of all eight tracks makes up for forty-two minutes of winning jams.