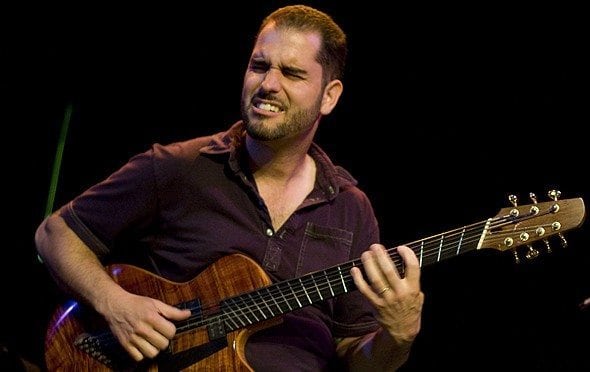 I arrived fashionably late to Club Helsinki on Friday, mostly because its rather unassuming at first glance. Understated even, compared to the elegance inside. A renovated Factory originally built in 1863, Helsinki has many irons in the fire with a Ballroom upstairs, full restaurant in front, Club in the rear and an adjacent courtyard.
I had driven right by as I am not totally familiar with Hudson yet and hadn't noticed the HELSINKI lettering dripping down the outer wall on either side. Duh, I thought, as I hustled inside. I mistakenly entered the restaurant first and was directed to the back via the courtyard. Luke, the Club Helsinki manager greeted me outside in the courtyard with a smile. He showed me in, informing me Charlie had started about 15 minutes before. Knowing his songs tend to noodle around, I figured I had missed around 3-4 songs. Club Helsinki has simple tasteful decor and is inviting and comfortable with a large bar, three levels of tables and an ample dance floor. I settled into the most immediate open table with my brown ale.
The first song I'm privy to is an energetic and funky breakdown of Hall & Oates' I Can't Go For That! It was everything I could hope for in a jazzed up version of a song I grew up hearing. I enjoyed the next song and then noticed my friend Tom Carpenter and joined him at a table closer to the stage. I am not sure what the next couple songs were, but I noticed as I was sitting closer that Charlie has on his guitar face, that means business. Scott Amendola, his drummer, has come to play as well. Playfully covering a Curtis Mayfield B side Charlie's chops are so incredible as he makes the bass lines with the top three bass strings and guitar licks and solos on the bottom four strings of his hybridized guitar. Next is a soulful You've Been A Good ole Wagon, But Baby Now You've Done Broke Down, an old Bessie Smith number. After a brief pause at the end of the show Scott and Charlie joined us for an encore after the crowd of 40 or so hooted and applauded them.
I had a great time at Club Helsinki. Anyplace I can see some great musicians in an intimate setting with excellent sound and have drinks delivered to my table, I'm game. I will definitely be back.
DOWNLOAD A FREE MP3
"BLIND ARTHUR"