With a history of politically-tinged acts such as State of Alert, Black Flag and Rollins Band, Henry Rollins' foray into spoken word performance is a natural segue, removing the music and adding in an uninterrupted stream of consciousness covering a multitude of topics for two and a half straight hours. Appealing to the populist crowd scattered with faithful hardcore punk fans, Rollins delved into broad topics, ranging from national literacy to elections, traveling the world to growing up in Washington D.C. and his life with Black Flag on the road and in Los Angeles.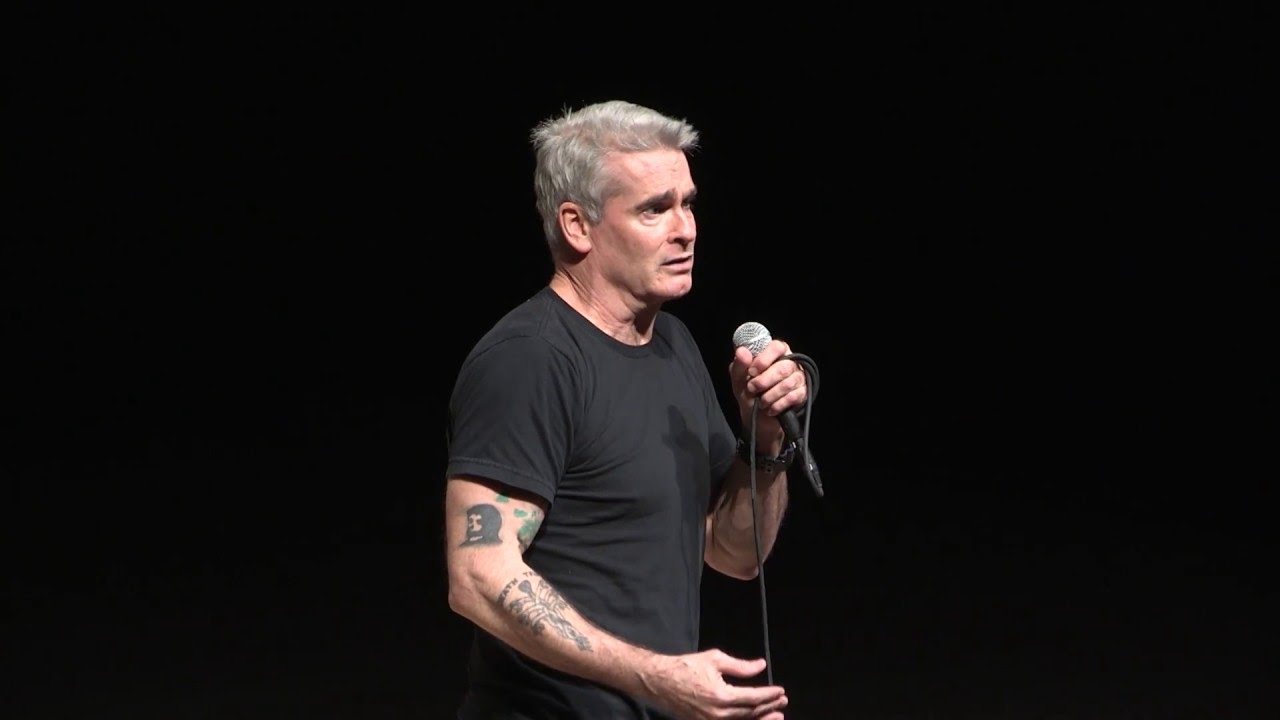 On this night at The Egg, dressed as usual in black shirt, black pants and black shoes, Rollins dripped sweat from his left arm as he held the mic, barely moving from his spot at center stage for the entire performance. deviating perhaps only a few inches at most from beginning to end. After an hour, he seemed like a Rockem Sockem Robot, fixed in position and only moving his arms, just a little more fluidly than the robots and with a deep passion that kept the audience engrossed throughout the performance. Rollins was nothing short of intense in speaking to the crowd, never engaging them directly but keeping them on their proverbial toes with random bursts if pure energy, akin to the refrain in the "Liar" video.
Among the multitude of topics that Rollins segued in and out of over the course of the night:
Lincoln and his recognizing that the greatest threat to America was internal;
Having played many state capitols this tour, most of them, Albany included, seem to shut down shortly after 6pm;
The use of polysyllabic words as a sign of intelligence and more prevalent among one of the two political parties;
Hope that the 21st century is looked upon centuries into the future and taught in schools as THE century where things changed for the better for all;
Megyn Kelly of Fox News and her reaction to news stories (one can never look at Megyn the same way again after hearing his observations);
The greatness of live music as described by seeing a 19 year old playing with a punk band;
The wisdom of David Lee Roth (yes, wisdom);
Having turned 50 recently, recognizing that he is not at the midpoint of life, but rather within field goal range of death;
The trend of old bands and punk rockers reuniting to scare new generations at summer music festivals (with better sound this time);
Black Flag as an ancient traveling troupe and stories from the road, some happy, some sad and but mostly generally fucked up experiences;
Heroin in Los Angeles during Black Flag's heyday and the friends lost to overdoses;
Visits to Syria, Iran, North Korea, China, Bhutan, Tibet and Haiti; all out of personal curiosity and general restlessness;
While visiting Haiti, having a sense of urgency to do something to help the Haitians, by getting them soap and soccer balls at their request; and,
Realizing that his Western solution to helping them (buying them things) was not a solution, but possibly adding to the problem.
For 150 minutes, Rollins delivered thought provoking laughs to a crowd fixated on his every word. Without a break for a drink or a spare breath, there was much to take away from the mind of a prolific thinker and musician. A spoken-word show of this nature is one not to miss.