Scott Murawski has been playing music with legendary band Max Creek since he was in high school. With a career spanning over 40 years with Max Creek, as well a member of side projects BK3 and Mike Gordon Band, as well as two festivals that bear his band's name, Camp Creek and StrangeCreek, Murawski is a legend among jamband fans for his expansive career and incredible guitar sound. NYS Music's online editor, Pete Mason, talked with Scott about Max Creek, music festivals and playing with Mike Gordon.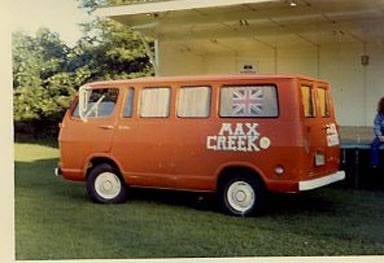 Max Creek performs at Backwoods Pondfest in Plattsburgh, NY on Saturday August 18th and at Bella Terra in Stephentown, NY on Sunday August 19th. 
Pete Mason: MaxCreek has just celebrated 41 years together as a band, a rare feat for any musical act. How do you explain the longevity of the band?
Scott Murawski: We've lasted this long because we don't speak to each other! Kidding!
Way back in the beginning before "mission statements" were in fashion, we came up with the idea that Max Creek should be a place where people come to create, including the band, crew and audience. I think this attitude has given us a place where we feel the most comfortable being creative, and a place where we can bring any idea and have it accepted. Sometimes you might have to play songs that aren't necessarily your favorites to play, but it's an easy trade off to be able to bring any creative idea to the band and have it at least tried. I believe that this attitude is responsible for those magic moments that can only happen when everyone lets go, and that magic keeps happening and keeps us all coming back for more!

PM: You were 15 when you joined Max Creek. What was that experience like for you and how did it shape you as you grew up with the band?
SM: It was a great experience in many ways. It was a relief to get out of my "jock" high school and hang with college kids. It was great to be underage and playing guitar in bars. It was great to be thrown in with musicians vastly better than myself. But most of all it was great to establish connections with people that would remain my "other" family throughout my life, and to be part of an organization that would bring such beauty to so many people for years and years.
PM: What are some of your favorite memories and notable shows over the course of Max Creek's career?
SM: Oh man. There have been so many shows!! I remember playing at Hammonasset Beach State Park in the late 80s. We were headlining along with Thunder Road and Cryer (I think) and they were expecting a few hundred kids and instead, 30,000 people showed up! All of the Camp Creeks have been memorable. Most recently having the band play in Costa Rica is a VERY cool thing!
PM: Sound engineer John Archer was a pivotal part of Max Creek and his loss had a large impact on the band. In what way did he impact the band and leave a lasting impression on the groups legacy?
SM: John was like the 5th Beatle for us. I personally feel that the sound man is the MOST important member of the band because all of the sound goes through him before anyone hears it. In the 70s and early 80s we were on the bleeding edge of technology. We were always trying to have the best sound possible and we built our own PA system and we used differential microphones and a four way crossed over system. We were always experimenting and trying to find (or make) the best of the best. Archer was an integral part of that. And even after that period, when we stopped owning our own PA and were depending on house sound systems, or rented systems, John had his own effects rack that he would bring in. He knew exactly what he wanted this band to sound like and would take extraordinary steps to get there. We owned sound analysis equipment and before each show John would "tune" whatever PA was being used, and more often than not, ended up fixing broken gear for the house. It was a great blow to the band and its sound when he left and he is still very much missed.
PM: Camp Creek was one of the longest running festivals in the country. What made that festival experience unique, and how have StrangeCreek and Jungle Jam built off the success of past festivals?
SM: I think the thing that made Camp Creek so amazing was the attitude of "Have fun, just don't hurt anyone." Again, it was the philosophy of come and be creative in any way you want. What I loved about most of the Camp Creeks was that there was only one main stage, and one smaller stage in the same area, so that there was really only one musical act to see at any given moment. I think the festivals today are trying to cram too much music down everyone's throat. They're hiring too many bands, which jacks the ticket price up, and forces audiences to choose between the bands they want to see.
The other thing that made Camp Creek so special was the feeling of family at the event. Everybody was on the hill at the same time listening to the same music and it felt great that way. And there was a family feel between all the musicians and bands as well with much jamming and cross pollination between the various artists.
PM: 'You're the Only One' is one of your most popular songs and leads to audience members singing along, even with proposals during the song. What is it about this song that makes it feel so seminal and are there any other songs that you feel define Max Creek over the course of their career?
SM: John Rider writes a great song, doesn't he?
People want hope. People want to belong. And they want to sing! I think that "Only One" achieves all of these with great success. It's so hard to have a lasting relationship these days. Peoples' attention spans are getting shorter and shorter and the globalization of our community has enabled us to reach out to exponentially more people than ever before. I think when people are singing 'Only One' they feel like they are part of something larger than themselves and this larger thing is giving them hope that someday they will find the one person they have been dreaming about. I'd be hard pressed to tell you what other songs define the band. I have no perspective on it!
[youtube http://www.youtube.com/watch?v=ER-LYYlxgWM&w=560&h=315]
PM: How and when did you first meet Mike Gordon? What was your first encounter like?
SM: We met when we were playing in Burlington and Mike was in college up there. My first memory of him was him giving me a transcription of one of my guitar solos. Along with it was a recording of the solo, a bootleg of Creek doing "Emotional Railroad", with Creek on the right channel, and Mike playing bass on the left channel. I was pretty impressed that someone had actually paid that much attention to what I was doing.
PM: You have been playing guitar in Mike Gordon's band for a few years now. How is playing in Gordo's band different than Max Creek, and what does this collection of musicians bring to the stage each night?
SM: Mike has an incredible work ethic and in Mike's band you have to have a similar work ethic if you want to keep up. Mike's band rehearses for many long days before a tour and we not only rehearse tunes, we also practice jamming together. Creek never rehearsed jamming, in fact, I don't think we ever even discussed jamming. For Creek jamming was something that just developed over the years but it always seemed easy to us.
The guys in Mike band come from a variety of backgrounds. Tom teaches jazz at UVM, and Todd plays jazz in NYC, while both Todd and Craig have traveled the world learning about different types of music. It's not dissimilar to Creek where each of us has our own tastes and our own styles that we bring to the table. In both bands those styles mesh into a cohesive unit but those units are each as unique as the elements that make them up.
PM: Phish covered Back Porch Boogie Blues back in the late 80s with Mike convincing the band it was an original bluegrass composition when it was actually a Max Creek song. How did you come to learn of this cover and what was your reaction to being covered by a then-unknown band from Vermont?
SM: Mike told me that story years after it happened. I think it's hilarious! I enjoy hearing other bands cover my tunes and will seek them out!!
PM: On the road with Mike, you seem to have a hand in song selection, singing 'One Hand in my Pocket' as well as playing 'Sugar Shack'. How do you approach these songs, contribute to the band's repertoire and setlist selection each night?
SM: I've brought in a few of my originals including 'Jones' and 'Willow Tree' but have also brought in some odd covers like Radiohead's '15 Steps' and The Shins 'Kissing The Lipless'.
Mike usually puts together a rough setlist early in the day and will usually run it by me before he shares it with the rest of the band. Between us, we have over 70 years of playing to audiences and I think we both have some instinct as to how the energy of a show will flow and what songs lend themselves to certain moments within a set.
Mike is always encouraging all of us to bring tunes into the band. Even though the band carries his name he really wants it to be a group effort and is open to trying anything any of us wants to do.
PM: What do you feel is the long term impact of Max Creek and Phish on the music scene in the Northeast and throughout the country?
SM: I would like to think that Max Creek is, and has been, an inspiration to younger musicians to play more experimental and improvisational music, and the same must be true for Phish as well. It's a great honor to consider that we might have inspired Phish in some way! I think what separated Max Creek and Phish from a lot of other acts is that both bands strove to find their own sound. Even when performing covers, Creek never tried to emulate the exact sound of the originals, but rather strove to put our own imprint on them and interpret them our own way. I would hope that we encourage musicians to find their own voices rather than emulate ours.
I also think that both bands have always attempted to make each show an event for the audiences and as a result both bands developed "a scene" at each show.
And perhaps both bands have been influential in the creation of the "jam band" genre.
PM:  You performed with the Bill Kreutzman Trio and have utilized improvisation inspired by the Grateful Dead. Were you approached to play with Furthur before John Kadlecik got the gig?
SM: I was not. Although my playing has been inspired by the Dead, I don't think I sound like Garcia, nor do I want to, and I'm not sure my sound would fit into the Furthur sound. I have a lot of respect and admiration for John K and his ability to emulate that sound and style!