Jennifer Hartswick has been in the live music scene for over a decade, contributing to Phish's studio work on The Story of the Ghost and Farmhouse. She is best known for touring with Trey Anastasio Band since 2001 in its various incarnations and sitting in with a wide range of bands including Umphrey's McGee, Zach Deputy, Karl Denson, Keller Williams, Everyone Orchestra, Cornmeal, Dumpstaphunk, Addison Groove Project, and Soulive.
Jen's trumpet and soulfilled voice are immediately noticeable wherever she graces the stage, either sitting in with others or with her current projects, The Jennifer Hartswick Band, Van Ghost or Wyllys and the New York Hustler Ensemble. Her latest release, Ocean Floor, debuted in November and presents Hartswick in all her talents, highlighting her beautiful voice.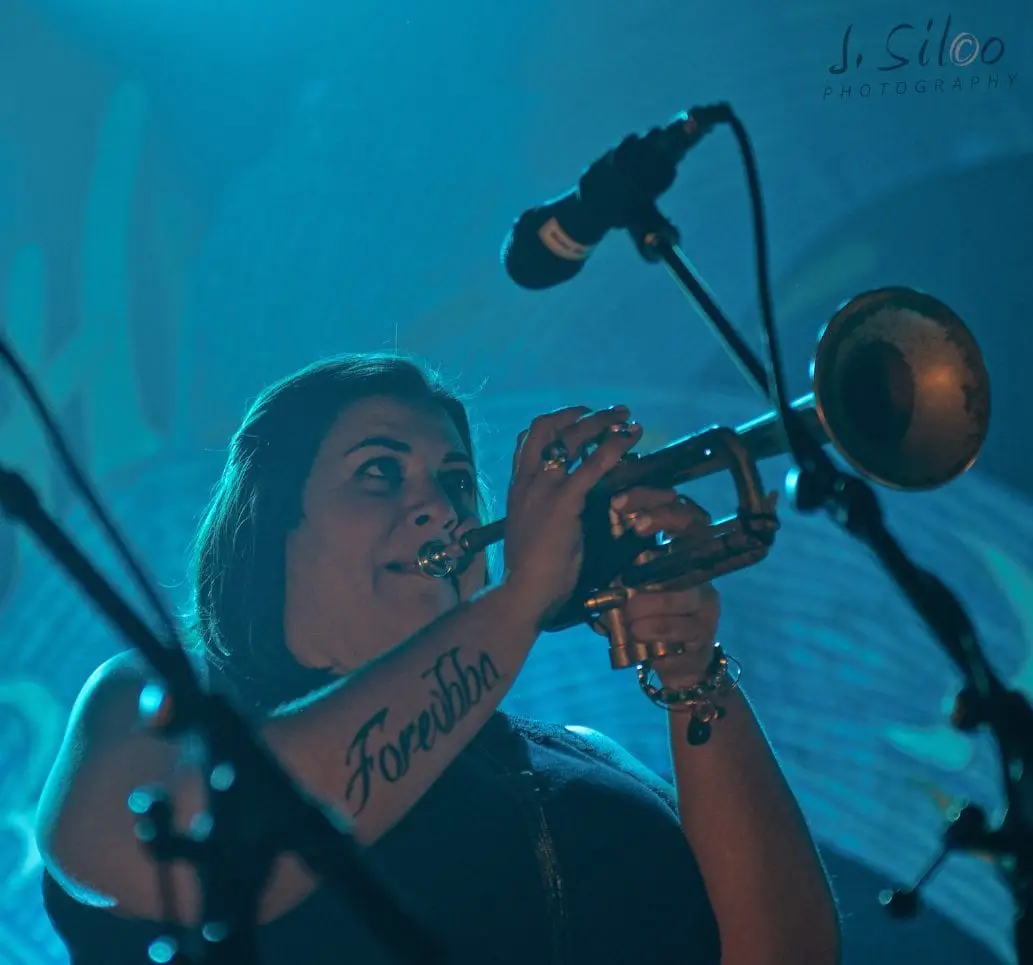 NYS Music was able to sit down with Jennifer at Rock N Roll Resort in Kerhonksen, NY over Thanksgiving weekend to discuss her musical history, how she got started with TAB and her current musical endeavors. Jen was forthcoming and shared a great deal about her musical upbringing in Vermont and her role in TAB. Just after this interview, she rehearsed with Zach Deputy for a later collaboration, and saw her take the stage with Dumpstaphunk later that night on "Be Mine."
Pete Mason: What is your earliest musical memory?
Jennifer Hartswick: When I was three, I distinctly remember a black and gold Maxell tape of Ella Fitzgerald singing skat. I asked my mom, 'Why isn't that lady singing words?'
PM: When did you start playing trumpet?
JH: It was 1990 when I was 10 years old, the year before Natalie Cressman (current TAB trombonist) was born. Before that I played piano, clarinet, flute and saxophone.
PM: Growing up in Sheffield, Vermont, what was your musical upbringing?
JH: I came from a different musical world than most kids. My family has a classical background so growing up I would see classical and opera music anywhere possible – Boston, New York, anything in Vermont. My aunts and uncles, my brother, mother and grandmother are all brilliant musicians, so when we had family gatherings, music was always around and a totally normal part of life.
PM: How did you voice develop? Did you naturally have a singing voice, being born into a musical family?
JH: I always sang, but I've never considered myself a singer. I'm a trumpet player first, even though I sing a lot more these days.
PM: How did you get connected with Trey?
JH: When I was in high school, I performed in a school band and we took part in one competition each year. Dave "the Truth" Grippo (of Giant Country Horns fame) was a judge one year when I was 16. After the competition was over, Dave came backstage and literally parted the waves of kids and came up to me to say "You're having WAY too much fun up there! I want to have that much fun with you!" When Trey was recording One Man's Trash, Dave mentioned me to Trey when he needed a trumpet on his solo album. That led to recording on The Story of the Ghost (Birds of a Feather) and Farmhouse (Gotta Jibboo) and when he put together the touring band in 2001, he brought me along. The group was formed in January and we started touring in February. In the trio, Grippo led the horn section, which also included Andy Moroz on trombone.
PM: Starting at 19 in Trey Anastasio Band and touring the country in 2001 and 2002 seems to have been quite the change of pace.
JH: It was completely different than anything I had experienced up until then. It was the beginning of my what would become my career. My life. Playing great music with wonderful people is the core of what that band is all about. And now it's cool to see Natalie, who is like my little sister going through the same transition at the same age. When I got home from the first tour, I told my grandma how exciting it was and her reaction was "Ya know, you're not the first trumpet player in this family to tour the country on a bus!" She had played trumpet with the Cleveland Browns and traveled with the team in the 40's when there were bands with football teams. She was one of the very first majorettes for the Browns. I thought I was doing something new and exciting…turns out Gramma had already been there done that!
PM: Why did you move to Chicago in 2006?
JH: We needed a change of scenery; I had just gotten married and my husband Wade was working with Umphrey's McGee on the road full time. While there I played a little and taught private music lessons. It was definitely a growing period, a huge shift from the eastern seaboard to the Midwest; I started over in a way.
PM: To what extent do you collaborate with Trey on songs? You seem to lead the horn trio now onstage.
JH: It's a very comfortable setting. If someone has an idea, they'll throw it out into the mix. I'm very lucky to have a boss who cares about our opinions. The older I get and more experience I gain I realize what a gift that is. As far as leading the horn section…it's been 13 years and I've just grown to know the heartbeat, pulse and flow of the show, so you go by what feels right, particularly this past year; everyone has a really solid role.
PM: What are your favorite songs to play with TAB, original and cover?
JH: "Money, Love and Change," it's such a rocker. "It Makes no Difference," such a beautiful song.
PM: What are you listening to currently?
JH: I'm listening to a lot of indie rock, m83's new album Hurry Up, We're Dreaming. Also Snarky Puppy, their new album is Tell Your Friends; they are a huge band of probably 9-12 members, but not big for the sake of being big. They are very composed and tight, everyone has a purpose, with the music composed by the bass player. When I listen to them, I'm constantly thinking "How the heck did you come up with that? It's so complicated and beautiful."
PM: What are your musical plans for the New Year?
JH: I'm playing with Wyllys and The New York Hustler Ensemble New Years Eve at Sullivan Hall after Phish. Early in the New Year, Van Ghost has a new album coming out titled Domino Effect and the Jennifer Hartswick Band has a spring tour in the works to support the new album. In between, there's not a lot of downtime.
PM: When did you start Jennifer Hartswick Band? What sound were you looking for when the band idea grew into a reality?
JH: We started in 2003. The band has gone through many changes in the last 10 years as we've all grown up and matured. What was once a group of ten friends taking long, meandering, drawn out solos has turned into a tight and deep five-piece soul machine. With age comes the wisdom to embrace the 'less is more' mentality which is something that is second nature to us now. The band consists of Nick Cassarino on guitar, Dezron Douglas on bass, Rob Marscher on keys and Nikki Glaspie on drums; all of whom are masters of their craft.