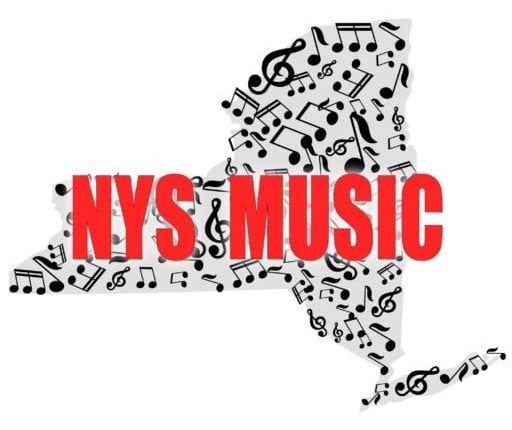 Ten Year Vamp, one of the hottest up and coming acts in the Capital Region put on an intense show February 5th at The Bayou on Pearl Street in Albany. Limited in what to expect, I went to the show with an open mind and hoping to see what is making Ten Year Vamp such a hit on the Indie charts and as far away as Australia. What I found was a group of incredibly talented musicians trying to navigate the Greater Albany music scene and find unparalleled success on a grander scale.
Sitting down with Debbie and Mark, I found dedicated musicians who had been waiting to be in a band like Ten Year Vamp, which they co-founded in 2004 and found its current incarnation coming together in early 2008. The current lineup of Debbie Gabrione on vocals and guitar, Andrew Foster on lead guitar, Tim Keenan on bass, and Gregory Nash on drums has proven to be the band they have long sought to be a part of in finding their musical success.
Sitting in that night was Erin Harkes on backup vocals, a local musician in her own right who has performed solo for the last few years, also generating a solid following.
Ten Year Vamp is not your ordinary band. Two things stood out from our interview that gave an impression that something was working really well in a non-traditional way. Being used to jam-bands that define non-traditional ways, these were new and interesting ways to go about generating a following and improving on their craft.
When Ten Year Vamp decided to start making albums, the money factor was a major component, as it is with all bands. What the band did was ask for the fans to be the investors in the album, and with each donation, rather, investment, a return could be seen from the sales of CDs. This unique marketing method caught the eye of even Money Magazine and CNBC, among many others. Fans donating anywhere from $25 to a couple of four-figure investments got the band to where they are today, one the precipice of creating a new business strategy for bands looking for a break. Selling more than 5,000 albums as a result is a good payback for these investors as well.
Ten Year Vamp also has a dedicated core group of fans that travel with the band as they play in the area surrounding their home base in the Albany area. Renting a bus and bringing fans with them, Ten Year Vamp has done multiple bus trips to Westchester (Gabrinoe's home), charging $20, including cover at the bar, which has led to the creation of a strong fanbase that is coalescing in larger crowds, larger venues and bigger chances for that one big break all bands seek. This proves to be of benefit to the fans, the band, and the venue they are visiting that night, and they admit they play better with their fans in the crowd.
With no manager, and none sought, the band works together to create for themselves a machine that they control and have the reigns on.  Working regular jobs, as many up and coming acts must do in order to afford the game of life, the band plays nearly each weekend, averaging around 70 shows a year. Staying non-exclusive to management companies that cannot provide for them better than they are doing, the band is going about playing their music with a solid fan base, enough for a jam-band fan like myself to take note of this and see that the non-traditional model of live music is not restricted to the jamband scene, although it does have its base there.
Taking in a spot at the bar amongst a few hundred Siena students and a solid number of Ten Year Vamp fans.  The rum n coke/Sex on the beach crowd was nice to look at, and they were definitely up for the music, if it wasn't the first thing on their minds: Siena had beaten Iona earlier that evening, and with the Bayou mere blocks from the Times Union Center, the bar was invariably packed with throngs of 20 somethings who got a nice musical treat to cap off a night of great basketball.
Working through a set of originals and covers (more the latter this evening), the band quickly dove into 'Not my time' by 3 Doors Down, a good rocking opener, followed by two originals that need a listen – 'Another Try' and 'One Night Ticket', the latter having radio single and future rocker written all over it. Debbie's great vocals and intense energy on the stage is something to behold, with her hair flying yes somehow returning right to its original place adds a 'hot' factor that isn't seen much with live acts, with exceptions being Grace Potter and few others.
'One Night Ticket' reflects on a friend's lament that she was engaged and would never have even one night with the guy she later wanted to be with. The lament spawned this song that had a small dose of untz in it, courtesy of Greg Nash on drums and Tim Keenan on bass was complemented with a catchy guitar riff. Songs by All American Rejects and Green Day (Basketcase) showed that this band was very energetic and action heavy, compared to most bands that just stand there in small quarters and do not engage the crowd. Good musical skills + energy = now you're talkin'. Thankfully though, the band never enters into any emo-action, which was a big relief: that era has hopefully come to a bitter end.
Original tune 'Goodbye' has a hint of 90s and early 00s alternative rock, as well as 'Say that you made'. For a drinking crowd that doesn't want to hear a jamband, Ten Year Vamp is what you want to find and enjoy, which goes without saying. Debbie shows she has the harmony to match the vocals with songs like 'All the small things' and 'Longview'. Greg put in an A+ performance on drums, guiding the band through these tunes, and later 'No rain', a song that much of the crowd was in grade school for yet elicited an intense response; it is nice to see Shannon Hoon still getting love for more than 15 years since his death. Andrew and Mark on guitar paid great tribute to all the bands they covered, showing a range and enthusiasm for a wide range of rock n roll. The crowd was fully getting into the groove with 'Life is a Highway' and 'Sugar Going Down', before the set ended and everyone took a break to get a drink. The bar was now packed with fans who were loving the music and wanting more. A short setbreak was needed – the energy expelled by the band needs to be replenished.
The band's camaraderie I observed during setbreak was uncanny: they could easily be mistaken for brothers and sisters joking around and having a good laugh, keeping a very positive, but not naïve outlook on things.
The second set kept the crowd pumped, opening up with Kings of Leon's 'Use somebody' and followed by a Blink 182-esque original 'Never Know', a rock anthem in due time. A medley of tunes followed, including 'I Kissed a Girl', 'Vegas' and 'Poker Face', the trio of which had people flocking into the viewing area to see the band, and invariably press up towards the front of the stage as everyone filled in every available space. Hearing their next original 'Rockstar' bothered me, only because this band was somehow unsigned, yet pulled crowds into a frenzy and generated rocking tunes throughout spot-on covers of traditional and newer rockers.
A drum solo followed 'Rockstar', which has my limited criticism of the band this evening – they do not need to be announced and are ultimately filler. If they just segued in and out of 'Rockstar' into 'Flagpole Sitta' (Harvey Danger), it would be filler that wouldn't be missed. To each their own – some like the drum solos, I do not.
Ending the second set with 'My own worst enemy', 'Just a girl' (Debbie is very much channeling Gwen Stefani on stage at times, but is much more original), 'Like a Prayer', 'Santeria' and finally a rocker still, 'Summer of 69'. The crowd was jumping, screaming, loving the band to the extent it was difficult to navigate their way off stage for another setbreak. The band played strong till 3:30am, long after it was time for me to call it a night.
Overall, Ten Year Vamp has success set out before them, but soon the originals need to replace the covers. If original tunes became a focus, the potential is there for a larger following based on their already strong originals. Ten Year Vamp puts on one hellvua show for any music fan. Go, get a drink, enjoy the show, its tough not to.
On the web – tenyearvamp.com