Trivium and Beartooth have announced they are co-headlining a tour stopping at 29 cities, among them Buffalo Riverworks on May 9 and the following day in Huntington at The Paramount on Wednesday, May 10. Malevolence and Archetypes Collide will join the bands on all dates across the upcoming tour.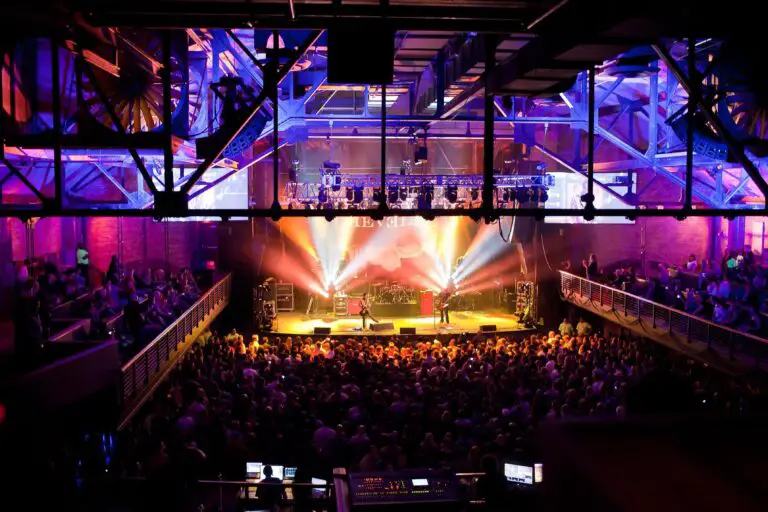 Trivium has expressed excitement for this tour, saying "Trivitooth! We are elated to announce our co-headlining monster of a tour with the incredible Beartooth. We have been fans of what they do, and pals with them for ages — so it's great we're finally doing something so massive together. Trivium and Beartooth are both bands supported by each of our wonderful fan-bases — so we know these shows are going to go off."
On collaboring with Malevolence and Achetypes Collide, Trivium added, "Add in Malevolence, one of our favorite bands on the planet, and Archetypes Collide, one of Beartooth's favorites, and we have a hell of a bill." "I'm so excited to go out on this amazing tour with metal legends Trivium," said Beartooth frontman Caleb Shomo.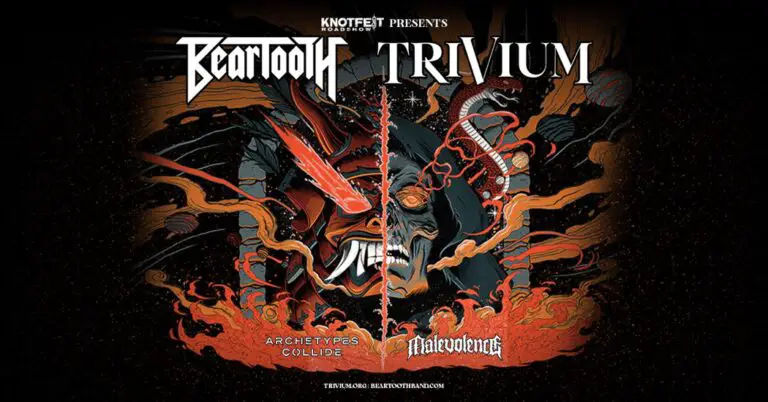 Additionally, Pollister named The Paramount in Huntington the #1 worldwide club back in December. First opening in 2014, Buffalo Riverworks has been named the city's top waterfront entertainment destination.
Declared by Forbes as "inching towards a tipping point of becoming the latest arena headliner," Beartooth released their latest hit Riptide in 2022. The song sees frontman Caleb Shomo put the pain of the past in the rearview mirror as he takes the steering wheel from fate to command his own destiny, and focuses on the struggles of self-acceptance and mental health, two themes that have defined the band since their inception.
The upcoming tour supports In the Court of the Dragon released in 2021 through Roadrunner Records. Performing for more than two decades, the band has continued to receive International acclaim from The New York Times, NPR, Forbes, Billboard, and more. Through the years, Trivium performed alongside Metallica, Black Sabbath, Iron Maiden, and many others and graced the main stages of Download, Bloodstock, KNOTFEST, and more.
Tickets can be purchased starting Friday, Feb. 3 at 10 a.m. through Ticketmaster. Ticketless VIP upgrades are being offered to fans as a joint package, allowing fans to meet both bands.
2023 TRIVIUM AND BEARTOOTH TOUR DATES: 
4/21: Tampa, FL – 98RockFest*
4/22: Orlando, FL – Earth Day Birthday*
4/23: St. Augustine, FL – Planet Band Camp*
4/28: Newark, NJ – Rock The Rock Fest*
4.29: Worcester, MA – The Big Gig*
5/1: Stroudsburg, PA – Sherman Theater
5/3: Green Bay, WI – EPIC Event Center
5/4: Milwaukee, WI – Hog Fest*
5/6: St. Paul, MN – Twin City Takeover*
5/8: Grand Rapids, MI – GLC Live at 20 Monroe
5/9: Buffalo, NY – Buffalo Riverworks 
5/10: Huntington, NY – The Paramount
5/12: Hampton Beach, NH – Hampton Beach Casino Ballroom
5/13: New Haven, CT – College Street Music Hall
5/14: Portland, ME – State Theatre 
5/16: Richmond, VA – The National 
5/17: Raleigh, NC – The Ritz
5/18: Daytona Beach, FL – Welcome to Rockville (Trivium Only)
5/20: Myrtle Beach, SC – House of Blues
5/21: Silver Spring, MD – The Fillmore 
5/23: Pittsburgh, PA – Stage AE
5/24: Nashville, TN – Marathon Music Works
5/25: Columbus, OH – Sonic Temple Festival (Beartooth Only)
5/26: Indianapolis, IN – Egyptian Room at Old National Centre
5/27: Columbus, OH – Sonic Temple Festival (Trivium Only)
5/28: Corbin, KY – Corbin Arena 
5/30: Omaha, NE – The Admiral 
5/31: Clive, IA – Horizon Event Center 
6/2: East Moline, IL – The Rust Belt 
6/3: Kansas City, MO – Uptown Theater 
6/4: Tulsa, OK – Tulsa Theater 
6/6: Austin, TX – Emo's
6/7: Dallas, TX – The Factory in Deep Ellum 
6/9: Tempe, AZ – Marquee
6/10: Las Vegas, NV – Brooklyn Bowl 
6/11: Riverside, CA – Riverside Municipal Auditorium 
6/12: San Francisco, CA – Warfield 
6/14: Spokane, WA – The Podium 
6/15: Seattle, WA – Paramount Theater 
* Festival Dates with Beartooth Only