In 2021, veteran rock writer Frank Mastropolo gave us a mega-informative book about the history of one of New York's most legendary performance venues in Fillmore East, The Venue That Changed Rock Music Forever.  Now he's back with New York Groove (Edgar Street Books), a sort of half guidebook/half history to the sites, stars, shows and songs that made the Big Apple a mighty rock metropolis, from its dawning days in the 1950s to today.
The generously-illustrated 224-page book divides the city's rock landmarks and stories into three chapters: Downtown, Midtown and Uptown, with the first being the arena of most of the action.  All the classic venues of the past are here, from the well-trodden like The Fillmore East, MSG, The Apollo Theater and CBGB to more temporal ones, like The Dom, Club 82, Player's Theater, Mercer Arts Center and The Garrick Theater, which played a role in launching acts like The Velvet Underground, The New York Dolls, The Fugs and Zappa's Mothers of Invention.  After these venues are introduced, the author gives the history of some of the most famous shows at each. One important one was James Brown's 1962 live show at the Apollo. This incendiary performance gave birth to not only one of his most lasting albums but provided proof positive that a live performance of previously released tunes could sell as an LP.  Mastropolos' book also unearths lots a cool factoids about the many ratty apartments, cheap hotels and, and later, the palatial brownstones where stars like Dylan, Lennon, Sting and Patti Smith lived. Also covered are where they penned, and the studios at which they recorded, some of their most well-known songs like The Lovin' Spoonful's ever-enduring steamy weather staple, "Summer In The City." There's more than 200 archival and performance photos, posters, albums, buttons and memorabilia included, arcania that truly brings nearly 70 years of NYC rock history to life.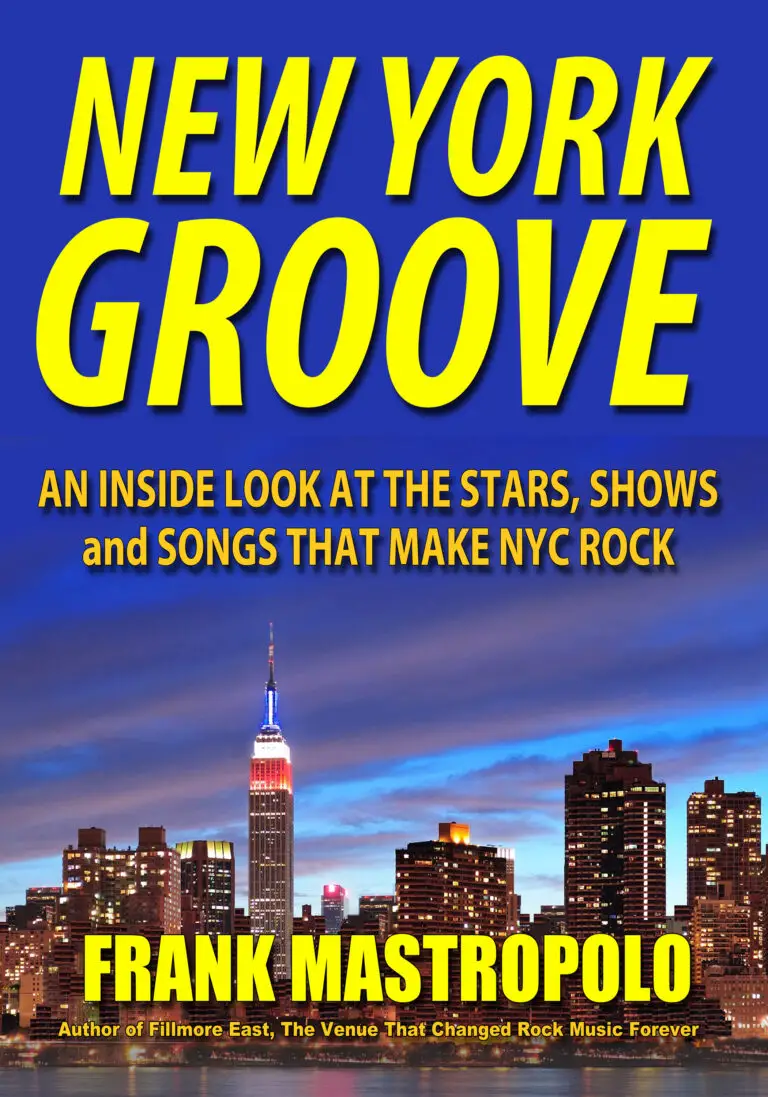 The book is a bit of a personal blast from the past for me as it's a trip back to my recently former life, when I ran a PR company that created, among other weird things, rock and roll landmark bus tours for Tanqueray Gin, first in Los Angeles and later in New York City.  In New York, our tour guide/researcher was the amazing Danny Fields, the man who did PR for The Doors and discovered and managed folks like Iggy Pop and The Ramones, subject of the Ramones song and later documentary "Danny Says."  Fields shared some of the same weird facts that Mastropolo does here.  My favorite?  That Paul Simon's song "Mother and Child Reunion" was inspired by a chicken and egg dish he ate at a Chinatown restaurant.  
A look at NYS Music's reviewer as a younger man giving Japanese TV viewers an inside look at Electric Lady Studios and other NY Rock landmarks, ones covered in this new book.
Mastropolo's book is a must for anyone who wants to head to the streets, or just couch-potato it, and take a comprehensive, first-rate tour of the whole history of rock music in New York.