Long Island-based jam trio Baked Shrimp have announced the initial lineup for the 2022 edition of LonCon Festival. The two-night camping event, running September 8-10, 2022, will be hosted by the Yasgur Road Campground in Bethel, just a stones throw from the site of the 1969 Woodstock musis festival.
This year's event, the second iteration of the band's annual festival, will feature headlining appearances from lespecial and Baked Shrimp, performing two sets. Also making two set appearances are Pennsylvania based roots act Cabinet, and Brother Maker, a new project featuring former members of Turkuaz.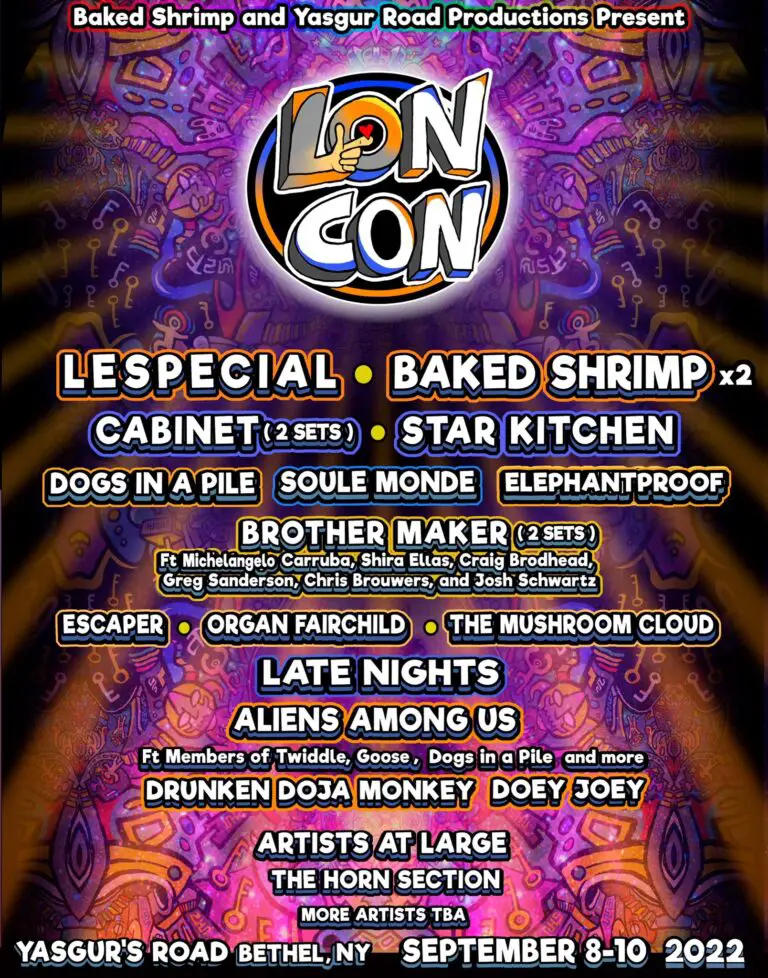 The lineup includes an eclectic mix of notable Northeast jam acts, including Star Kitchen, Dogs in a Pile, ElephantProof (featuring Ben Atkind of Goose), Soule Monde, Escaper, and more. The event will also see the debut performance of Aliens Among Us, an all-star lineup featuring members of Twiddle, Goose, Dogs in a Pile, and more. Drunken Doja Monkey and Doey Joey will ensure the music never stops, with both acts scheduled to perform DJ sets. 
We are beyond excited for LonCon this year! We really worked hard to bring in some incredible talent from all different corners of the jam scene. Many of the performers I grew up going to see live, so having them at LonCon, and having the whole thing at Yasgur's is really such an amazing collision of dreams coming true. 

Jared Cowen – Guitar – Baked Shrimp
The festival is hosted in memory of Lon "Conscious" Gellman, a longtime figure in the northeast jam scene who passed away unexpectedly in November 2020. A portion of the proceeds will be donated to the Lon Conscious Gellman Memorial Scholarship Fund, benefiting music students at Queens College. 
A limited number of early bird tickets will be available through Friday, March 11th, followed by a general on sale.  For more information, and to purchase tickets, visit Lonconfest.com