With a fiery new rhythm section in tow, Runaway Gin has reemerged to rave reviews and are headed out on tour in 2022. They'll make a long-awaited return to Saratoga Springs at Putnam Place on March 4, then perform at Mercury Lounge on March 5, before closing out the tour in Bridgeport, CT at Park City Music Hall.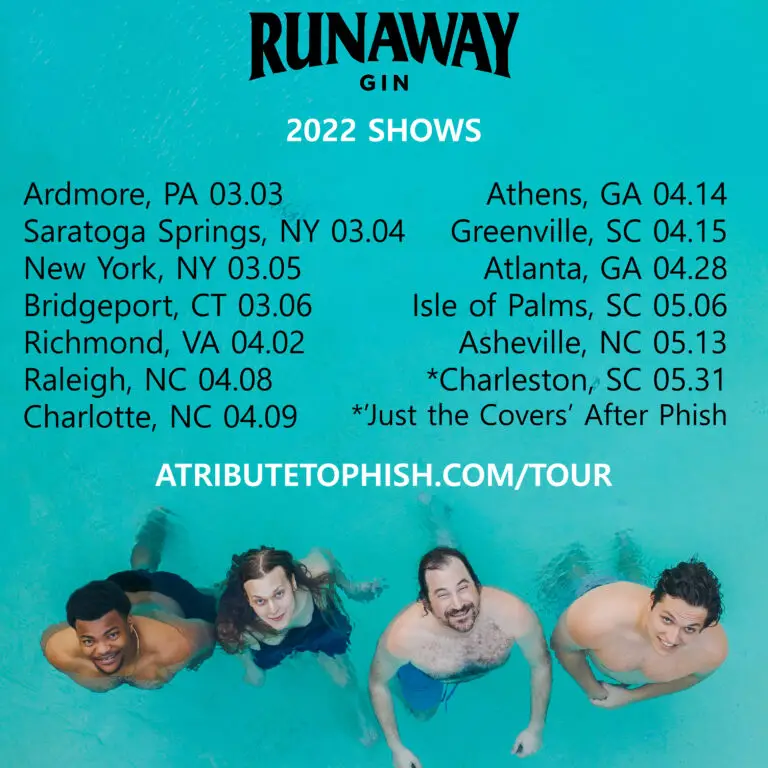 The southern Phish tribute band's recent Fall Tour has featured some huge jams, including a record breaking two-song first set on Friday, November 19, and four sets with less than four songs in their last two shows. This past Friday Joel Cummings (Umphrey's McGee) joined the band for a break-neck rendition of 'Maze' in Richmond, VA.
The Winter 2022 Tour schedule includes returns to Jacksonville, Atlanta, Nashville, Winston-Salem, Roanoke, Washington, DC, Chicago, New York City, Ardmore, PA, and Saratoga Springs. The band will also have debut performances in Columbus, Indianapolis, Cincinnati, and Bridgeport, CT.
Added shows include a debut performance at legendary Richmond, VA venue the National on April, 2nd, long awaited returns to the Lincoln Theatre in Raleigh, NC, and the Visulite Theatre in Charlotte, NC, as well as returns to Greenville, SC and Asheville, NC at the Radio Room and Asheville Music Hall.
Tickets will be available for a limited presale at NOON EST today through Friday via Atributetophish.com/tour.
Public onsale begins Friday at noon at Atributetophish.com/tour.
For tour dates, videos and live recordings visit Runaway Gin's website here complete with videos, posters, photos, and setlists. Follow Runaway Gin on Facebook.
Runaway Gin 2022 Winter Tour
January 20th – Jacksonville, FL – 1904 Music Hall
January 21st – Atlanta, GA – Aisle 5
January 22nd – Nashville, TN – Exit/In
February 3rd – Winston-Salem, NC – the Ramkat
February 4th – Roanoke, VA – 5 Points Music Sanctuary
February 5th – Washington, DC – Pearl St. Warehouse
February 6th – Pittsburgh, PA – Thunderbird Live
February 9th – Columbus, OH – the Summit Music Hall
February 10th – Chicago, IL – the Point
February 11th – Indianapolis, IN – the Mouse Trap
February 12th – Cincinnati, OH – Riverfront Live
March 3th – Ardmore, PA – Ardmore Music Hall
March 4th – Saratoga Springs, NY – Putnam Place
March 5th – New York, NY – Mercury Lounge
March 6th – Bridgeport, CT – Park City Music Hall
April 2nd – Richmond, VA – the National
April 8th – Raleigh, NC – Lincoln Theatre
April 9th – Charlotte, NC – Visulite Theatre
April 15th – Greenville, SC – the Radio Room
May 13th – Asheville, NC – Asheville Music Hall
May 31 – Charleston, SC – Charleston Pour House*
*post-Phish show, 'Just the Covers'
Runaway Gin also recently released their first three song set from Salvage Station in Asheville earlier this month. VIDEO LINK