written by Matthew Romano
Prior to the tour closing performance of Dave Matthews Band at Madison Square Garden on Saturday, November 13, frontman Dave Matthews introduced Dumpstaphunk, who would open the evening's festivities. Sharing with the sold out New York City audience that he was so damn lucky,
I got to listen to sound check yesterday with Dumpstaphunk and then I got to listen to them last night, then at sound check again today. So you guys only got two, by the end of this set I'll have four. This is one of my favorite bands in the world. This band also saved my life but that's a different story anyway have a good time with my friends Dumpstaphunk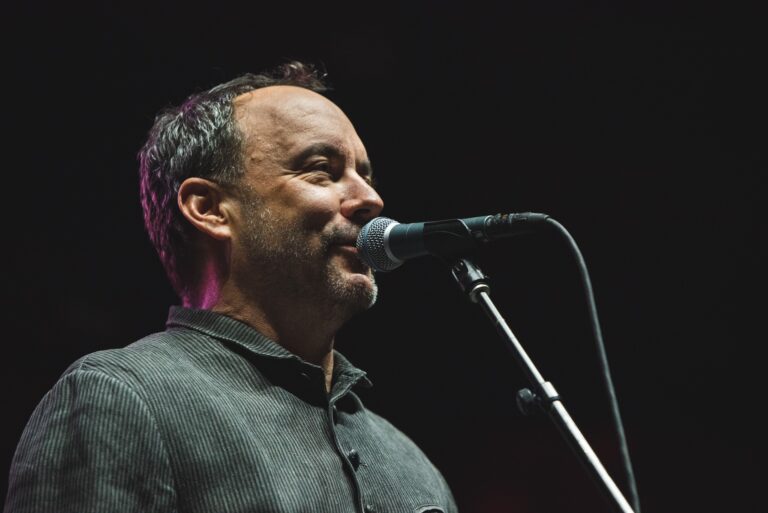 Matthews' story was referring to his sold out Labor Day weekend shows at The Gorge where Tony Hall of Dumpstaphunk and company helped sit in to perform three nights of Dave's music on the spot. DMB keyboardist Buddy Strong sat behind the drums and Tony Hall held the low end down on bass & backing vocals. It was as an alternate format to help the shows go on without Carter Beauford and Stefan Lessard's rhythm section for the first time in thirty years.

A similar situation of musical chairs unfolded at Madison Square Garden as saxophonist Jeff Coffin was forced to sit out the two-night run. Rashawn Ross opened Leroi Moore's original brass section to Ben Golder-Novick, Alex Wasily and Ashlin Parker to the 7th Avenue stage. The Dumpstaphunk horns sat in on "Cornbread" and a "Jimi Thing" that led to a cover of Sly Stone's "I Want To Take You Higher."

Ben Golder-Novick, who was only a guest at New York's Irving Plaza for a Dave Matthews and Tim Reynolds acoustic set in January of 2018, was on saxophone for every song. Dave kept the big door open by calling him a day before the weekend shows to send the invite.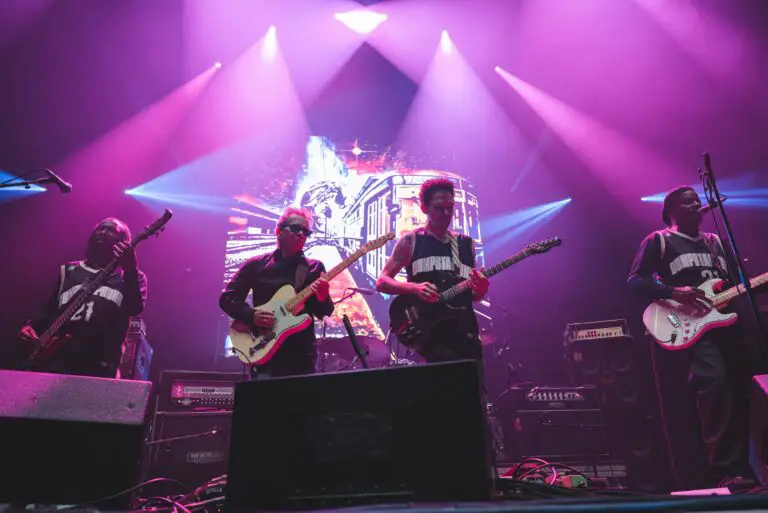 Tim Reynolds sat in during Dumpstaphunk's MSG debut set for their cover of Buddy Miles "United Nations Stomp" on Friday night. The song has been considered for the 2022 Best American Roots Performance Grammy. Saturday night's set included a special guest spot by Dave Matthews and Tim Reynolds for Led Zeppelin's "Ramble On." Tony and Dave traded howls on Robert Plant's words…I gotta keep on searching for my baby.
It marked the first time Tim, Dave, and Tony played the Empire State together since they encored with Led Zeppelin's "Fool in the Rain" at Rochester's Blue Cross Arena for the Dave Matthews and Friends Some Devil Tour in December 2003. It was reminiscent of Dave sitting in with the Funky Meters in Albany in 2000 as well. Tony Hall told NYS music, "What's so bad ass about Dave is that he sounds like nobody but himself, it's like no other shit."
Dave Matthews Band celebrated their 25th anniversary at Madison Square Garden this November. It was the last stop of their 2021 tour that included shows in Syracuse and Saratoga Springs. They performed 23 songs each night, filled with originals, covers, and tour debuts.
Friday night's show that was broadcast live on Sirius XM channel 30 included the debut of "Mad Man's Eyes" which Dave simply said is about a crazy man. "So Damn Lucky," off Dave's 2003 Some Devil record, resonated so right for all those who've had close calls in the crowd. The crowd replied singing in unison to Sly Stone's "Thank You Falletinme Be Mice Elf Again."

Tony Hall told NYS Music about his recording experience on Some Devil. "I had a lot of fun with that record. some of my favorite songs were So Damn Lucky and the end jam on Too High is killing"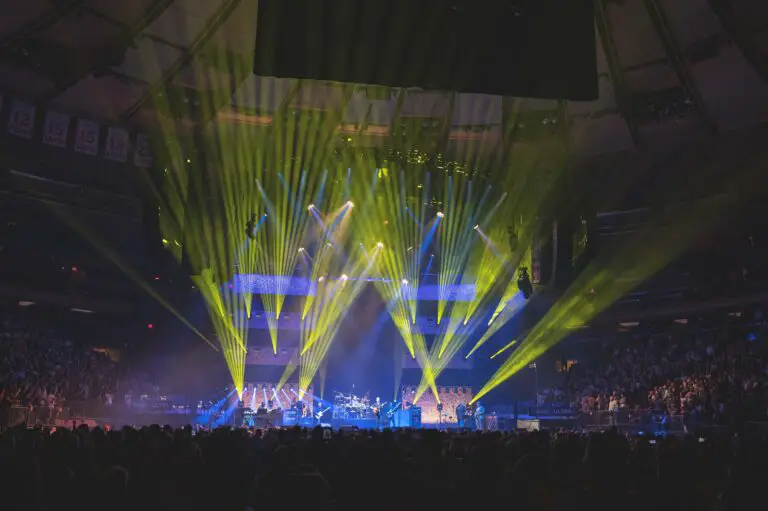 Dave goes to the city with the car horns, corners and the gritty during "Proudest Monkey." Buddy Strong and Tim Reynolds stretched out great jams during "Typical Situation" and "Lie in Our Graves." Friday night's encore included a "Two Step" left unfinished by the band as they launched into a chilling version of "Halloween." It turned back the clocks, buried the past, and sent the crowd trick or treating into the Manhattan night.

Saturday night's tour closing show at the world's most famous arena was a celebration with DMB family, friends, and their legendary crew. Dave made sure to thank all of his on road family that made this crazy year's tour possible each night. "After this year to be in New York City and Madison Square Garden is overwhelming. Its like damn how did I get here?"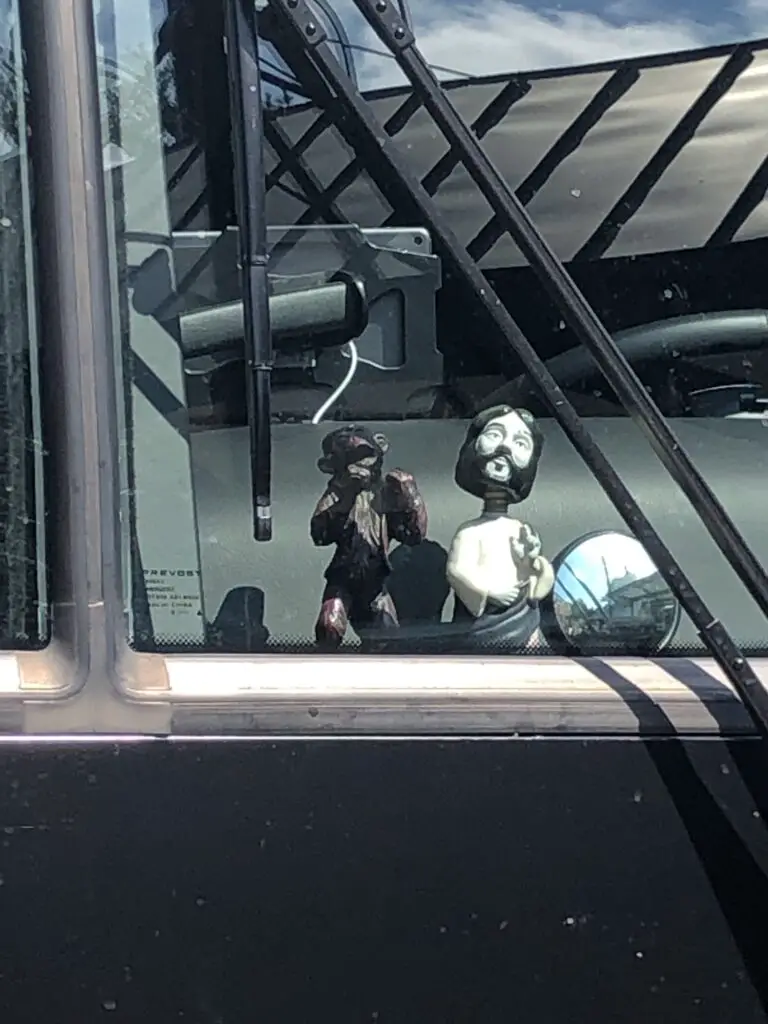 They wasted no time encouraging all at the Garden party to eat, drink, and be merry with a "Tripping Billies" opener. Matthews played his deepest cut "Stay or Leave," off the Some Devil album as well. The rare "Water in to Wine" made its way round and round again for the first time in 2021.

Tim Reynolds told NYS Music about an experience he had at Madison Square Garden during a Sting & Peter Gabriel performance. "When Peter did The Rhythm of the Heat with both bands I screamed like a woman and I only have one vocal chord." Tim was able to feed in the rhythm from the stage at MSG with Dave Matthews treating the New York crowd to a killing version of Peter Gabriel's "Sledgehammer."

The band welcomed the Dumpstaphunk horns to the world's most famous stage for "Cornbread." During the improvisational classic "Jimi Thing," the brass section helped launch Dave to sing on Sly Stone's classic " I Want To Take You Higher." It helped solidify the funk vibe that was in the air both nights.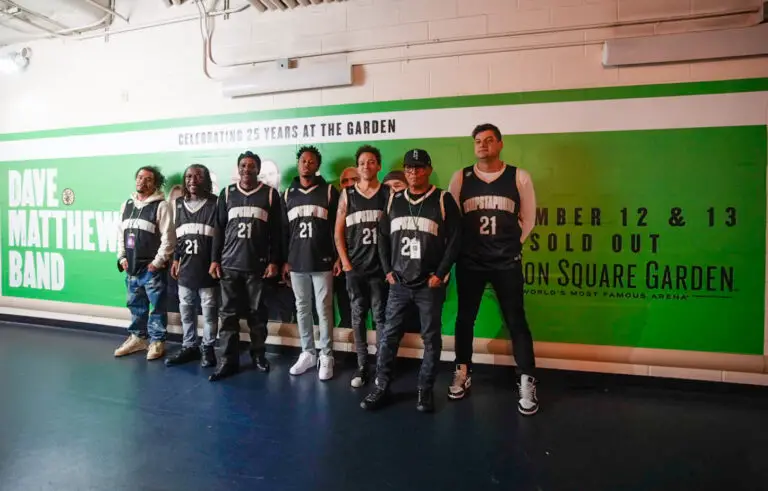 During Saturday night's encore Matthews performed his moving "Christmas Song" that helped flicker some holiday lighting inside the Garden. Before these crowded streets of DMB's 43-city tour came "The Last Stop." This fitting jam during the final encore was left unfinished as it segued into Carter Beauford's iconic snare drum hit to kick into "Ants Marching" to end the performance.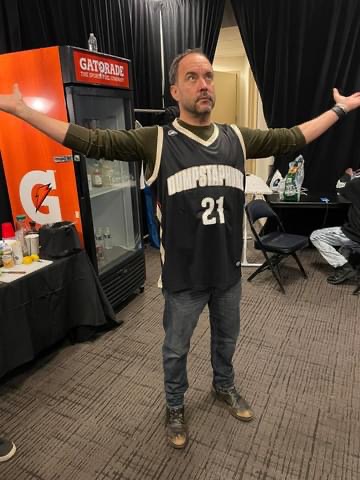 Dumpstaphunk and Dave Matthews Band made this another two-night run of legendary entertainment history at the World's Most Famous Arena. The custom basketball jerseys helped count it in.

New Yorker Carrie Band-Leshin told NYS music at MSG, "I've been seeing him since he played the Wetlands club in Tribeca until now, its like the same shirt on a different day though. I've never seen him play any song the same way twice this whole time." Dave Matthews told the Garden, "I remember coming here when I was a little kid for the Barnum and Bailey three ring Circus. Just to tell you how old I am."
Dumpstaphunk Setlists
November 12, 2021 – Dancin to the Truth, I Wish You Would, Let's Get At It, Where Do We Go, Justice, United Nation Stomp*
*Buddy Miles cover with Tim Reynolds
November 13, 2021 – Meanwhile…., Do You, Make it After All, Street Parade, Ramble On**
**Led Zeppelin cover with Dave Matthews & Tim Reynolds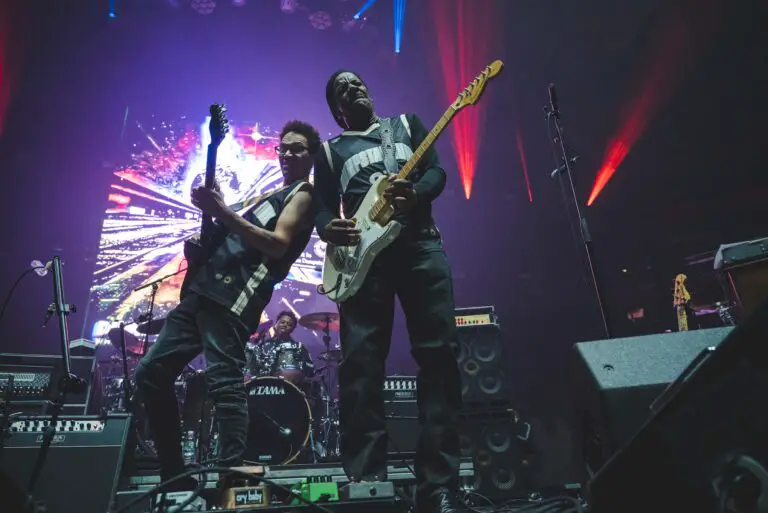 Dave Matthews Band Setlists
November 12, 2021 – That Girl is You, Best of whats Around, Crush, Sweet, Funny the Way it is, Don't Drink the Water, Again & Again, So Damn Lucky, Why I Am, Proudest Monkey, Satellite, Madmans Eyes, What Would You Say?, Lie in Our Graves, So Much to Say, Too Much, Everyday, Grey Street
Encore: Two Step >Halloween
November 13, 2021 – Tripping Billies, Dancing Nancies, Warehouse, Stay or Leave, You Might Die Trying, Lying in the Hands of God, You & Me, She. Grace is Gone, Song That (bridget) Jane Likes-> Water in to Wine, Pantala Naga Pampa->Rapunzel, Sledgehammer*, #41, Cornbread**, Jimi Thing**, Where are You Going?, What You Are, Stay
Encore: Christmas Song, The Last Stop >Ants Marching
*Peter Gabriel Cover ** Ashlin Parker & Alex Wasily trombone & trumpet