The musical biography, Ethel Waters: His Eye Is On The Sparrow, begins at the Capital Repertory Theatre's new home at 251 N. Pearl St. on Tuesday, Aug 24 and will continue through to Sept 26.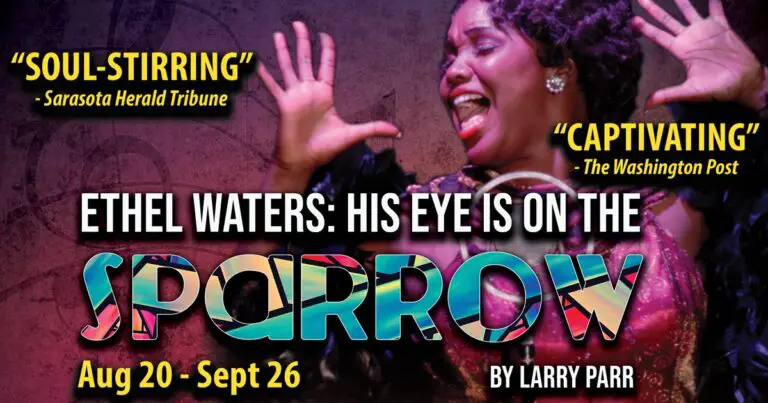 Ethel Waters broke through the Jim Crow ceiling of recording studios, radio, musical theater and movies to become an inspirational legend. Written by Larry Parr, this show celebrates the life of Ethel Waters. The actress and recording star crossed racial barriers to win Grammy Awards, star in her own television show, and be nominated for Emmy and Academy awards. The title role of Ethel Waters will be portrayed by Broadway veteran and award-winning actress Jannie Jones.  
Capital Region audiences will remember Jones' acclaimed performances at theREP in Smokey Joe's Café, Crowns, Black Pearl Sings, and most recently A Night With Janis Joplin, where she brought the house down as Aretha Franklin and Nina Simone. She won an Audelco Award for August Wilson's Women as "Rose" in Fences and a Bay Area Theatre Critics Award as "Pearl" in Black Pearl Sings. 
"I am very excited to be returning to Capital Rep; having done 'Crowns', 'Black Pearl Sings' and 'A Night With Janis Joplin' in past years," says Jones. "I can't wait to look into the eyes of the warm and inviting audiences in Albany once again. I'm simply delighted to work with the wonderful Maggie Cahill and I am very honored to be doing the first full production on the theatre's brand-new stage."  
Playwright Larry Parr's work has had hundreds of regional theatre productions. His trio of plays celebrating illustrious Black female artists, Hi-hatted Hattie, My Castle's Rockin' and Ethel Waters: His Eye Is On The Sparrow have each won numerous playwriting awards. 
This show is the first fully produced show in theREP's new theatre, which includes a 309-seat Main Stage and a smaller flexible studio theatre. A special opening night pre-show celebration will take place to light theREP's marquee on Tuesday, Aug 24 at 6:30 pm under the awning of the theatre. Songs of celebration will be performed as part of the official "ribbon cutting" to usher in the first season at 251 N. Pearl St. Curtain time on opening night is 7:30 pm.  
On Sept 19, a "Behind the Scenes" pre-show talk with Jones and Producing Artistic Director Maggie Mancinelli-Cahill will take place before the Sunday matinee at 1-1:30 pm. Jones will discuss the life of Ethel Waters and her importance in musical history. The event is free to ticket holders of any performance of the show. 
No concessions will be served for the run of ETHEL WATERS; patrons may bring personal bottled water into the auditorium. A link to safety protocols can be found at the Capital Repertory website.   The show runs 90 minutes without an intermission. 
Regular Performances Weekly Schedule:
Tues-Thurs: 7:30 pm 
Fri: 8 pm 
Sat: 3 pm 
Sun: 2 pm 
Sept 1: Wednesday Matinee at 2 pm 
Sept 18: Saturday Evening Performance at 8 pm    
As part of theREP's opening celebration, specially discounted tickets will be available during the run of Ethel Waters for senior groups, residents of the Arbor Hill Neighborhood, and civic and church groups as part of the theatre's Neighbors for Neighbors outreach programming. For more information about Neighbors for Neighbors discount tickets, please call the box office at (518) 346-6204. 
Tickets range from $22 to $52. Reservations may be made online at the Capital Repertory website or by calling the box office from 10 am-2 pm weekdays at (518) 346-6204. $16 student discounts are available at all performances with valid student ID. Tickets may also be reserved in person at theREP box office two hours before show time Tuesdays through Sundays. 
The inaugural season at 251 N. Pearl St. consists of four titles on the 2020-21 announced season that was postponed due to the pandemic: the plays "The True" and "Fly" and the musicals "Jersey Boys" and "Wizard of Oz". In addition, the subscription plan includes a play at Proctors, "To Kill a Mockingbird" starring Richard Thomas. Both theREP and Proctors are part of Proctors Collaborative.
The subscription series pricing starts at $153. Contact the box office 10 a.m.-2 p.m. Monday through Friday by calling (518) 346-6204 or visit capitalrep.org to subscribe.
In addition to "Ethel Waters: His Eye is on the Sparrow", there is one additional previously announced show at theREP that is being presented later this year for 2019-20 subscribers and the general public:

"The Irish and How They Got That Way" is being presented Nov. 19-Dec. 19. Tickets for this show are also currently on sale.
The subscription season line-up:
Fly
Jan. 28 – Feb. 27, 2022
Experience the thrill of flight commandeered by WWII flying aces, the Tuskegee Airmen. Trey Ellis and Ricardo Khan's soaring play takes us on a breathtaking journey with the first African-American Army Air Corp fighters. Based on true events, FLY takes you through the trials and tribulations of four recruits who transform from a collection of motley individuals into a true brotherhood of fighter pilots. Using tap dancing and spoken word, this ingenious play will have you sitting on the edge of your seat, as you experience the magnitude of this emotional ride t first hand.
The True
April 1-May 1, 2022

Albany. Peek behind the curtains in Sharr White's drama about the blunt, profane, decades-long defender of Albany's Democratic Party machine, Dorothea "Polly" Noonan. Politics is personal for Noonan, especially now that her hero, "mayor for life" Erastus Corning II, is battling for party control, while at the same time fighting the fiercest primary challenge of his life. THE TRUE is an intimate portrait of the bounds of love, loyalty and female power in the male-dominated world of 1977 patronage politics.
Harper Lee's To Kill A Mockingbird
June 14-19, 2022 – at Proctors
All rise for Academy Award® winner Aaron Sorkin's adaptation of Harper Lee's Pulitzer Prizewinning masterwork. The New York Times Critic's Pick HARPER LEE'S TO KILL A MOCKINGBIRD is "the most successful American play in Broadway history. It has not played to a single empty seat" (60 Minutes). Rolling Stone gives it 5 stars, calling it "an emotionally shattering landmark production of an American classic," and New York Magazine calls it "a real phenomenon. Majestic and incandescent, it's filled with breath, nuance, and soul." With direction by Tony Award® winner Bartlett Sher, TO KILL A MOCKINGBIRD — "the greatest novel of all time" (Chicago Tribune) — has quickly become "one of the greatest plays in history" (NPR).
Jersey Boys
July 15 – Aug 21, 2022
"O, What A Night!" and you'll want to dance it away to this tune-filled journey with the Four Seasons! Follow the four boys from New Jersey, from their first stumbles and fumbles to their rise to become international icons of their generation. See how the group was almost ripped apart by personal problems and professional differences yet managed to climb to the top of the pop charts repeatedly with big hits, including "Sherry," "Walk Like A Man, " "Big Girls Don't Cry," "Can't Take My Eyes Off of You," and many more. Travel with the boys to "late December back in 63," and relive the music hits of Frankie Valli, Tommy DeVito, Bob Gaudio and Nick Massi.
The Wizard of Oz
Dates to be announced
Lions and tigers and bears, oh my! Revisit your childhood in Frank Baum's beloved classic story, with all the songs we love from the award-winning movie. You'll meet all your favorite characters from Kansas and the wonderful land of Oz. Follow Dorothy and Toto as they travel the yellow brick road in search of the Wizard, while encountering new friends as well as dangers caused by the Wicked Witch of the West.
Sing along with the Munchkins to timeless classics such as "Over the Rainbow," "We're Off to See the Wizard," and "Yellow Brick Road". The show gets the special theREP treatment with actor-musicians, delightful new arrangements and an imaginative setting in the intimate environment of our new theatre. You'll leave the show feeling braver, smarter with your heart wide open!