To fully appreciate Intelligence Is Rising one must step back from the business (and busyness) of everyday life. As the nature shot on the album cover suggests, the music draws its inspiration from singer/songwriter Chaz Hearne and their getaways to national parks.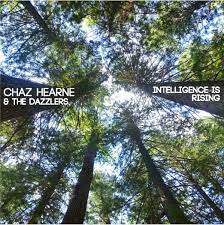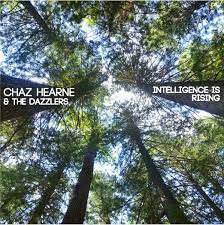 In the title track, Chaz Hearne & The Dazzlers encourage the listener to set down their devices and go out seeking enlightenment. This jaunty tune leads us deep into a lush soundscape. Layers of sublime harmonies and a medley of stringed instruments and piano send spirits soaring as high as the treetops on the album cover. No, higher. And the mood continues to lift through the next few tracks, cresting like the lofty mountaintops referenced in the songs "Montana" and "All The Peaks Sing." The reverb on vocals resounds like echoes in the canyons. And twinkling piano notes spill over in a rambling cascade in "Under The Falls." 
"Now We March" starts like a typical folk song, featuring Hearne's signature banjo-playing, perhaps signifying the start of a hike with one foot in front of the other. "Match your stride to meet my own / Now we're two never alone," Hearne sings. About halfway through the song, the trumpet breaks out in joyous celebration, like that moment when a wooded trail opens to a breathtaking vista. 
The collection takes a turn with "Holy Moly." The heavier musical elements lend an air of gravity to this song about the damage people have inflicted upon the environment. 
Well we thought it never ended so 

We lived with no consequence didn't we

And we didn't want a drastic solution

But it was too late, isn't it

Isn't it

Is it?

– lyrics from "Holy Moly"
At times infused with rock and at other times pulling in psychedelic dream-pop elements, Intelligence Is Rising surpasses expectations. You'll find Hearne's trademark fingerpicking on the banjo and clear tenor timbre. He also recorded the guitar, piano and organ parts for these songs. For this project, he was joined in the studio by a host of "dazzling" musicians: Susanna Rose on vocals, John Delmonico on cello, Emily Dipaola on trumpet, Willa Finck and Katie Knudsvig on violin, Reilly Solomon Taylor-Cook on bass, and Hannah Weidner on drums. The album cover was photographed and designed by Jacqueline Goodman.
Intelligence Is Rising represents both a celebration of nature and a call to action to protect and preserve the environment. Chaz Hearne & The Dazzlers have created an instant classic you'll want to add to your playlist for your next back-to-nature road trip, or for anytime you need a breath of fresh air in your life.