Saturday
Saturday morning and afternoon on the farm came quickly. Festival goers were treated to the first small taste of heat that the great fields in Tennessee are known for. While temperatures did not surpass the lower eighties on this morning, they were certainly hot enough to get people out and moving early, as stagnating at campsites throughout the grounds simply is not an option for survival in the moist heat.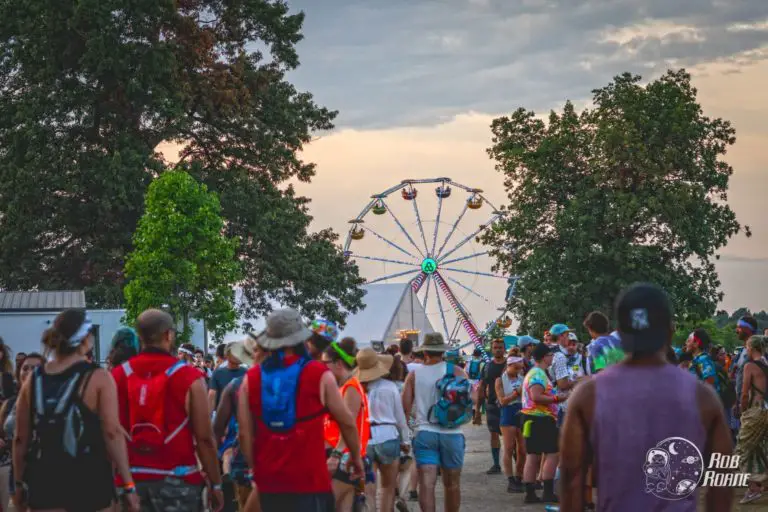 I got up, bumped around the grounds for a little bit seeking sustenance and cold beverage, and noticed the true surrealism that had begun to set in in full force. The camps and plazas that played central host to each camp cluster oozed with creativity and expression in all forms. Incredible spray-painted graffiti covered site walls; giant spotlights had been moved in front of the Bonnaroo disco ball high atop a fire tower overlooking the grounds. The festival was seeping with life. Before I go further to recap the performances I took in, I'm going to illuminate maybe my biggest takeaway from this weekend which really did strike me as I ambled about on this fine Saturday. I am a thirty-something year old, and while of course Bonnaroo draws from every demographic of age young and old, it is largely comprised of younger folks.
Walking the grounds at this festival was like looking back through a window of time for me, looking back at a snapshot of my own past experience of falling in love with live music and the culture that surrounds it. Had I not attended this festival as a much younger person, some fifteen years ago to be exact, I don't know where my life would be today, but I can assure you I would not be a music journalist. Back then, and as I imagined the case to be for many of those who I watched this morning, was the first time feeling the kind of freedom that lives at Bonnaroo. Simply put, as a young person especially, this is a festival that will change your life. It was so, so endearing to peek back into this reflection of my own past and observe people having their life altered, hopefully for the better. Now let's talk tunes.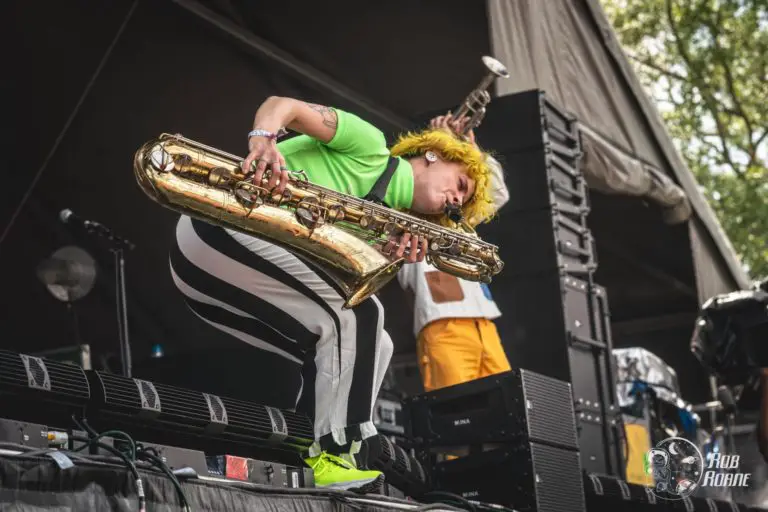 I got in early for the hard psychedelic post-rock sounds of New York's own Rubblebucket. A nice sized crowd had gathered early at Which Stage on this humid afternoon set and Rubblebucket did what they do best, deliver sound in a theatrical and enthralling manor. Adorned in a neon green top with Beetlejuice pants, Kalmia Traver moved around the stage as if she owned it, powering the band through takes off their most recent release Sun Machine. Traver is a force of nature on the stage, flanked of course by her trusty band mates, the eclectic Alex Toth and the rest, Rubblebucket threw down a very "New York" set, which was refreshing to hear the sounds of the concrete jungle all the way down at Great Stage Park. Traver's baritone sax augmented by the rest of the horns belted wonderfully out over the masses. The crowd grew as the set continued, but I retreated to the lounge to guzzle water and collect myself. Luckily, next on my list was Hippo Campus, which was set to take place also at the Which Stage, so I rested backstage until it was time for their curtain call.
When I popped back out in front of the stage for Hippo Campus, a massive crowd was there to greet me. Although the adjacent What Stage is indeed the festival's main permanent stage, the crowds at Which Stage all weekend were omnipresent. The crowd can run very wide at the Which Stage, and stagger all the way back into the causeways of the grounds, through patches of shade provided by the sparse trees overhead and back even further, sometimes mixing with the back of the crowds at the tents. It is truly a sight. Hippo Campus wove a web of a kind of neo pop sound, one that is a bit foreign to me as an author but certainly was not to those in attendance. I was again reminded of how far the talent buying at this festival had come, and what a mystical thing genre diversity can be. From one end of the spectrum to the other I went, moving from the Which Stage over to the main stage for what I thought was some good old fashioned new age country.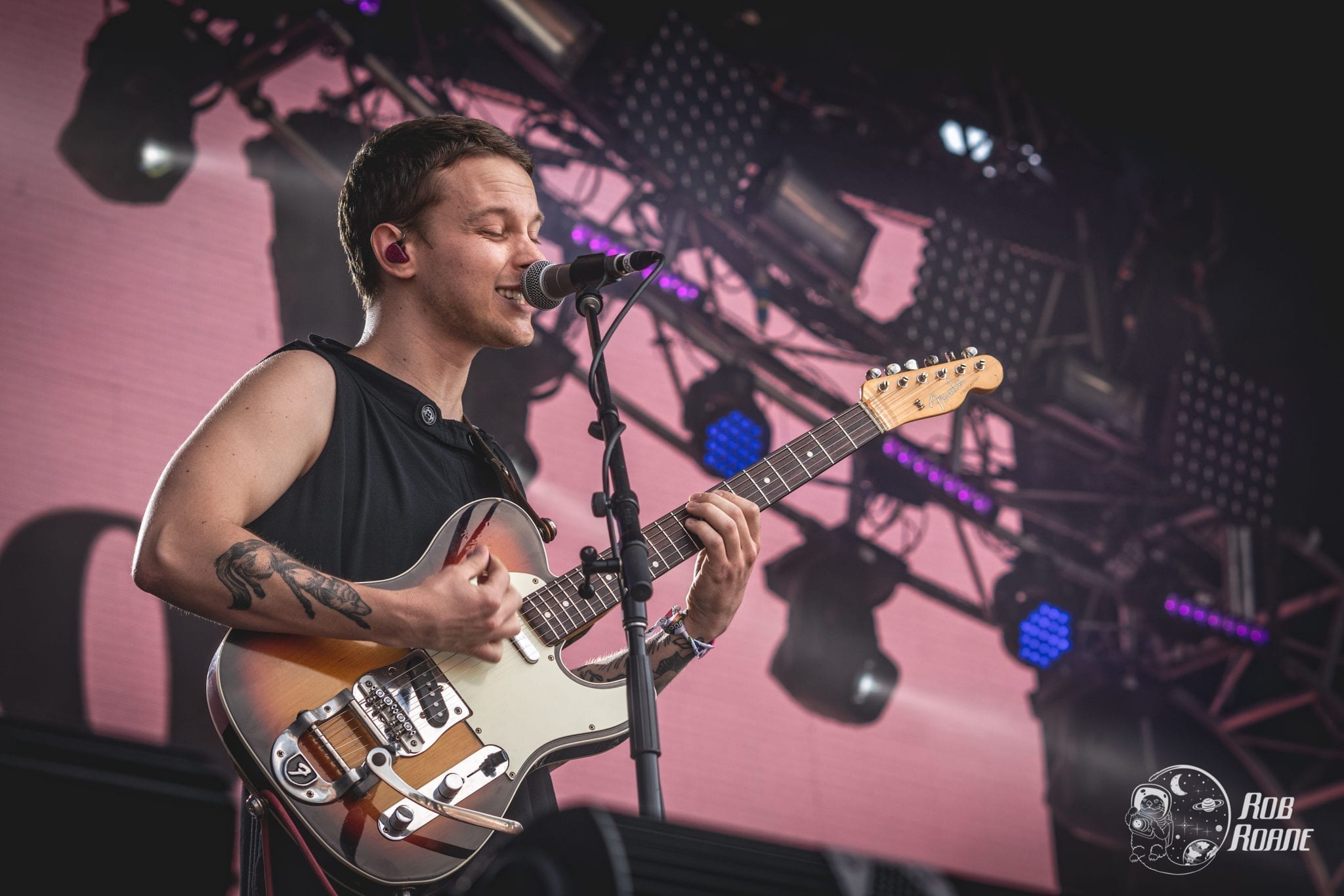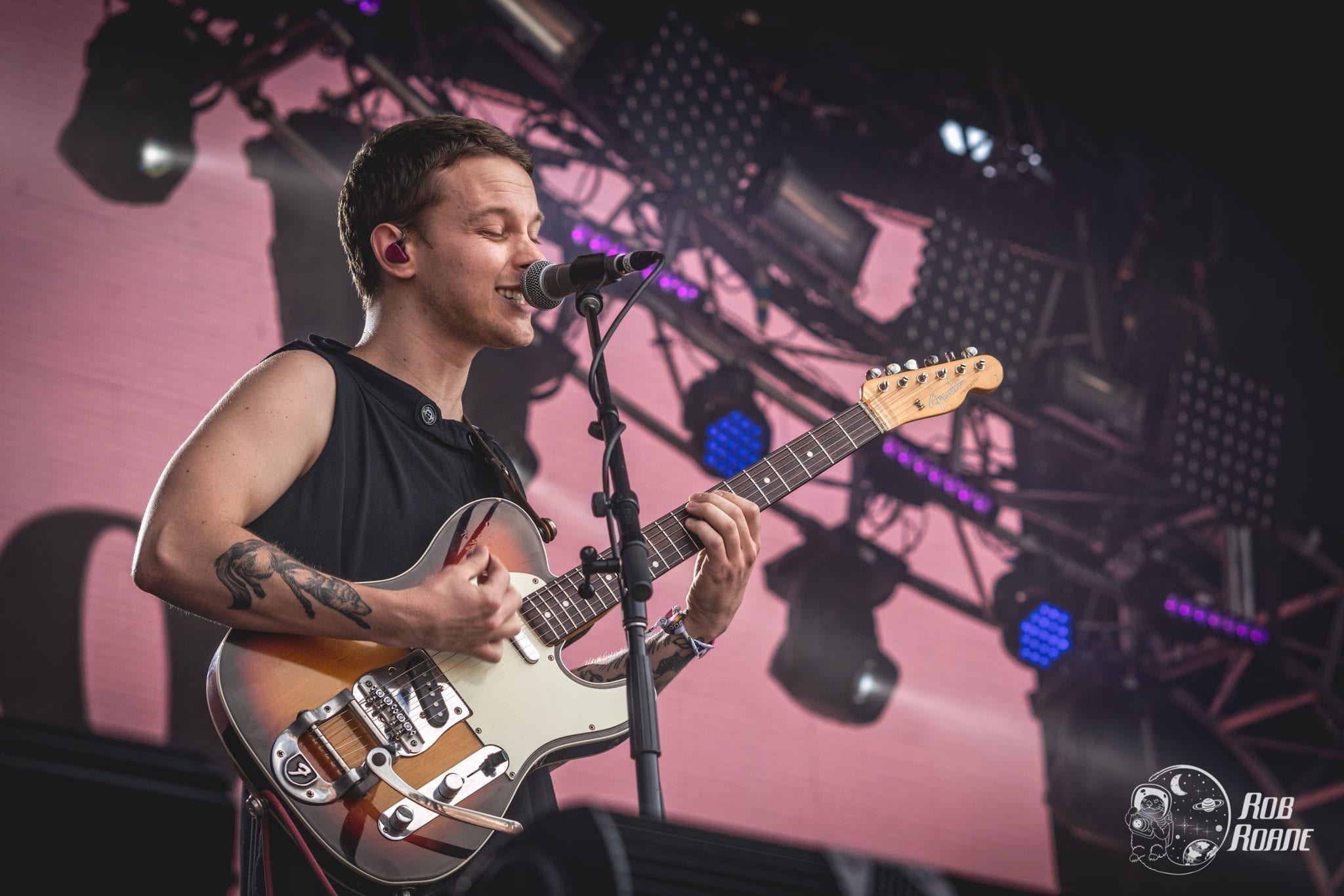 Mauren Morris came on a recommendation to me a few months prior to this outing. Being from the south myself, I am indeed a [gasp] country music fan. There is a movement going on in country music right now that is really yielding some interesting stuff, and Mauren Morris did not disappoint, though she was not what I expected. Morris has been in the news recently after being outspoken regarding issues such as the need for stricter gun legislation which, to the untrained eye, seems a bit odd of someone from her genre. Hence, why I was interested to begin with. I discovered a very well polished, mostly traditional female country vocalist, rooted in the sound of Nashville, the city from which she hails. With a classic country look, cowboy boots and hat, bleach blond hair swaying to and fro, Morris led her band through some high-energy numbers including her current Billboard hit "Girl" which was received thankfully by the large mid afternoon crowd. The set did get interesting though, as Morris inventively worked in some EDM textures into her show. I can safely say this was unexpected, intriguing, and the first of its' kind for me. A low electro bass murmur pulsated the stage at interspersed segments during her songs, and then it clicked why she was so popular among young people. I made my way from the What Stage back to camp for a brief break, and I heard the serenading sounds of The Grateful Dead coming from tents nearby, always welcoming notes to my ears. I felt refreshed as I prepared for what was easily my favorite set of the day.
As I re-approached the Which Stage, the biggest heap of people on the grounds of the second stage that I witnessed all weekend long greeted my eyes. Kacey Musgraves had brought a colossal size party with her only fit for the Bonnaroovians that salivated in anticipation of this set. Friends, let me implore you, go see this show. Musgraves transported us all to another land with her smooth, serendipitous sound that washed me away like a warm and gentle wave. Yes, she is a country singer, but her range is remarkably dynamic. Her sound is eerie, luminescent, powerful but peaceful. I recognized "Butterflies," which was gleefully received by the capacity crowd. Giant inflatable blue balls bounced their way from the front of the crowd to the back, color was everywhere; Musgraves was hitting home runs. As the set moved forward, completely out of left field here comes a monster Flaming Lips cover in the form of "Do You Realize??" The crowd sung in unison; beauty was everywhere.
As the daylight began to retire, ushering in the much-needed coolness of the evening, I bounced between two lineup legends in their own rights. Under the forgiving cover of the tents I watched a patron saint of songwriting, the big door prize himself, John Prine take his band through some mighty fine picking and singing. I saw a nice opening suite of "Hello in There," "Summer's End," and the lively "Knockin' on Your Screen Door," before I sprung from That Tent to This Tent for Jim James and his band of rock steady pros. While many in the crowd anticipated a set rich with My Morning Jacket materiel, James instead threw out mostly recent solo stuff, including the Sirius XM favorite "Just A Fool." James did however have one surprise up his sleeve as the lights went dim on the backline of the band and James switched to a seated acoustic guitar before the opening chords of the My Morning Jacket anthem "I'm Amazed" began. This was a truly stunning moment as time almost stood still just long enough for the seated Kentucky rock god to belt out poignantly, "After all is said and done, where is the justice?" as the song concluded. Never one to shy away from social commentary, he let the last notes linger in order to emphasize this powerful message in the form of lyric.
Before moving onto Saturday's headliner and late night charades, I want to give a tip of the hat to my discovery of the day: Liily. This four-piece new age indie punk rock outfit out of Los Angeles played the smaller Who Stage which resides centrally between the two tents. The stage features up and comers under much smaller production but it is a great opportunity to discover new artists, and I can safely say I won't soon forget this power punch. Liily is here to tell you that rock is far from dead, and that the California sound is getting re-carved. This was a scorching performance from a band whose oldest member is not even 21 years of age. This was by far and beyond the most truly rocking set I saw all weekend. Expect to see a lot more from this young ferocious foursome.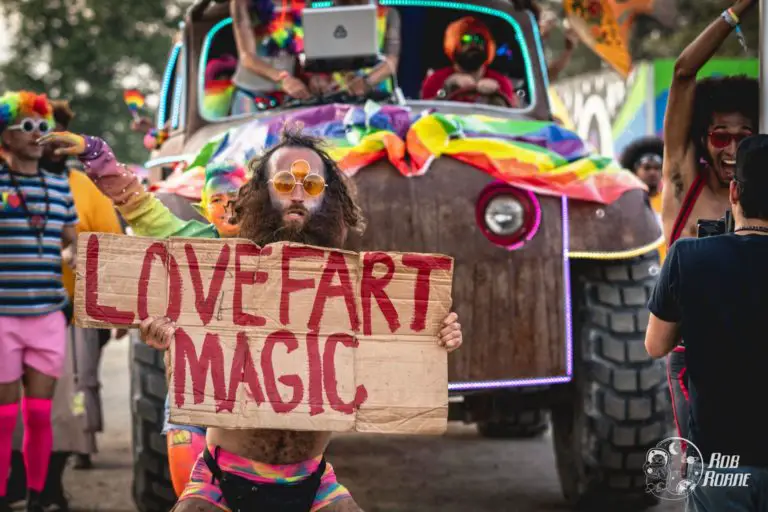 I migrated from the smallest stage on the property back to the largest, for the feature of the evening, the Texas tornado, Post Malone. While the actual music struck me as nothing more than his studio stuff turned up very loudly, I will say that the production was impressive. A fierce collection of pyrotechnics peppered the performance frequently, and let's be honest here, pyrotechnics are always cool. Towers of fire two stories high backed Post Malone as he talked the giant gathering through his hits like "White Iverson," "Sunflower," and "Congratulations."  I wasn't specifically disappointed with this set, because it was exactly what I imagined it would be, but at its conclusion I was more than ready for the late night bomber Joe Russo and his Almost Dead to invade the grounds.
Joe Russo's Almost Dead, or "JRAD" as they are effectively known, was the only manifestation of live Grateful Dead at the farm at the 2019 installment of Bonnaroo. While I have commented on how nice it is to see how far the booking at this festival has come, I was more than happy to see JRAD sneak onto the lineup to ensure at least a small piece of Bonnaroo's roots remained on the farm. A sparkling "Rubin and Cherise" got the party started for the notably easy to maneuver crowd gathered at "That Tent."  Russo moved his band through classic after classic, with a specifically cool "Help on the Way" > "Slipknot!" > "Throwing Stones" sequence. "Throwing Stones" occupying the slot which is usually reserved for "Franklin's Tower" was a nice touch.
As GRiZ had done the night before, Russo nodded to the late Dr. John by busting out "Such a Night" before closing things down with an extended "Samson and Delilah," taking the clock several ticks past their allotted 3:15 a.m. stoppage time. I barely made it back to camp to embrace my pillow oh so welcomingly. Find the complete JRAD set at the bottom of this recap.   
Setlist: Rubin and Cherise, St. Stephen, Mama Tried, Help on the Way, Slipknot!, Throwing Stones, He's Gone, Playing In The Band, Terrapin Suite, I Need A Miracle, Such A Night (Dr. John), Samson and Delilah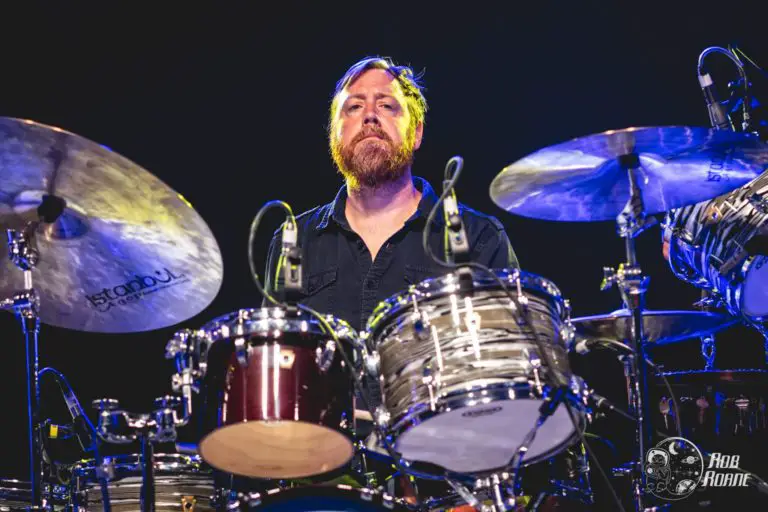 Sunday
The time had almost come to say farewell to this majestic place called Bonnaroo. Sunday was upon us all, and along with it now the true nature of the farm: sweltering heat. I knew I could not bid this extravaganza goodbye without first kissing its cruel mistress the sun at least once. Sunday brought temperatures far more familiar to most savvy Bonnaroovians. The thermometers rose towards 90 degrees. Sweat bathed us all. No matter though, because it was Sunday, a day commonly referred to as "The Lord's Day," and on this Sunday, by all accounts The Lord was coming in the form of a traditional proper two set Phish escapade. Praise!
Before the Vermonters completely took over, I braved the heat to make it into Centeroo for the speakers of the truth through brazen brass, one of my absolute favorite bands on the circuit today and a Bonaroo veteran taboot, The Soul Rebels. The Soul Rebels brought the funk party live and direct to the Which Stage on this baking afternoon, and, as always, I hung on every note. With renditions of "If I Ruled The World" complete with the Nas vocal parts delivered by trumpeter Julian Gosin, and their ode to their home city of New Orleans "504," The Soul Rebels boomed on this Sunday afternoon, just enough to forget the heat for a cool 45 minutes. I spoke with the Soul Rebels' Julian Gosin and Marcus Hubbard after their set about Bonnaroo, the importance of keeping brass in schools, and much more.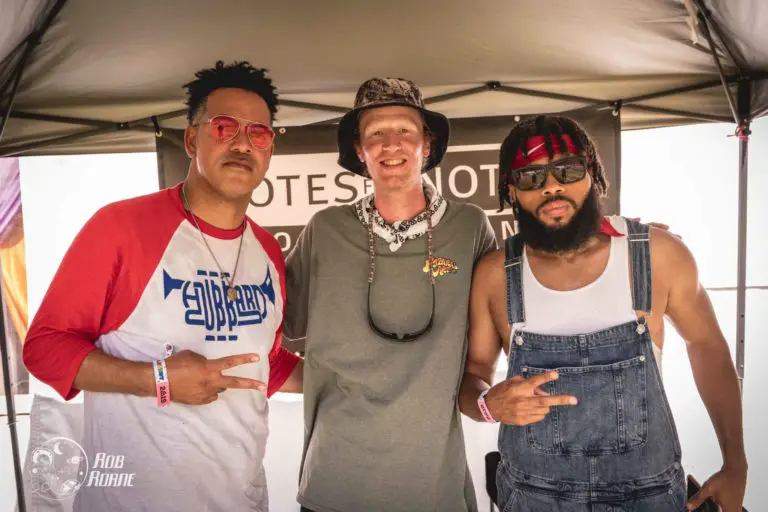 ---
We're here at Bonnaroo, which is a really diverse festival. I can tell you, just walking around the festival grounds, it's way different then other places I've seen you [Soul Rebels]. There are all colors out there, there are all creeds, and it's great. The duality of that is though that while we're here at this great melting pot of diversity, there's also a culture war going on. People high up in our administration right now are fighting to do things like take music out of schools, and ironically brass is kind of on the front lines of this fight.
NYS Music: Can music save a life?
Julian Gosin: Music can definitely save a life.
NYS Music: And has it?
JG: Ya man, we living proof. New Orleans… unfortunately doesn't have the best reputation when it comes to crime.
NYS Music: Sure.
JG: But… the music is one of those things that kept a lot of us off the street, kept us busy, kept us focused, kept us motivated. After school, we would get home six, seven o'clock at night coming from band practice, and we were so focused in on our craft, we would extend that at home. Probably with another two or three hours of practice. Just the mentality of really wanting to do it is just the thing. Coming from New Orleans, we were the cool kids, we were cooler than the football players. We were young and not really realizing at the time what the music was doing for our careers and our safety, and our lives, and our families. It's so important to keep the music in the schools. Right now, I'm currently working in the schools back home and there's just such a big gap from when we were in school to now. We just want to give back. Music can save a life, man. 
For my complete interview with The Soul Rebels, keep it dialed in right here with NYS Music and we will release the whole transcript soon. Now onward we go!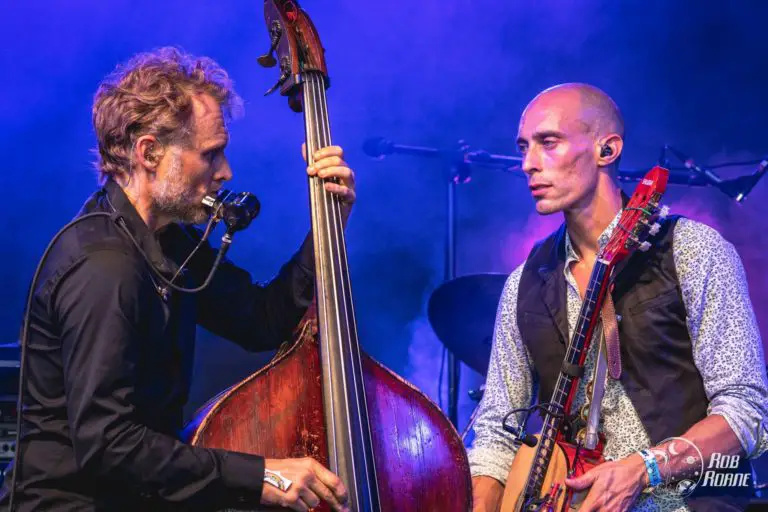 By about 4 p.m. it was a full on roast. I had to retreat for some time just in order to reserve the energy to stand for the evening to come. I tumbled back to camp for a breather before ultimately making my last trip into the belly of the beast. I got a bit of a second wind thanks to The Wood Brothers sparking a notably fast paced set at That Tent that included "Saturday," "I Got Loaded," and of course "Luckiest Man." They also threw in a nice curveball with "Express Yourself," a song written in the seventies by Charles Wright, but popularized mostly by N.W.A. in the '90s. The Wood Brothers had the crowd moving, and amongst its ranks, one could clearly see that most of the Phish crowd had deemed That Tent their pre-party. It was nearly time.
Before the last hurrah, I made sure to stop by the queen Cardi B. Her set was exactly as I imagined it, very hype, with a gargantuan crowd. Cardi played the hits, and midway through suffered somewhat of a wardrobe malfunction, splitting the backside of her outfit. She took it like a complete professional though, and to the crowd's delight she finished the entirety of her set in a bathrobe. My ears rang as her set finished up, but no ear ringing would deter me from the big show.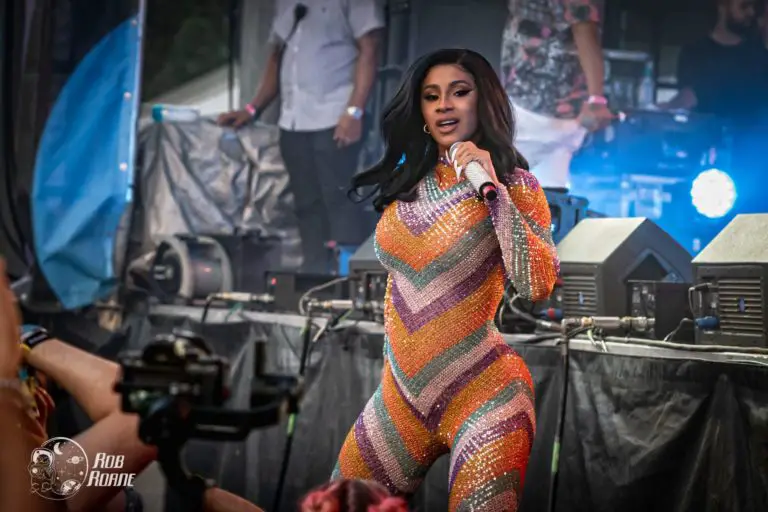 Phish took the main stage just a few ticks after 8:30 p.m. with Trey Anastasio beckoning the crowd, "You guys got any energy left, Bonnaroo? Because we do!"  The crowd was far more concentrated than Friday, as seemingly many of the folks on tour had procured wrist bands and made it in for the Bonnaroo blast off set. Big Red and the gang got right down and dirty with a quick "Set Your Soul Free" before encouraging the youngsters out there to "Blaze On."  I noticed so many first timers again at this show, and it was so encouraging dancing amongst them, knowing so many would get hooked because of this set. Music is indeed a beautiful thing. The Kasvot Växt hymn "Death Don't Hurt Very Long" took the tertiary spot before a nice Bonnaroo "Reba" popped its head up in the first set. A triumphant and appropriate "Free" came next, perhaps a nod to what so many discover on this great farm. "Sand" proved to be the dance friendly number in the first set, the contagious guitar riff lapping out over the crowd, most of whom had dropped their jaw thanks to this early crescendo.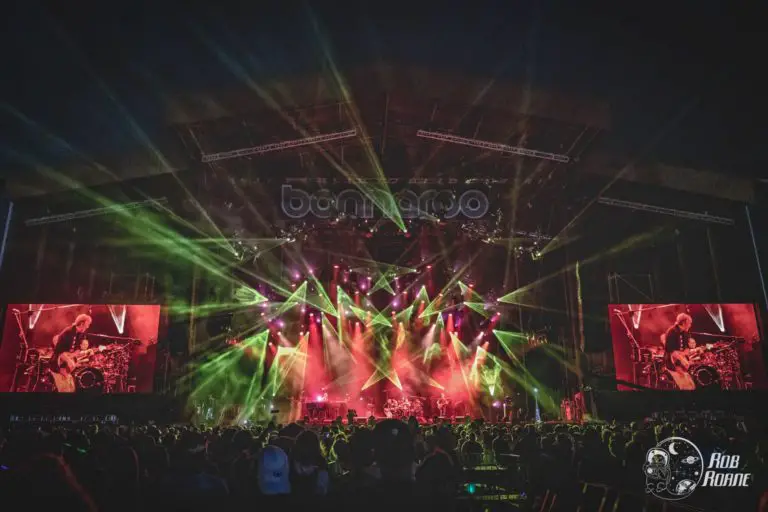 The second set can stand up to any second set in recent memory. This was no "festival set" as I previously mentioned many feared. This was the real deal. "Mike's Song" led us down the hallway out of the gate, before a huge 14+ minute "Fluffhead" that was followed by a hefty "Twist." That pairing is a favorite of mine and was the high point of this set. A nice "Weekapaug Groove" sandwich that found "No Man In No Man's Land" as the meat in the middle came next, before creating an even larger sandwich by reintroducing a brief return to "Twist."  What a set indeed.
The trifecta of "Fuego" -> "Ghost" -> "Bathtub Gin" put the bookend on the second set. Phish had dominated the farm once again. Hands met hands in high fives; the phrase "Happy Roo" was exchanged by many. Just as they had come, both the band and the 80,000 patrons would soon slink back out into the night and back to their respective lives, but not before meeting Wilson. The notes of "Wilson" came knocking back on the stage door for one last rump shake, the raucousness created by the "blat-boom" lyrics was palpable. Somehow, even on the last leg of this four-day behemoth of a festival, this may have been the highest point of energy. "First Tube" sent us all on our way and brought the show to a climactic end as Anastasio held his guitar high above his head and ran around the stage. Mission: accomplished. For the complete Phish setlist see just below this recap.  
If I can leave you with anything, it would be to return to my words at the top of this recap – this festival can change your life, you simply have to let it.
Phish setlist – Set 1: Set Your Soul Free, Blaze On, Death Don't Hurt Very Long, Reba (no whistling), Free > Sand, Wolfman's Brother, Cavern.
Set 2: Mike's Song > Fluffhead > Twist > Weekapaug Groove > No Man In No Man's Land > Weekapaug Groove > Twist > Fuego > Ghost > Bathtub Gin.
Encore: Wilson > First Tube.