The night of Sunday, April 14 was a special night for all of the Capital Region's music and entertainment scene at Proctors Theatre. It was the first ever Eddie's – the Capital Region Thomas Edison Music Awards. The Eddie's were formed this year by Jim Murphy (marketing and corporate development director at Proctors Collaborative) and Salvatore Prizio (program director at Proctors). It provided an opportunity to amplify, empower, and celebrate all creative professionals that are vital to the Capital Region's growing music scene. Thirty-three categories, ranging from best photographer, soloist, music venue, and others, and three people's choice categories, were voted on by the public. Two 2019 Inductees, songwriter, Kevin McKrell, and Music Mobile founder, Ruth Pelham, were inducted into the N.Y. Capital Region Thomas Edison Music Hall of Fame.
As a creative professional in the visual arts, photography, and journalism scene, it was an honor to attend and be a part of this show at Proctors. It was a blast being a part of this show with other creative musicians, photographers, publications, and music patrons. The awards show gave patrons an opportunity to learn more about the musicians, bands, publications, music promoters, photographers, venues, radio hosts, and other creatives that make up our music scene in the Capital Region. It was a great event to support all the nominees and winners that make up our growing scene.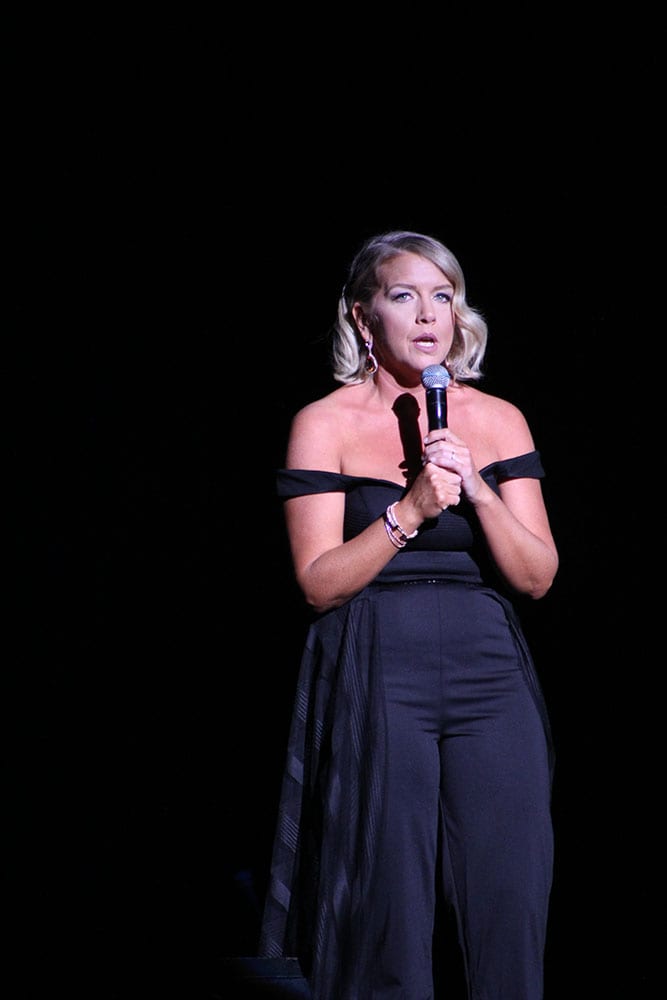 Erin Harkes, Musician, Comedian, and Host of the First Ever The Eddie's Music Awards Show.
Throughout the evening, there were many highlights that made the first ever Eddie's special. The first thing that was consistent throughout the show was the amount of talent that was showcased during the musical performances. The local bands and solo acts that performed at The Eddie's included Rich Ortiz, Bear Grass, Alex Torres and his Latin Orchestra, rapper Johnny 2 Phones, blues group Alana Wyld / Wyld Blu, and nominated party cover band New York Players who closed out the evening. Both Alex Torres and his Latin Company and New York Players kept the music awards party going in the beginning and in the end. It was great to hear the music from these acts, it gave everyone, an opportunity to enjoy their music up close in an environment where they were nominated (and won) some awards.
Erin Harkes, musician, comedian, and the host of The Eddie's was funny, witty, and had great comedic timing each time she was on stage. Also taking the time to poke fun at other hosts by switching up her change of wardrobe each time she announced a musical act or announced a nominee, Harkes was a great host. She even took the time to poke some fun at the photography nominees and shared some photos that her mother had taken of her performing at various musical shows. Harkes' mother is a huge supporter of her and her career as both a comedian and a musician – a fitting montage to her mom and her evolving music and comedic career.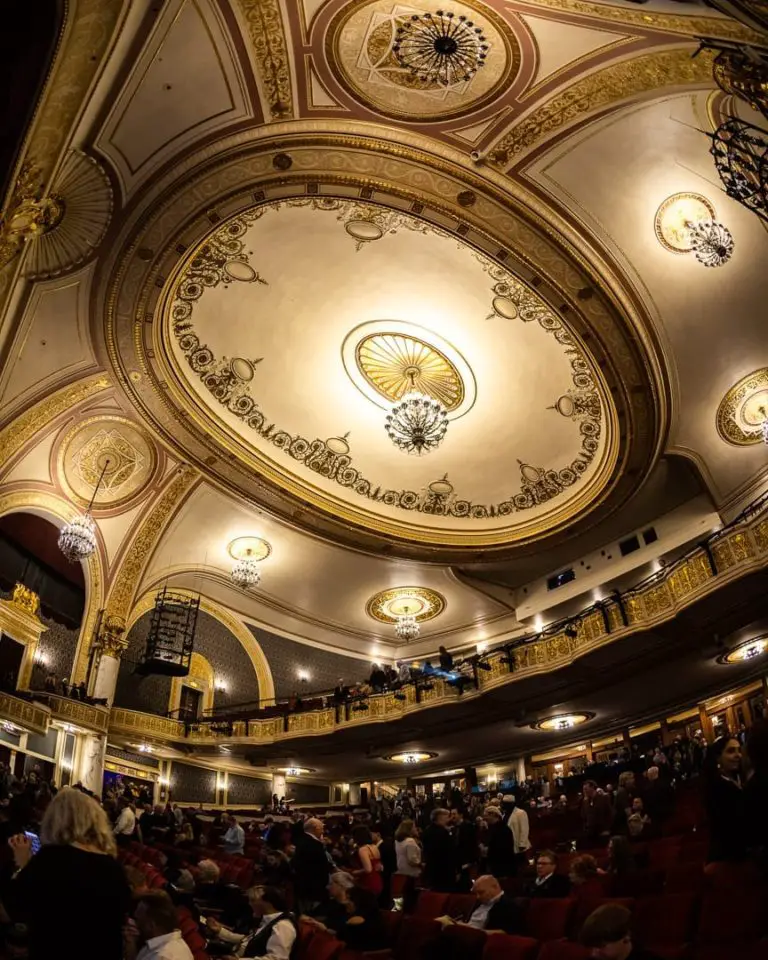 Within the past month, the Capital Region music community has lost two great pioneers within the music and arts scene, Caroline "MotherJudge" Isachsen, and Greg Haymes. Throughout the evening, many nominees and winners took their time to show their support to the late performers who have made a giant impact in the community, as well as in their lives. Upon receiving his award for music journalist of the year, Michael Hochandel thanked Don Wilcock, his first editor that he had ever worked for as well as Haymes.
"I have a suggestion. Next time let's call this thing 'The Greg.' Greg Haymes was the best of the best. And it hurts like hell that he is not here. So, thanks for 'The Greg'," called Hochandel.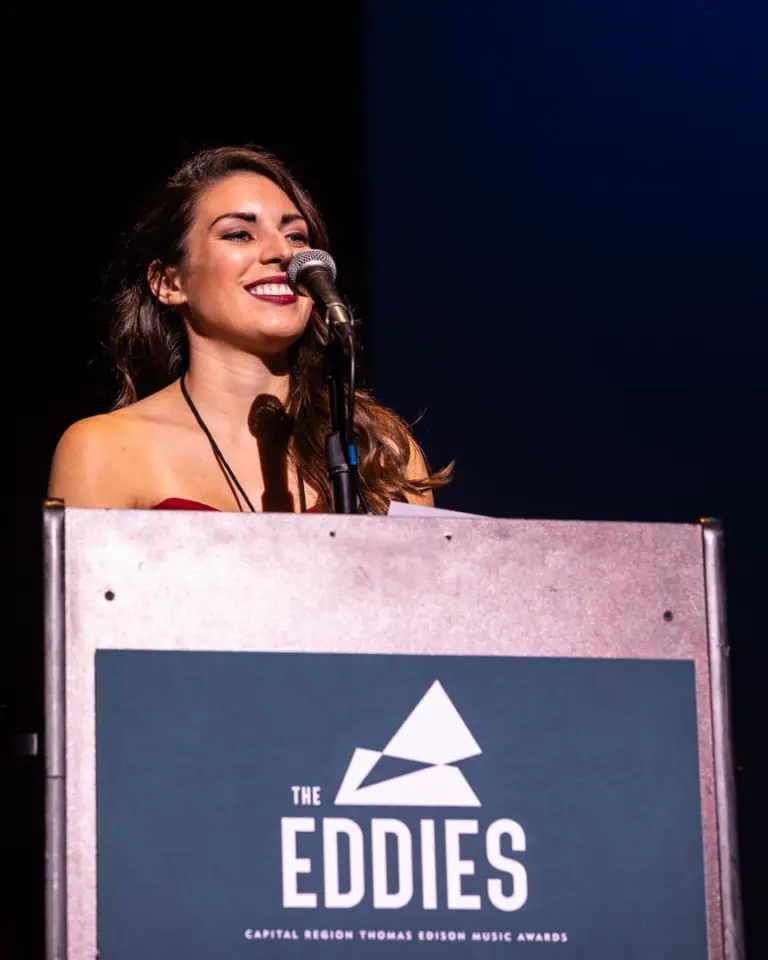 Local arts publication Nippertown won the award for best arts publication which was accepted by Blotto and Ramblin' Jug Stompers band member and friend of Haymes, Paul Jossman, and Haymes' wife, Sara Ayers. A long round of applause was heard around the room as Ayers and Jossman arrived on stage to accept this award in memory of Greg.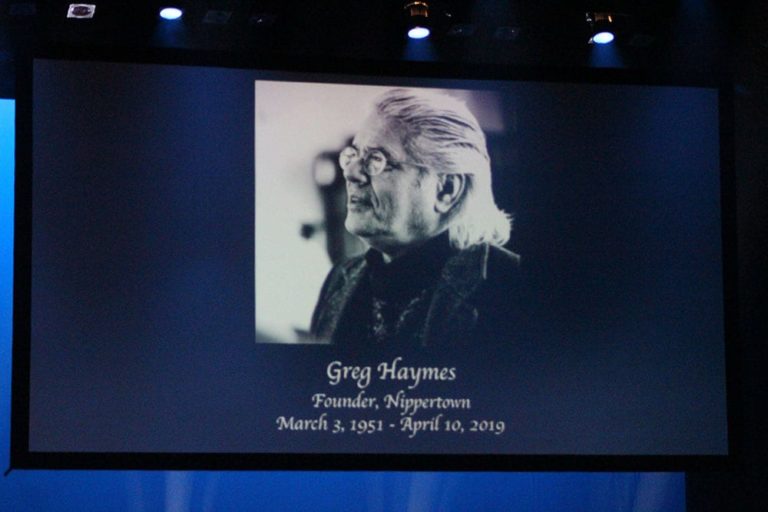 A memorial on the screen held for Greg Haymes, founder of Nippertown. Nippertown.com won the award for "Best Arts Publication".
"There was nobody that loved the arts more than Greg Haymes. Whatever it was… rock, opera, or funk, he was always eager to seek it out and enjoy it… Nippertown was his creation, pretty much his creation," said Ayers upon accepting the award. Ayers reached out to the Nippertown contributors that she asked to stand up and rise as she called out their names and thanked them for contributing to Nippertown. Once the contributors rose to be recognized, the screen changed to a photo of Haymes with his birth date and death date, shared on the screen to honor the memory of the Nippertown founder. Haymes would also be recognized by other winners, including Chris Wienk of WEXT, Kevin McKrell who thanked Haymes and MotherJudge for their friendship, and Andre Pilarczyk who thanked Haymes and Ayres for being his mentors.
After the winner of Radio DJ (WEXT's Wienk) was announced, Harkes and the audience took a moment to remember the late Caroline MotherJudge. A video montage featuring photographs of the late singer were featured on the screen, along with an original song that she had written for her Cold Warrior album that she had written with Mitch Elrod. It was a fitting tribute to MotherJudge as well as to the album that was one of two winners for album of the year. The award was accepted later in the show by her husband, Stan Isachsen, Mitch Elrod, and Bob Buckley.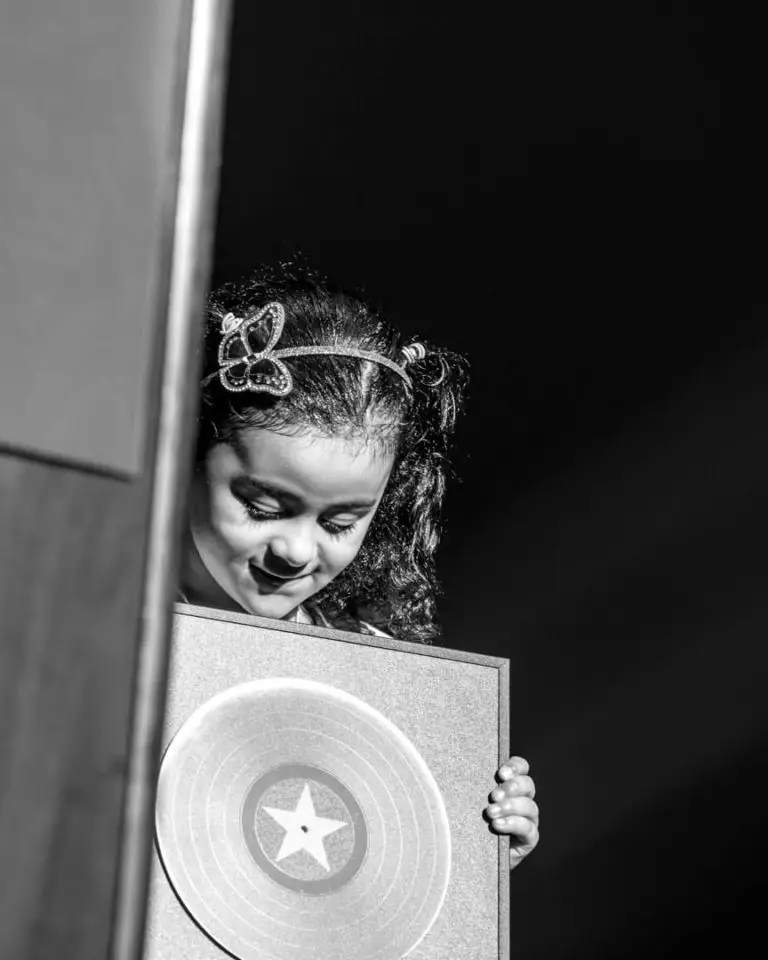 This year's 2019 Inductees for the NY Capital Region Thomas Edison Music Hall of Fame included songwriter and visual artist, Kevin McKrell and Music Mobile Founder, Ruth Pelham. The video presentations and the speeches that both McKrell and Pelham gave to the audience were both interesting and inspiring, particularly Pelham's. It was interesting to see how McKrell's Celtic music and his portrait art of musicians that he created inspired him to become a visual artist and a successful musician who previously performed at the esteemed Carnegie Hall.
Pelham, for the past 40 years, has brought in her own form of music education and enriching the lives and the spread of love through music with her music mobile. Since she was 27 years old, she has been using the Music Mobile to bring joy to people through music and her original songs. "I got a question for you. Does everybody know each other? Take a minute and just greet each other. Get to know each other." Upon Pelham's request, the audience introduced themselves to other patrons that were sitting near them in their seats, a metaphor symbolizing the building of community among us. "I don't know a lot of people here, but it seems like you know me," said Pelham. Through the video that was presented before having accepted her award, the audience was able to learn more about her contributions to her community and the community's reaction to her commitment and service that she has brought to the Capital Region and beyond for over 40 years. Patrons were able to get to know her through her great service. One can understand why Pelham and McKrell were the recipients of their awards for The Eddie's.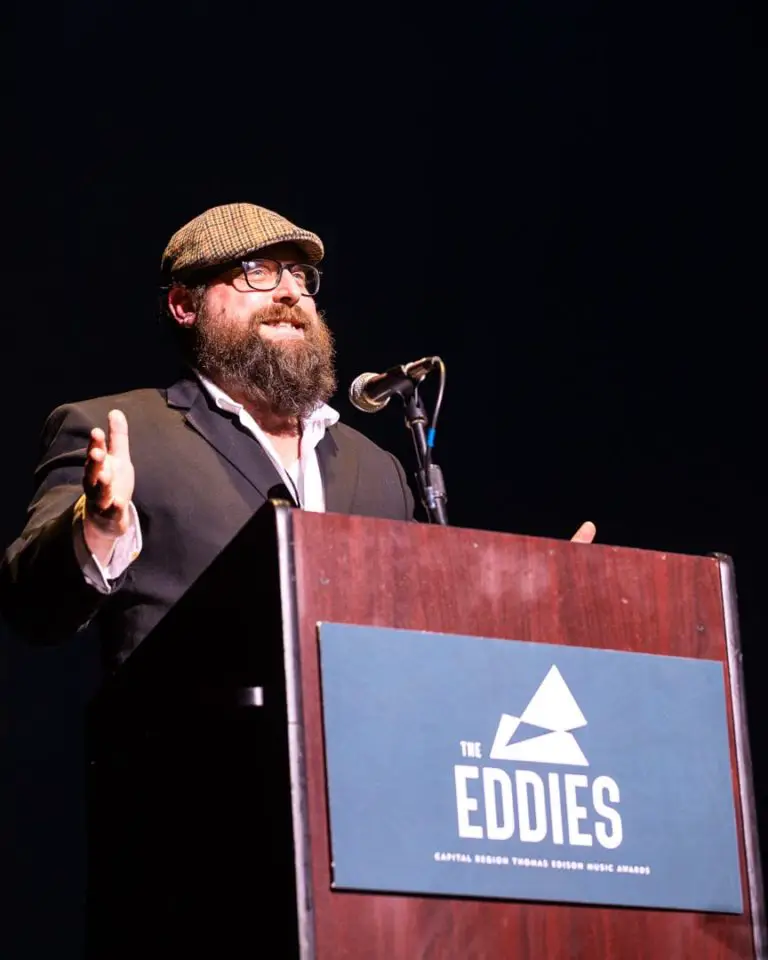 The First ever Eddie's brought out many winners that won multiple times or were even tied for their award. Katani and Johnny 2 Phones were two winners that won for best Hip Hop and Rap Artist of the year, Kiki Vassilakis and Andre Pilarczyk both won for Photographer of the year, and there was a tie for Album of the Year with the winners, Feel by Wild Adriatic and Cold Warrior by Elrod and MotherJudge. Let's Be Leonard took home Best Jam Band, while High Peaks Sound won for best Production Company.
Caffe Lena, Music Haven Concert Series, and Girl Blue also won the most awards of the night. Caffe Lena won for "Venue of the Year" for People's Choice, "Local Concert of the Year" with Sawyer Fredericks, and "Best Small Venue" (3 wins). Mona Golub and Music Haven Concert Series won for best concert series of the year and promoter or presenter of the year (2 wins), and Girl Blue won her first two back to back awards for best music video of the year for "Dreams", solo artist of the year, and later, record of the year (3 wins).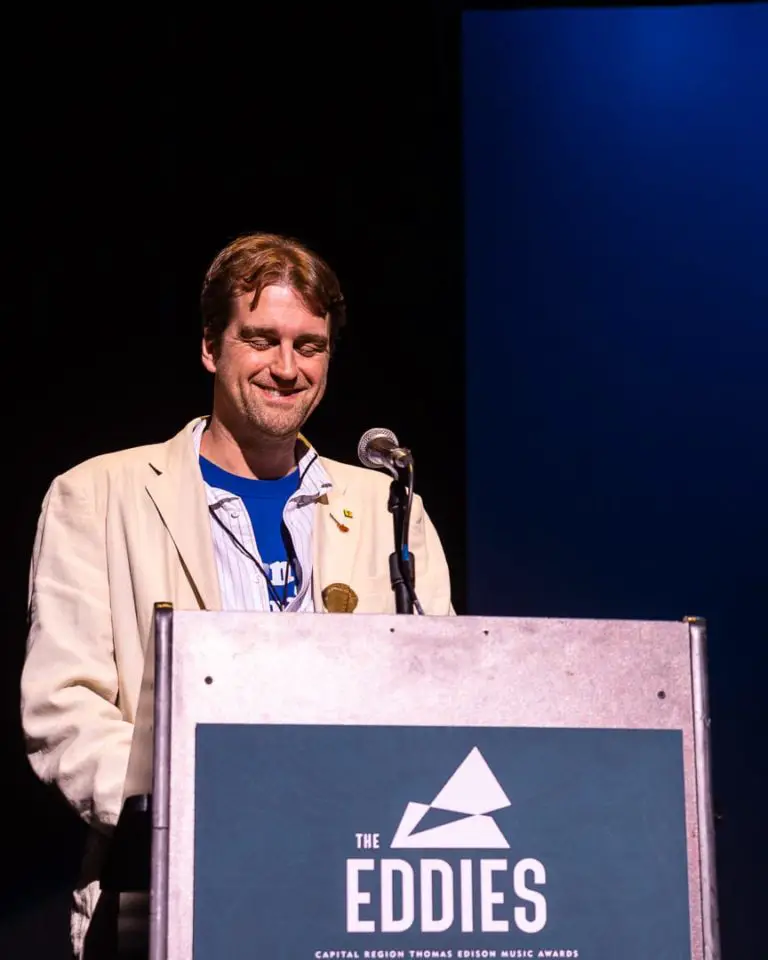 Congratulations to all the nominees and the winners that received awards or were nominated in the first ever Eddie's awards show. These artists deserve it for all the hard work that is put into their craft and love of music, art, and journalism. Keep up the great work in building community and enriching people's lives through art, music, and journalism.  Be sure to save the date to attend the 2nd Annual the Eddie's Music Awards show at Proctors on April 5, 2020.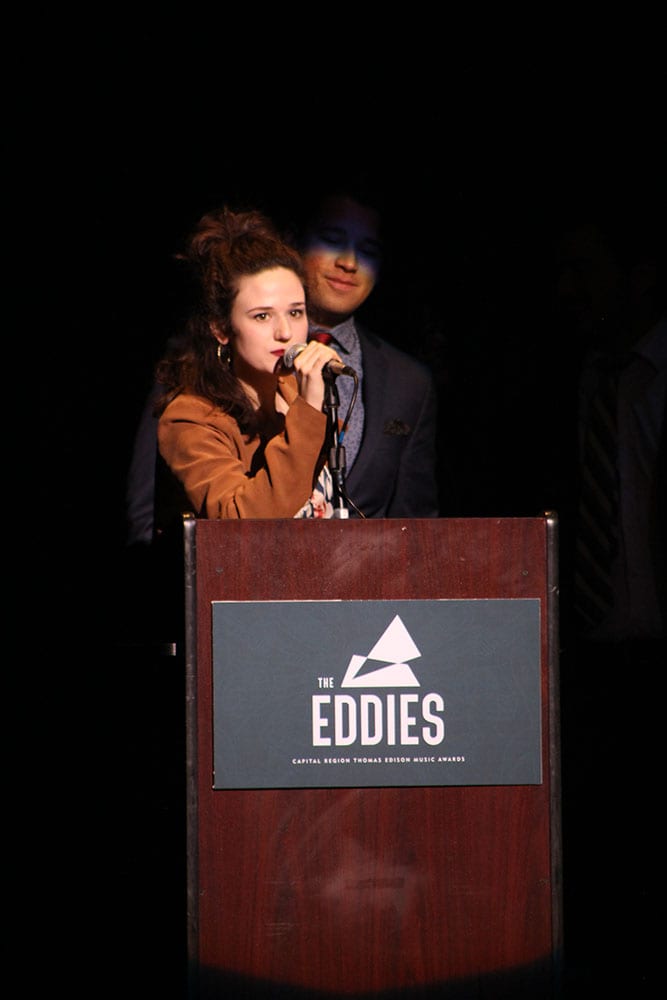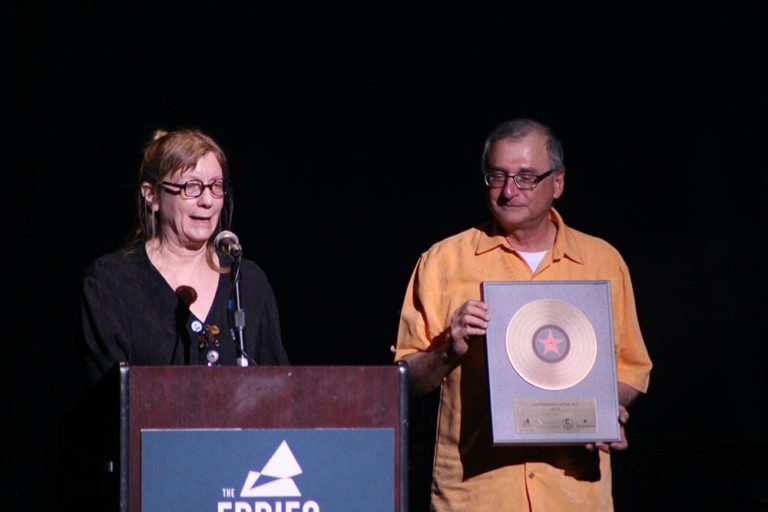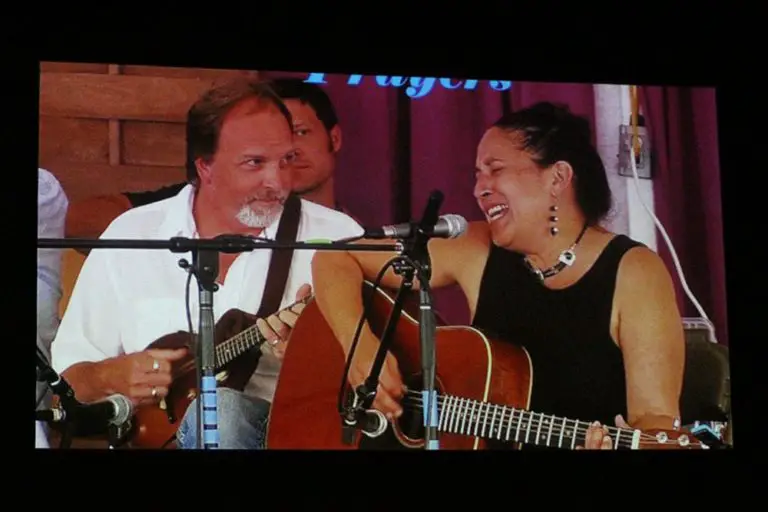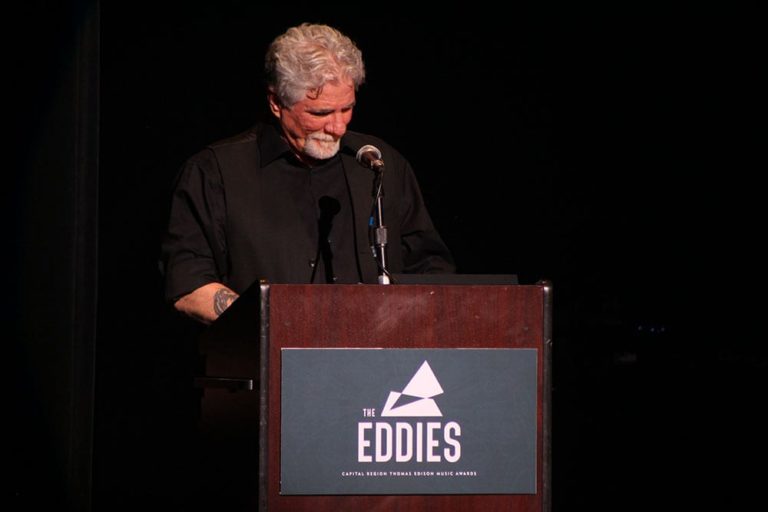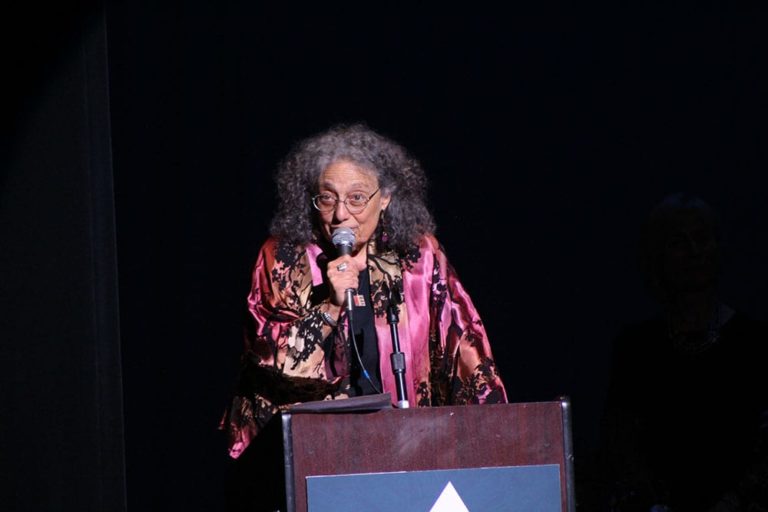 2019 Capital Region Thomas Edison Music Awards winners
Solo Artist of the Year
Girl Blue
Solo or Duo Performer of the Year (Covers Category)
Rich Ortiz
Alt/Indie Artist of the Year
The Sea The Sea
Hip Hop/Rap Artist of the Year (tie)
Johnny 2 Phones
KATANI
Party Cover Band of the Year
Garland Nelson and Soul Session
Jazz Artist of the Year
Brian Patneaude Quartet
DJ of the Year
DJ Trumastr
Country/Bluegrass Artist of the Year
The Gibson Brothers
Americana Artist of the Year
The North & South Dakotas
Rock/Pop Artist of the Year
Wild Adriatic
Punk/Metal/Hard Rock Artist of the Year
Candy Ambulance
Jam Band of the Year
Let's Be Leonard
Blues Artist of the Year
Alana Wyld/Wyld Blu
R&B/Soul Artist of the Year
Garland Nelson
Electronica Artist of the Year
Sara Ayers
International/World Music Artist of the Year
Alex Torres & His Latin Orchestra
Classical Artist/Ensemble of the Year
Albany Symphony Orchestra
Folk/Traditional Artist of the Year
The McKrells
Music Video of the Year
Girl Blue—Dreams
Album of the Year (tie)
Elrod + MotherJudge—Cold Warrior
Wild Adriatic—Feel
Record of the Year
Girl Blue—Lolita
Outward Bound Artist of the Year
Phantogram
Promoter or Presenter of the Year
Mona Golub (Music Haven Concert Series)
Radio DJ of the Year
Chris Wienk WEXT
Concert Series of the Year
Music Haven Concert Series
Live Production Crew of the Year
High Peaks Sound
Arts Publication of the Year
Music Journalist of the Year
Michael Hochanadel
Best Venue Small (up to 350 people)
Caffé Lena
Best Venue Medium (350-999 people)
The Egg
Best Venue Large (1,000 people and up)
Troy Savings Bank Music Hall
Best Live Festival Large Format
Old Songs Festival of Traditional Music & Dance
Best Live Festival Small Format
GottaGetGon Folk Festival
Photographer of the year (tie)
Andre Pilarczyk
Kiki Vassilakis
People's Choice Awards in three categories:
Local Music Artist of the Year
PJ Duo
Local Music Venue of the Year
Caffè Lena
Local Music Concert of the Year
Sawyer Fredericks, Caffè Lena, May 25-27, 2018
Capital Region Music Hall of Fame Winners:
Artist Lifetime Achievement
Kevin McKrell
Arts Educator or Contributions to the Area Music Scene
Ruth Pelham