Buffalo groove rockers Aqueous will be making their Town Ballroom headlining debut this New Year's Eve.  In anticipation of the evening, the Buffalo based quartet has announced that in addition to their own catalog, they will be dedicating a set of music to the English virtual band, Gorillaz.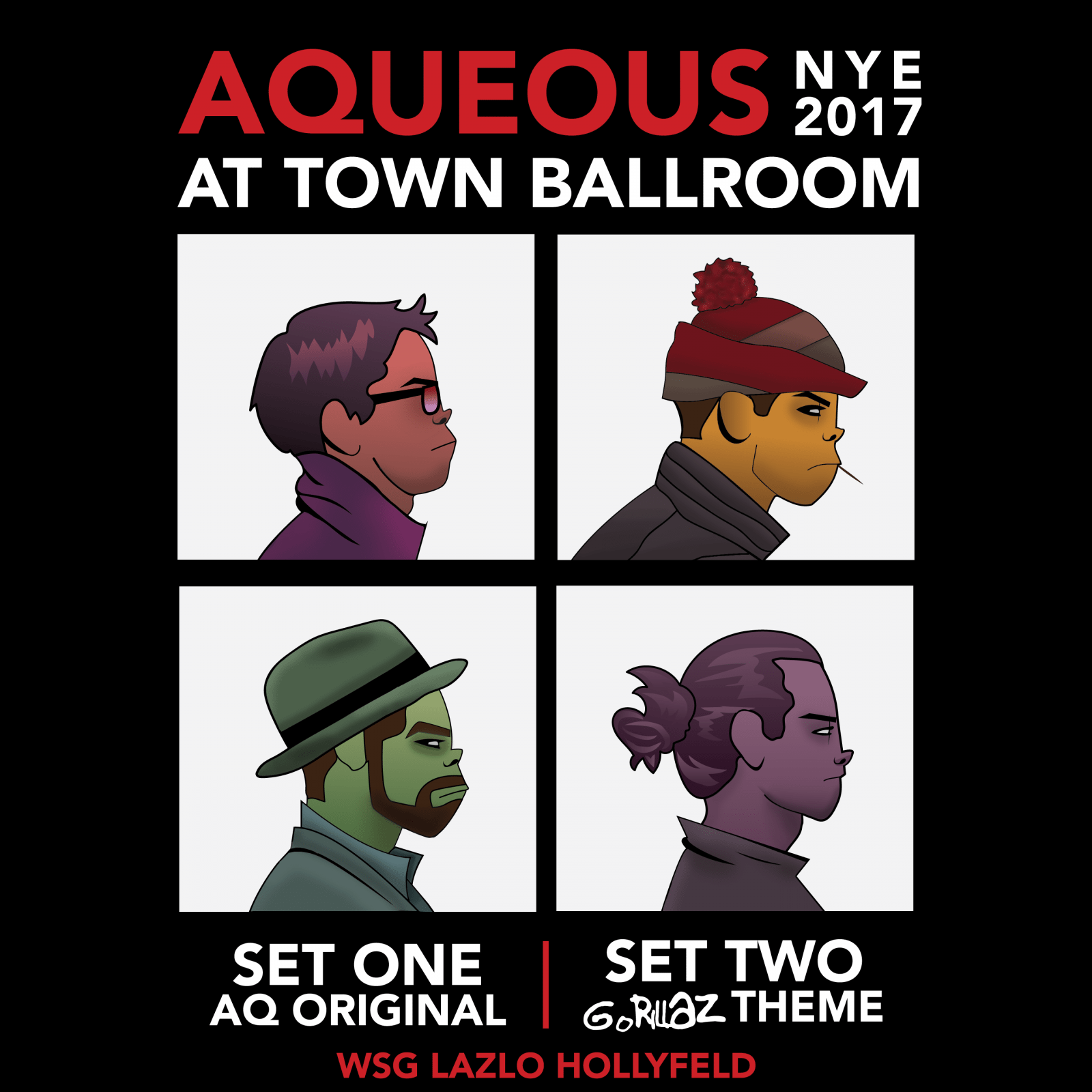 "AQ draws from many different bands' catalogs for inspiration, and the Gorillaz catalog is one that all four of us are HUGE fans of," noted Aqueous frontman and guitarist Mike Ganzter via press release.  "Their catalog integrates four styles of music that we all love: hip-hop, rock, punk and electronic, and once the idea got thrown out there to do a Gorillaz themed set, it was clear that that was the vibe we wanted to really set our NYE party over the top!"
This past March, Aqueous made their performance debut at the Town Ballroom opening in support of Vermont's genre fusing jam band, Twiddle.  As AQ steps into the headlining position to close out 2017, Ganzter reveals the evening's importance to the band. "This city has so much love for us and has supported us on a really profound level at every turn," he said. "We're coming into this gig with true gratitude and a mission to deliver in a big way at a venue that we all grew up seeing our favorite bands perform at."
Buffalo post-rock art band Lazlo Hollyfeld has been added in support.
On Thanksgiving eve, Ganzter stopped by the Lazlo Hollyfeld annual Thanksgiving Eve show for an unannounced sit-in.  Besides their own unique brand of musical stylings, Lazlo Hollyfeld is also known for their perfected tribute sets, including performances of the Talking Heads, Radiohead and most recently, Arcade Fire.
Aqueous is currently finishing up a nearly three month tour of the greater United States before retuning home to celebrate the New Year with their hometown fans. AQ will kick off 2018 with performances on Jam Cruise as well as tour in support of Papadosio for recently announced dates in February and March.
Tickets for Aqueous' NYE Gorillaz bash at Hometown Ballroom are $20 in advance and are still available.
Aqueous Upcoming Tour Dates
Dec. 6 – Omaha, NE – Reverb Lounge
Dec. 8 – Fort Collins, CO – Hodi's Half Note
Dec. 9 – Frisco, CO – The Barkley Ballroom
Dec. 12 – Davenport, IA – Redstone Room
Dec. 13 – St. Louis, MO – The Bootleg at Atomic Cowboy
Dec. 14 – Lexington, KY – Cosmic Charlie's
Dec. 15 – Columbus, OH – Woodlands Tavern
Dec. 16 – Pittsburgh, PA – The Rex Theater
Dec. 29 – Denver, CO – Fillmore Auditorium *
Dec. 31 – Buffalo, NY – Town Ballroom
Jan. 17 – 22 – Miami, FL – Jam Cruise
* w/ Umphrey's McGee