There are certain things in life that move you in the most harmonious manner, that it sends chills down your spine. Phoenix was the cause of that exact sensation on a splendid and spectacular evening at Red Rocks Amphitheatre in colorful Colorado on Wednesday, June 7. The night was simply captivating, as giant natural rock formations surround you at this outside venue. An occasion like this should definitely be on a bucket list for those of you who have not had the chance to experience such an event at this magical place.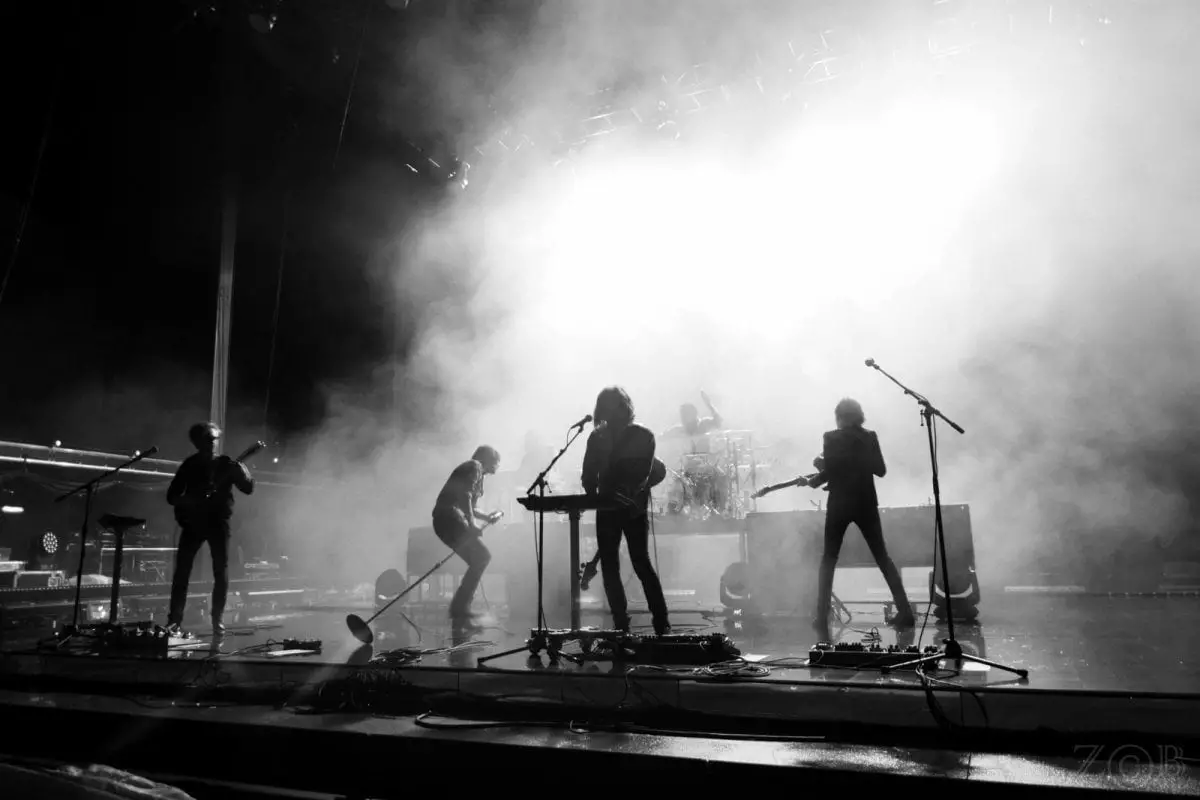 The night started off with an energetic group called The Lemon Twigs, who demonstrated their capacity to jam all while rocking funky outfits and made the crowd pop with extreme intrigue and positive responses. The audience slowly filled the arena and nature's light began to dim. As their performance came to a close, boulders as crimson as can be started to glow underneath the moonlight in the background, and Miike Snow entered the stage not too long after that. As a Swedish indie pop band, they incorporated a sense of synthpop and alternative dance flare and gave fans a sweet taste for what's to come next.
Everyone was fooled that night; what was once a clear starry night moments before, took a turn for what was least expected. When it rains, it pours. However, the heaviest of downpours and even slight hail that evening surely didn't stop the crowd from going wild. The weather gods somehow knew Phoenix was about to perform and it almost seemed like the rain was a grand opening display before an incredibly riveting performance. This French ensemble conquered the stage while standing on a giant LED platform and created a tantalizing memory to store in everyone's minds. Thomas Mars soothed the surroundings with his vocals, Christian Mazzalai rocked on guitar, Deck d'Arcy on bass and keyboards, and Laurent Brancowitz on guitar and keyboards. The group included their touring members Robin Coudert on keyboards and percussion, as well as Thomas Hedlund on drums and percussion.
This group's style has developed over time only to create distinct soundwaves that hit one's pleasure centers even more. Flavors of synth pop, alternative rock, and new wave filled the atmosphere all while including the French language in some of their masterpieces. This particular show at Red Rocks was actually the last one before they released their newest album, Ti Amo, which is now available for all to listen. It holds a unique and upbeat essence that puts the move in groove. They performed a couple fresh tunes off the new album such as "J-Boy" and "Ti Amo" as well. Certain underlying musical elements are discovered in the back beats of their songs. Other oldies magically graced the air including "If I Ever Feel Better," "Lasso," "Girlfriend," "Trying to be Cool," "Fences," "Lisztomania" and "1901."
At the end of the performance, Thomas Mars of Phoenix entered the Red Rocks crowd as a personal closing of the night and shared that special moment with everyone around. 'Twas a heart-warming and sincere performance with a sprinkle of friendliness. Phoenix rose and thus vanished into the night after wooing the crowd with their delectable sound.