"Going downtown to meet my old girl Mary, her legs are long and her lip is hairy." This is one of the lyrics from the opening song "Going Downtown" on Popa Chubby and his newest album to date, The Catfish. Popa Chubby, hailing from the Bronx, is a blues rock veteran with a remarkable discography to his name that is also a hilarious play on words. My initial impression of Popa Chubby through his music is cemented by the literature found in the inserts of his CD; a humble and experienced artist who pours his soul into creations.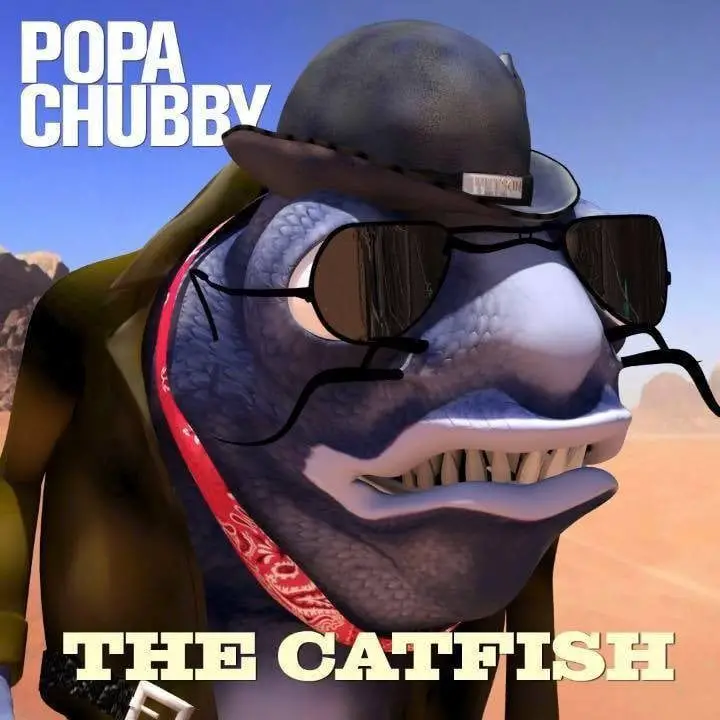 Music isn't music if it does not evoke and inspire some sort of feeling in your heart. As I listen through "The Catfish", I feel as though this is the soundtrack to driving through the countryside or mountains upstate in a drop-top Chevelle or low-riding Harley-Davidson. Popa Chubby brings clean and driving blues guitar (with great choice of tones, by the way) coupled with rock n' roll vocals that have a hint of that iconic guttural 90s alt rock feel. Throughout the album, there is a fairly balanced trade-off between vocals and lead guitar, as though the guitar tells a story that words simply cannot. As for the story being told, it is the simple yet widely relatable message of embracing life through love, lust, pain and freedom.
It's my personal thought that music, like food, can be made even better when paired with the right choice of drink. I would pair something grungy like Nirvana with a tall pint of stout, or something smooth and jazzy like Amy Winehouse with a glass of cherry wine. I feel like hearing the songs on this album live at a bar or club would be best enjoyed with a glass of bourbon poured neat. And live, I can't even imagine how enjoyable the songs off of The Catfish would be. Popa Chubby shows his versatility and songwriting skill by fusing multiple styles of music on a number of tracks. For example, the song "Bye Bye Love" features a reggae inspired rhythm section with Jimi Hendrix-esque lead guitar. "Wes Is More" is jazz to the max, and features solos from all instruments on the track. One of my personal favorites, "Slow Down Sugar" features a drum beat and trumpet that any hip hop producer would sample quick, fast, and in a hurry, and there's even Red Hot Chili Pepper-style rapping on the song too.
Overall, "The Catfish" from Popa Chubby is an enjoyable experience that you can lose yourself if you are looking to drive around without purpose or get your mind off of stressful thought. The solos are memorable while not overbearing, and the instrumentation is top notch. Kudos to Popa Chubby for being the multi-instrumentalist that he is, as well as the musicians he credited for the studio recordings. The lyrics capture the humble, experienced yet larger than life personality I imagine Popa Chubby to have and his voice captures the soul he's got. The album takes you through ups and downs, like any good record should.
Popa Chubby is currently touring the U.K. and Europe, and if you are on the other side of the pond you'll be able to catch through Mid-February. He returns for several state-side shows starting in Schenectady, February 17 2017 at the Van Dyke Lounge. If you're in town, get a taste of his blues rocker stylings with that glass of bourbon I was talking about. Order the album here.
Key Tracks: Going Downtown, Bye Bye Love, Wes is More