Anders Beck had a moment before Greensky Bluegrass' performance at The Egg on January 31. He shared with the audience that, for dinner, he was served chicken inside an egg. And that was just one of the many egg yolks cracked by the dobro player this evening, who had high praise for the venue in saying, "It's unique, it's different, it's The Egg." An apt description.
Fruition opened the night with a crisp and refreshing Northwest bluegrass sound that is at times mellow and folky then at times rockabilly. They emanate an energy that kicked up in unexpected spots, never spending too long in one genre for more than a song.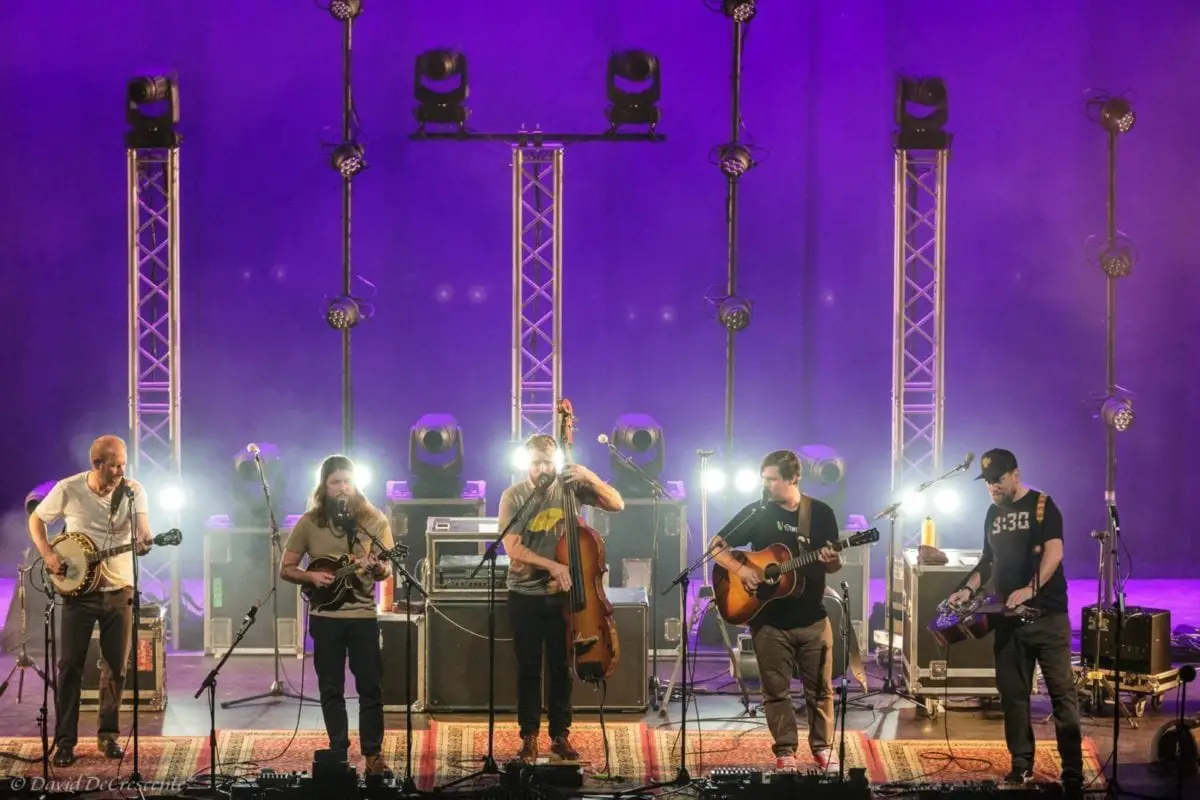 A symphony of sound greeted a sold out audience inside The Hart Theater for Greensky Bluegrass this evening, and they opened with "A Letter to Seymour" and a dark "In Control." The Band's "Shape I'm In" got deep and stretched out nicely in a patient jam before a trio of new songs off Shouted, Written Down & Quoted followed — "More of Me" (with extra egg humor), "Fixin to Ruin," and the very upbeat and extended "Living Over."
The second set began with crowd pleaser "Take Cover" and a hypnotic beat developed two songs later during "Lose my Way," fitting to its name. The psychedelic light show paired perfectly with the progressive jamgrass and fell neatly into Paul Simon's "You Can Call Me Al." An animated Paul Hoffman took off on mandolin during "Pig in a Pen," then swapped to guitar to jam out the final two songs, "While Waiting" and "Don't Lie." The latter of which was built layer upon layer and led to a deep culminating jam to close the set.
For the encore, Greensky brought out opener Fruition and stepped in front of the mics to the front of the stage as the audience gathered near for purely acoustic versions of "Demons" and "Meet me on the Mountain." The camaraderie the two bands exhibited as they collaborated in the finale was representative of the communal nature of their mutual bluegrass roots. That communal sense stretched to the crowd, who found themselves inspired to leap to their feet at numerous junctures throughout the show and dance with a passion aroused. As a friend said in passing prior to show time, "This is bluegrass for the rock n' roll fan and rock n' roll for bluegrass fans."
Set 1: A Letter to Seymour, In Control, Last Winter in the Copper Country, Ghost of Richard Manual > Shape I'm In, More of Me, Fixin' To Ruin, Living Over
Set 2: Take Cover, Burn Them, Lose My Way, You Can Call Me Al, Room Without a Roof, Pig in a Pen, While Waiting, Don't Lie
Encore: Demons*, Meet Me On The Mountain*
* Acoustic, with Fruition