A park in Brooklyn Heights dedicated to the memory of Beastie Boy Adam "MCA" Yauch in 2013, was vandalized during the night Thursday.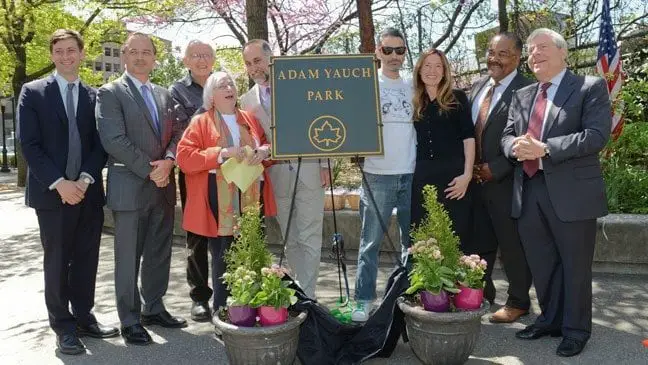 Adam Yauch was raised Jewish and played at the former Palmetto Park as a child. He became a practicing Buddhist later in life, apologizing for early Beastie Boys lyrics deemed offensive to women and denouncing Islamaphobia. Yauch died in 2012 at the age of 47 after a lengthy battle with cancer.
City councilor Brad Lander took to Twitter Friday speaking out on the issue.
Yet more hatred & anti-Semitism from Trump supporters. Swastikas on the playground equipment in Adam Yauch Park in BK Heights. #NeverIsNow pic.twitter.com/Xbcwo4enfF

— Brad Lander (@bradlander) November 18, 2016
Billboard reports that vandals took to playground equipment with crudely spray-painted swastikas and the words "Go Trump," in another of a growing number of hate crimes reported since last week's presidential election.
Local leaders have announced a gathering in the park for Sunday morning to denounce the hate speech.
Hate has no place in Brooklyn, NYC, or our country. Join me & colleagues Sunday to stand against hate messages. 11:30, Adam Yauch Park, BK pic.twitter.com/BZ95sx9HwF

— Daniel Squadron (@DanielSquadron) November 18, 2016