"Basically, I don't do anything profound at all, all I do is play shapes." –A humble George Lynch said dressed in a casual jogging suit during his guitar clinic on the third day of this year's Monsters of Rock Cruise.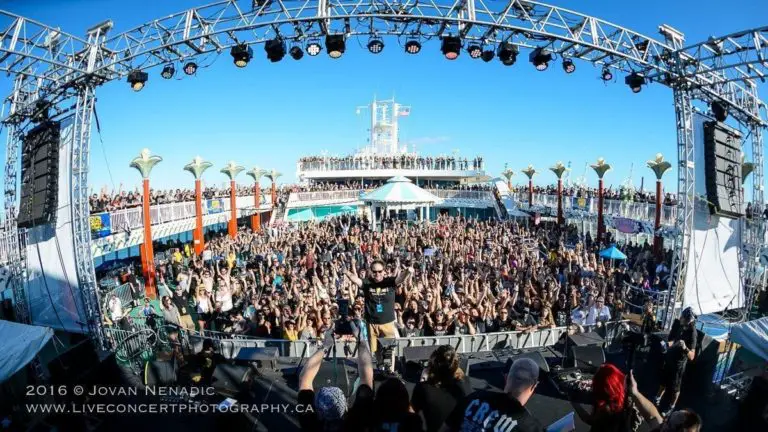 This particular expedition was all about the 'shredder', the guitarist. Legendary names like Steve Vai, Akira Takahashi, Michael Angelo Batio, Vinnie Moore, George Lynch, Gus G all boarded this boat of mayhem to play, meet fans, provide classes or guitar clinics and rock the hell out.
Many veteran cruisers said this was the favorite out of all five-cruise experiences, the weather was stellar, the vibe was calm and the crowd was smaller and more intimate. From non-stop concerts on 4 stages, guitar clinics/classes, Meet and Greets, Q&A with the Artists, Charity benefits and excursions to Nassau and our private island, how could one have a bad time?
The talent on this year's cruise was unprecedented, almost all the artists blew my mind, Helloween, Gus G, Y&T, Hellion, Tesla, Extreme, Armored Saint, Hardcore Superstar were all incredible. But alas there are only so many words to go around, here are some highlighted moments that caught my eye and ear, followed by an unfortunate big disappointment.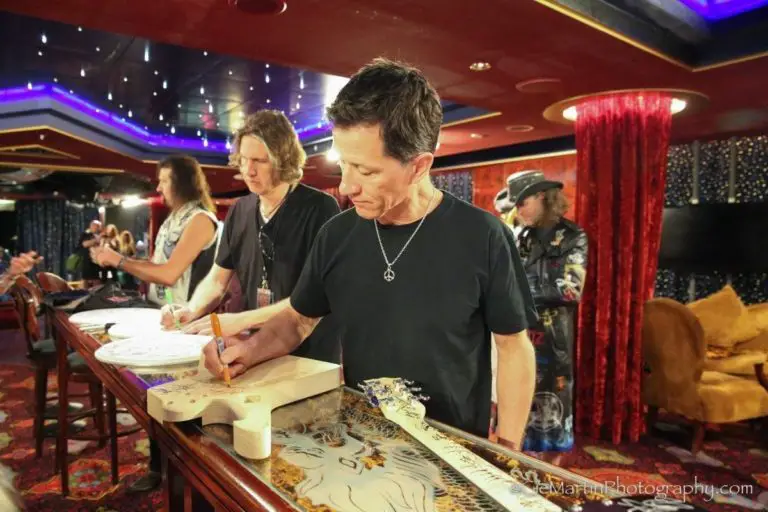 Best Cathartic Experience: Queensryche
Some call them progressive rock, others say hard rock and yet others peg them as a heavy metal band. It's hard to sum up their wall of sound, harmonic guitars, tribal drumming and melodic bass lines. They're signature sound is so unique, so categorizing them seems inane; they are the category for others to follow suit.
Each incendiary performance on the Pearl was a mix of vintage Queensryche and new Queensryche, but always littered with tracks from one of the greatest conceptual albums of all time, "Operation Mindcrime". However, their new material from "Condition Human" is some of their strongest work to date.
Scott Rockenfield (Drums) and Eddie Jackson (Bass) are the foundation and ground the band firmly, while guitarists Michael Wilton and Parker Lundgren are the spine of Queensryche, the layers upon layers upon layers of melodies and harmonies are masterfully intertwined giving them that signature sound that is Queensryche.
Singer, Todd LaTorre has become such a solid part of the quintet, there are only two words from here, "Geoff Who?" I had the honor to interview Mr. Tate during his last tour and when I asked him, "What do you do to take care of your voice?" He smiled and said, "Nothing" and then proceeded to take a big drag off his cigar. Don't get me wrong, Tate is an icon, but sometimes icons need to step aside. LaTorre meticulously takes care of his voice to ensure he is in perfect pitch night after night, that being said, his impressive vocal abilities run the spectrum and reaches places that Tate hasn't been in years.
Queensryche offers a true cathartic experience. Aligned with the ritualistic undertones of the music, one might feel as if taken on a journey through space and time, but left with questions about the world, love and the human condition…and that spin cycling guitar melody you just can't quite get out of your head.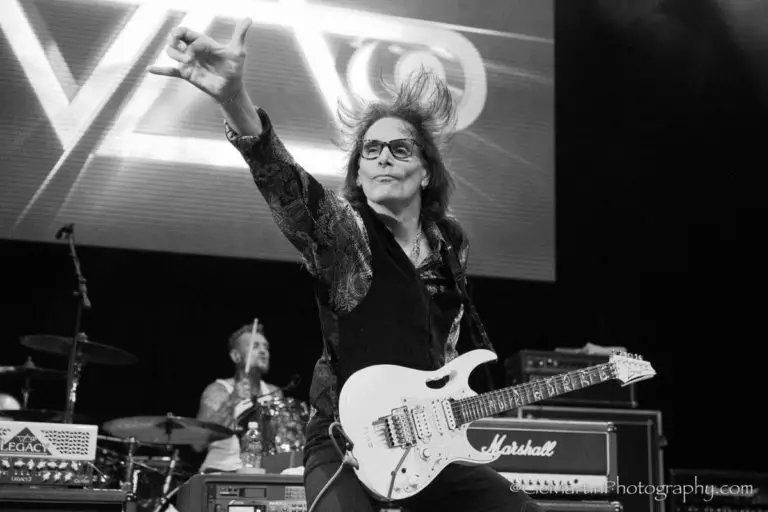 Best Hardcore Yoga: Metal Church
I asked the bands and fans, who, in your opinion, is the heaviest and hardest band on this cruise? Across the board, Metal Church was the answer.
Metal Church comes to the cruise with a few big announcements right now. One is the return of singer, Mike Howe after 20 years AND a brand new album with Howe called "XI". All pretty big news…
I expected Metal Church to melt my face off on the pool stage that night and I am pleasantly surprised that my face is still intact. Don't get me wrong, their music is heavy with political and sociological overtones, it's melodic, rich, dark and a little evil, but there also exists this calm, like a rumbling thunder or a deep shifting of tectonic plates, I was surprised of the grounded feeling it brought along with that high power and intensity.
In a brief conversation with return vocalist Mike Howe, I tried to explain how it was different than I expected, I wasn't being very clear and then he summed it all up for me. He said, "It's meant to be a sort of yoga." Genius.
Howe's vocals are as pristine as they were over 20 years ago, if not better with maturity adding a little bit of an edge. Howe has a peaceful, happy go lucky attitude and a contagious bop onstage, but happy or not, his vocals could not only break a glass but slice right through metal. Guitarist, Kurdt Vanderhoof, genius behind the music and backbone of the band, plays warm, calming melodies one minute followed by vibrating, razor edged notes the next. The dichotomy of musical styles and arrangements really lend to an amazing auditory experience not to be missed.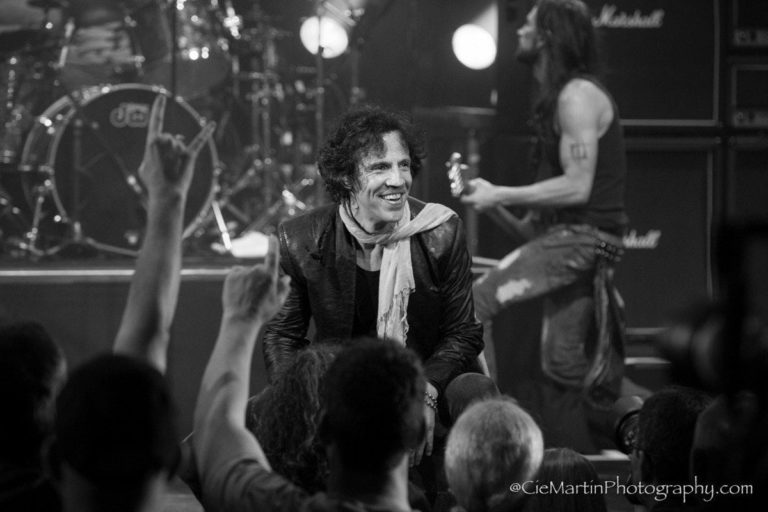 Best Whirling Dervish: Michael Monroe
Upon hearing Michael Monroe was added to this hardcore/thrasher/shredder cruise, my first thought was- interesting choice. Truth be told, regardless of the fact Hanoi Rocks changed the face of rock and roll in the 80's and inspired bands from the Sunset Strip to the Lower East Side, I hadn't heard or thought about Michael Monroe since the old days, that seemed like another lifetime ago. And now I can't stop thinking about him.
When Eddie Trunk (or nicknamed on this cruise, Eddie Drunk) introduced Mr. Monroe, he said Monroe's last three albums are the best of his whole catalog, including when he was in Hanoi Rocks. Their set, of course, ran the gamut, from the new Monroe material as well as some older Hanoi anthems. New songs like "Goin' Down with the Ship" (which I'm slightly addicted to it's looping melody), "Ballad of the Lower East Side" and "Old King's Road" are fresh, clean, precise, but still possessing that Hanoi/Monroe edge.
Monroe is an incredible performer; onstage he is a whirling dervish with endless exuberance and excitement that cannot be contained. He is a joy to watch and experience and he raised the vibration of the theater that night with his pure, contagious animation.
His band of vagabonds are great musicians as well. Legendary bassist, Sammy Yaffa and drummer, Karl Rockfist have been with Monroe the longest and serve as a grounding cord for Monroe's spinning energy. Newcomers, Rich Jones and Steve Conte (Guitars) are a perfect fit for this quintet. Cruisers could just not stop talking about Michael Monroe and his band, certainly before out of anticipation and wonderment, but definitely after as well. And for the ones that missed them, you can catch them all over Finland and parts of Europe over the next couple months.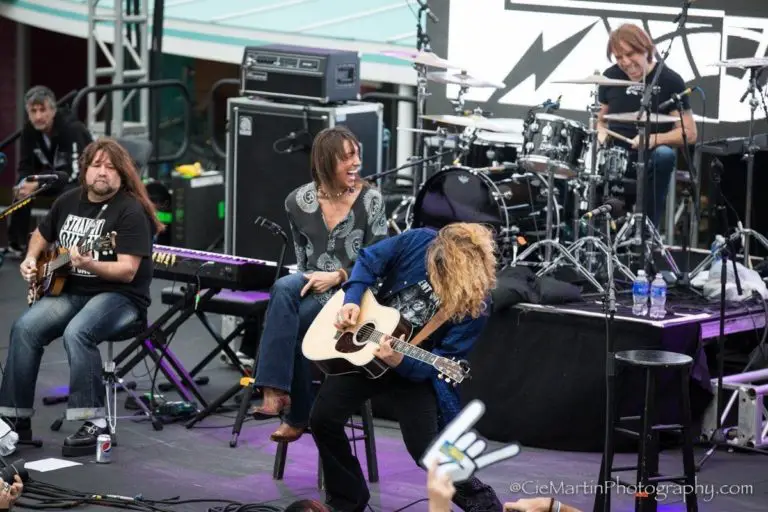 Best Alien Love Songs: Steve Vai
Being face to face in the lounge with Steve Vai for the better part of an hour was like being in the presence of a creative master. He seemed to be the largest pull for all our Meet and Greets on the ship and each person who entered the radius of his being was met with kindness and respect. He is a centered soul and while he methodically made his tea just the way he likes, it didn't flutter him in the least to take note that forty people were standing by silently witnessing him do this mundane task.
We were and are mesmerized by him; as a mere mortal and an onstage showman.
An 18 year old Vai started his career with Zappa, then David Lee Roth, on to Whitesnake followed by a slew of solo work, including eight studio albums. Some might think watching a Vai show without a 'David Lee Roth-type' would be uneventful, quite the contrary, it's an out of this world experience and Vai is the creator of this journey. He took us to other worlds and even other galaxies, and all with the sounds of one guitar. He was whimsical, he was fun and he was a creative genius. If George Lynch plays shapes, Steve Vai plays alien love songs and is an out of this world master of the guitar.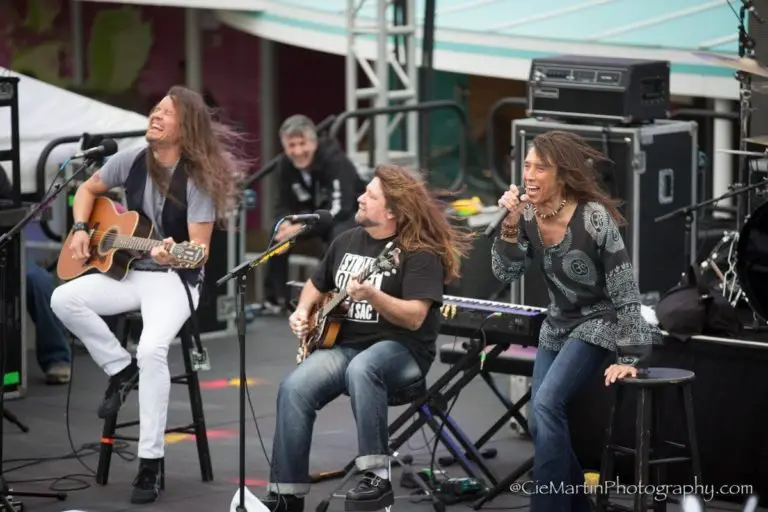 The Best Divine Connection: Doro
With bands scheduled back-to-back in all four venues all day, sound check happens in the Stardust Theater just minutes before the doors open to the fans. And for those 5-7 minutes, we as Media, get to see the real personalities before the stage personalities are unleashed. Sometimes they are very different, sometimes not. Doro is the same. After the sound check was to her liking, she turned around to the row of photographers patiently waiting and in the sweetest German accent, bright smile and little giggle said, "Ok, I'll see you in five minutes."
Onstage she is the Metal Queen, clad in faux-leather (she's an animal lover) and studs, regardless of her tough onstage persona, she's still exudes sweetness as if honey were dripping out of her pores. She sticks close to the edge of the stage throughout her performance, pacing from left to right and back, singing with her fans, head banging with her fans, holding their hands, never losing constant close contact with them, almost as if they were her blood supply and she theirs. Her energy and enthusiasm is truly boundless. And they love her for this.
Vocally, she's stellar, a hard-edged, low rumble with a layer of angelic quality is what makes her voice extremely unique, extremely beautiful and extremely rock and roll.
Since she went solo, the two most constant members of her band over the years are Johnny Dee (Drums) and Nick Douglas (Bass). Dee on drums is a hard hitter and certifiable maniac. Douglas and Dee together ground and stabilize the sound that is Doro. Look for her new single dropping on April 1.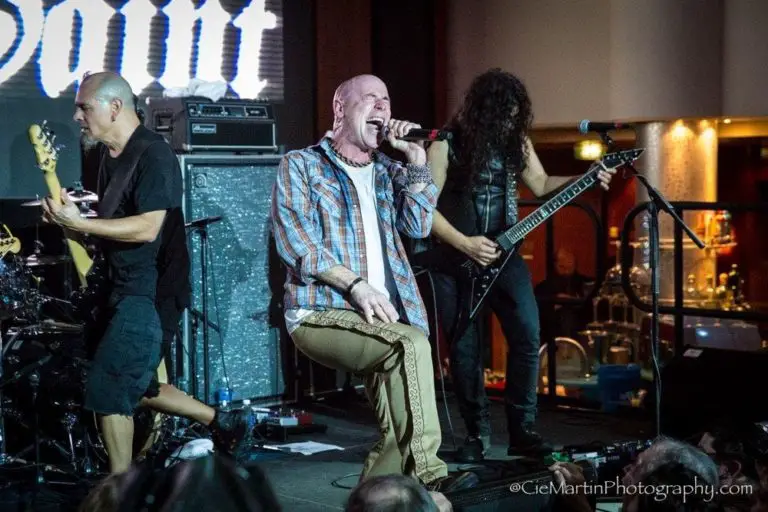 The Big Disappointment: Sebastian Bach
"You're looking at who put the hair in Hair Metal!" Sebastian Bach said during his Q&A in the Atrium on Day One of the cruise, we all chuckled, but it was only Day One. It seemed as we got farther from the port of Miami, Bach went farther down the wine bottle and farther from reality.
This being his first cruise with the Monsters of Rock, there was a fair share of excitement from the fans, but he was rarely seen out and about like his colleagues. During the MotorBowie Jams in the tiny Spinnaker Lounge, instead of taking the stage like everyone else, he parted the sea of people with security escorting him to the front of the stage. He accosted the photographers as usual, complaining we were shooting up his nose and threw us out of the pit during both his shows. And sadly, he accosted fans too- one woman to tears during the MotorBowie Jams. And it seems he has a new habit of throwing people out of venues- Donald Trump style or even getting thrown out himself.
Bach's two performances were mostly, if not all Skid Row material, sprinkled with a cover or two, his voice shows the wear and tear of rusty galvanized steel plumbing from 1958. That being said, the aggressive gusto of his voice is there like in "Slave to the Grind", but his high notes are choppy, uncontrollable and painfully absent. George Lynch happened to cross my path during "18 and Life" right at the moment of the once beautifully, iconic, high-intensity, emotional scream that follows the guitar solo. Lynch had his fingers in his ears.
Lastly, some say, he's more of an entertainer now. Sadly, his once sexy stage presence has become diminished to a disheveled mess or train wreck you just can't stop watching.
Bach, what's got you all twisted up?
And so it is… the end to another amazing Monsters of Rock Cruise. See you all in October for the West cruise, where we finally for the first time get out of the humidity and into the Pacific Ocean.