Ringo Starr announced summer tour dates for his All Starr Band Monday. According to the drummer's website, the tour begins at Syracuse's Lakeview Amphitheater June 3.
Ticket sales have yet to be announced.
Starr's Band, in its 12th and longest running incarnation, features Todd Rundgren, Gregg Rolie, Steve Lukather, Richard Page, Warren Ham and Gregg Bissonette. Starr recently told The Boston Globe, "I love this band — we have a lot of fun together onstage and offstage, so here we come again." Previous tours have produced setlists comprised of songs from each of the members' primary bands.
The tour makes several New York stops following the Syracuse kick-off, including Seneca Allegany Resort & Casino in Salamanca and the Capitol Theatre in Port Chester. The tour wraps up at The Greek Theatre in Los Angeles on July 2.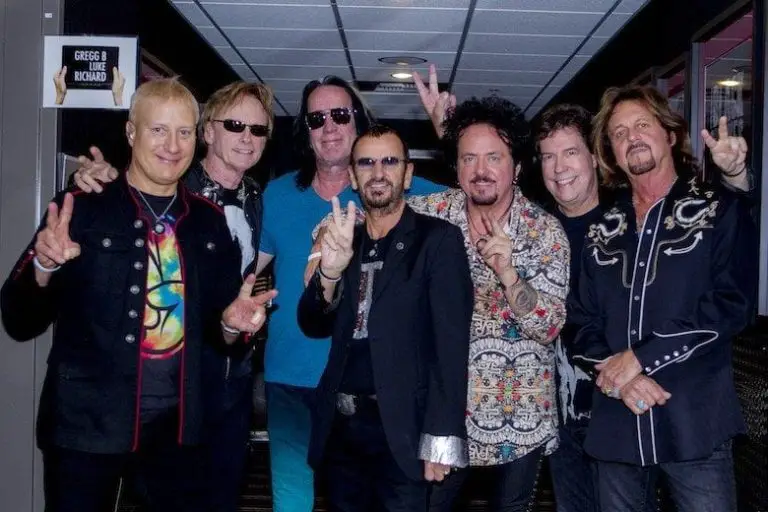 Starr, already a Rock and Roll Hall of Fame inductee as a Beatle, was inducted again last year as the final member of the Beatles to enter as a solo artist. Paul McCartney inducted his friend in a heartfelt speech.
He will be supporting his 19th solo album released last year, Postcards From Paradise.
Rundgren gained fame in the early '70s with his song "Hello It's Me" and the happy hour classic "Bang the Drum All Day," but he earned his bones as a producer for many years. Rundgren has had a hand in works by the New York Dolls, Hall & Oates, XTC and The Band, among others.
Rolie, himself a member of the Rock and Roll Hall of Fame as a founding member and keyboardist of Santana, also spent time with Journey, where he was the original lead singer.
Lukather is best known for his work with Toto in the '70s and '80s. He has also collaborated with Alice Cooper and Cheap Trick.
Bissonette gained fame as part of the all-star band David Lee Roth put together for his first solo LP, Eat Em and Smile. While Bissonette held the back beat, acclaimed bassist Billy Sheehan held the low end and Steve Vai displayed his virtuoso guitar skills.
Page is best known as the lead singer and bassist for Mr. Mister.
Dates as posted on Starr's website:
June 3 Lakeview Amphitheater, Syracuse, NY
June 4 Seneca Allegany Resort & Casino, Salamanca, NY
June 5 Capitol Theatre, Port Chester, NY
June 7 Bergen Performing Arts Center, Englewood, NJ
June 8 Cross Insurance Center, Bangor, ME
June 10 Bank of New Hampshire Pavilion, Gilford, NH
June 11 DCU Center, Worcester, MA
June 12 Santander Arena, Reading, PA
June 15 St. George Theatre, Staten Island, NY
June 17 Warner Theatre, Washington DC
June 18 Koka Booth Ampitheatre, Cary, NC
June 19 Ryman Auditorium, Nashville, TN
June 21 Foellinger Theatre, Fort Wayne, IN
June 22 Riverbend Music Center, Cincinnati, OH
June 23 Fox Theatre, Detroit, MI
June 25 Pinewood Bowl Theater, Lincoln, NE
June 26 Hartman Arena, Wichita, KS
June 28 Paramount Theatre, Denver, CO
July 1 Humphreys Concerts, San Diego, CA
July 2 The Greek Theatre, Los Angeles, CA