While most might dream of tropical getaways when it comes to vacation time, music fans accrue their days to travel across the country—or world—for weekends jam-packed with live performances, indulgent food and experimental fun. From the east to the west coasts to the Midwest, NYSMusic staffers traveled near and far throughout the year to see their favorite groups in action. Here we give you our top picks for out-of-state festivals of 2015.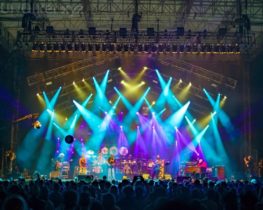 Best Small Festival: Arise Music Festival, East Coast Tsunami Festival, Grand Point North Festival and The Werk Out Music and Arts Festival
With the growing number of small-scale festivals that seem to pop up each year, it's no wonder that our team could not pick just one or two as their favorite—so we decided to include the ones we felt deserved an honorable mention. First up is Arise Music Festival, an event in Loveland, CO, that according to Andrew Wyatt "offers a spicy jambalaya of multi-cultural live music, electronic performances, art presentations, along with numerous workshops centered around eco-activism, social justice, and spirituality practice." With nearly 100 musical acts, the three-day festival now in its third year featured the likes of the Polish Ambassador, Rising Appalachia, Sister Sparrow and the Dirty Birds, Lukas Nelson, Turkuaz, Giant Panda Guerilla Dub Squad, Trevor Hall, Emancipator Ensemble, Ozomatli and Joe Russo's Almost Dead, among others.
Headlined by Wu-Tang Clan and Life Of Agony, the East Coast Tsunami Festival held in Reading, PA, treated hip hop, hardcore and metal fans to two full days of shows, including favorited groups Body Count, Mobb Deep, Murphy's Law, Madball and more. And despite sound issues during day one, Jay Saint G. still dubbed the festival as "a wave of brutality that every music lover should experience."
Up next is the Grand Point North Festival held in Burlington's Waterfront Park with views of Lake Champlain and the Adirondacks. Headlined by Vermont's sweetheart Grace Potter, the fifth annual installment boasted two nights of music featuring Phish's Mike Gordon, the Flaming Lips, Shakey Graves, Greensky Bluegrass, Amy Helm and the Handsome Strangers, among others, and special guests like Kenny Chesney who joined Potter to perform their single, "Wild Child." Alexandra Provost and Laura Carbone noted that "as Potter walked onto the stage, her skin glistening from raindrops, the audience went wild" and that she "put on an astounding performance, showing off her piano, guitar and bluesy vocal skills."
And finally the Werk Out Music and Arts Festival at Legend Valley, a venue favorited by the Grateful Dead in the '80s. With a stacked lineup featuring the Werks, Papadosio, Dopapod, Lettuce, Umphrey's McGee, the Floozies, Consider The Source, Break Science and Tauk, the sixth year for the Thornville, OH, festival "was as always a ridiculously good time for all who made the journey," according to Ben Landsman. With three stages, a silent disco and one fan wedding,Landsman noted that "between the beauty of Legend Valley, the bright spirit of the fans, the innovative music, this festival is one of the treasures of the Midwest."
Best Midsize Festival: Green River Festival
Honorable Mention: Aura Music and Arts Festival, Boston Calling, Camp Bisco, DelFest, McDowell Mountain Music Festival
Held at Greenfield Community College in Greenfield, MA, the sold-out 29th annual Green River Festival was "fresh, exciting and invigorating," according to Eli Stein. Featuring four hot air balloon launches, the family-friendly July event pulled out all the stops with a craft tent, Frisbee dog show, acrobats, karate demonstrations, swimming, a Mardi Gras-style parade and exotic local fare like elk, boar and venison burgers, a Korean food truck and kabob vendors. Throughout the three-day weekend, more than 40 performers ranging from Americana to dance, blues and jam graced the event's three stages nestled in the foothills of the Berkshires, including Eilen Jewell, the Wood Brothers, Rubblebucket, Marco Benevento, MAKU Sound System, Langhorne Slim and the Law, the Punch Brothers and tUnE-yArDs, which Stein noted was the perfect mixture:
Musically, the festival served up a heaping slab of New England comfort food. The rest aforementioned activity, as they say, was just the gravy. Not only were the band selections great, they were clearly hand-picked and not just pulled off the nearest passing festival train. The music flowed wonderfully from set to set, and built to a nice peak at the perfect times. There was an evenness to the passion and approach of the musicians that made for a smooth transition no matter where you went."
Best Large Festival: Gathering of the Vibes and Summer Camp
Honorable Mention: Austin City Limits, Bonnaroo, Hangout Music Fest, Lockn' Music Festival, Peach Festival, Rock Allegiance, Rock On the Range
Celebrating its 20th year, Gathering of the Vibes offered up an impressive lineup with headliners Wilco, Weezer, Tedeschi/Trucks Band, Dark Star Orchestra, Ben Harper, Greg Allman and the String Cheese Incident. The late summer festival returned to Seaside Park in Bridgeport, CT, and treated fans to a super jam called Vibes 20th Anniversary Spectacular featuring Gov't Mule guitarist Warren Haynes, saxophonist Branford Marsalis, Meters founding bassist George Porter Jr., Marco Benevento on keys and Joe Russo behind the drum kit, plus Jackie Greene on guitar. Although the four-day festival will take a break in 2016, VibeTribers Julia Wolfe and Steve Olker recounted the last day of the 2015 event and dubbed this run as one that would set the pace going forward:
As the sun set over Vibes for the last time, [Ben] Harper closed out with his song "Better Way," and it was finally time to head home. Seeing so many bands perform was both enticing and overwhelming at the same time, making leaving Vibes even more bittersweet. The range of genre, popularity, age and background is what makes Gathering of the Vibes separate from other festivals. After 20 years, Gathering of the Vibes has remained one of Connecticut's most well-known festivals, and it's attention to bringing about change while discovering your own inner peace is what will bring success for future gatherings to come. Until next time, thank you vibes for a real good time."
With more than 100 bands over four days on seven stages, this year's installment of Summer Camp Music Festival in Chillicothe, IL, saw a stacked lineup of bands like moe., Umphrey's McGee, Steve Miller Band, Widespread Panic, STS9, Big Gigantic, John Butler Trio, Krewella, Trampled by Turtles, Keller Williams and Grateful Grass, Yonder Mountain String Band, Violent Femmes and many, many more. Festivalgoers also had access to on-site camping, the infamous late night Red Barn Shows, musician workshops, a nonprofit village, arts and crafts and unique food vendors, plus some impressive improvements. In Pete Mason's review of the festival's final day, he detailed what made the perfect ending to the much celebrated event:
The final set of the night to check out was North American Scum, an LCD Soundsystem cover band who might be the best band to close out Summer Camp. Members of the group are formerly of This Must be the Band, a Talking Heads band from Chicago, who have traditionally played one of the final sets at Summer Camp. This incredible two hour set featured the entire Sound of Silver album and, because everyone else was playing Grateful Dead songs, a spirited version of "Scarlet Begonias" to cap the night."
Read more from Summer Camp Day 1, Day 2, Day 3 and Day 4.