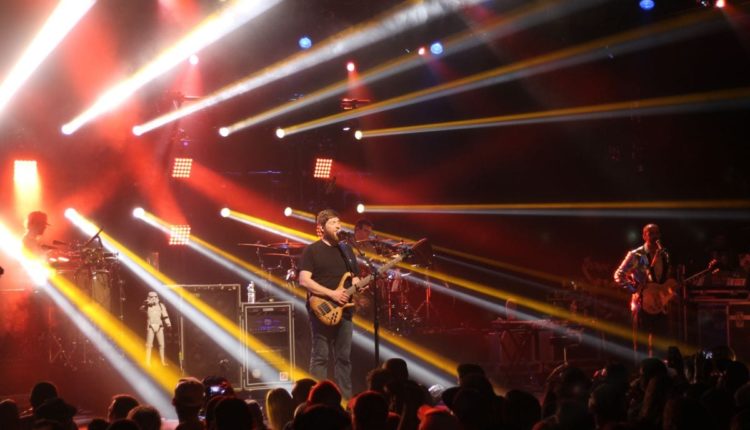 moe. continued to thrill crowds of .rons on their 25th anniversary winter tour as they packed houses in New York City last weekend.
The weekend began Thursday night with the band — guitarists Al Schnier and Chuck Garvey, bassist Rob Derhak, drummer Vinnie Amico and percussionist Jim Loughlin — playing an intimate show at Le Poisson Rouge, a 700-capacity club in Greenwich Village.
Then the boys moved their Friday and Saturday shows to the Best Buy Theater, an arena in the middle of Times Square with a capacity of 2,100. The corridors around the venue formed a bit of a maze, but the theater area made for a great show with a floor section below the stage, a short platform behind that and maybe 20 rows of raised seating behind it
The Friday night show started with a first set that took its time with each song, extending all but "Annihilation Blues" over 11 minutes. Fans got a not-oft-played "Darkness" that segued into "Bring You Down," a combo that thrilled the crowd. Annihilation jammed right into a "Meat" that brought the energy up, then down, then built it back up again to end the set on a raging note.
The second set started with "New York City" — obligatory but so much more meaningful when it's actually played in the city it was written about — then on "Do or Die" Jim broke out his drum set attached to a chest harness and ventured over to hang out with Vinnie and Al for a bit.
"Kyle's Song" segued into "Same Old Story," which has only twice before been segued into. It's been used more often to segue out of at the end, but the song is high-energy fun any way they play it.
The final four songs of the set turned up the heat with "Don't Fear the Reaper" by Blue Oyster Cult, then "Spaz Medicine" shifting into "Akimbo" into the ever-epic "Rebubula." Boobs can occasionally fall into the rut of being a quick-hitter that draws a lot of audience emotion but doesn't explore much, but this one took plenty of time to chill out before building to a frenzied sing-along at the end.
After the moe. show, most of the crowd filed out and ventured two blocks down to B.B. King's, where Ha Ha the Moose was on the loose.
The hilarious moe. side project features Rob, Chuck and Jim wearing luchador masks and capes and taking on the persona of their alter egos, Dr. Guano, Jeff VonKickass and Sludge.
They played some old classics to a crowd so boisterous at points that it distracted band members. They also included some popular covers including "Have a Cigar by Pink Floyd and "Don't You Forget About Me" by Simple Minds, forever etched into our memories by its poignant placement at the end of "The Breakfast Club."
They also reprised "Courtesy Flush," which they debuted in January at moe.'s Tropical Throe.down in Jamaica. They ended the set with "Redneck Trilogy" and "In the Name of Freedom" and during the latter, Guano got an apt response when he questioned the audience what they would do in the name of freedom: "I would throw a music festival, even if no one came and I didn't make any money," the moe.ron said, referencing the lack of a moe.down this year.
After having a few hours off to romp around the city, moe. was back at it Saturday night. Saturday night's show at the Best Buy sold out during that day. Highlights of the show included an intense "Runaway Overlude," "She," "Billy Goat" segueing into "Head," plus Shannon and Terry Lynch of the Conehead Buddha horns joining the band on "Not Coming Down," "Threw It All Away" and "Dr. Graffenburg."
The full Conehead Buddha band played a great official after-show in the Lucille's room of B.B. King's Saturday night for anyone who somehow had energy left after raging the city that never sleeps.
moe. heads to Chicago this weekend and south to the Carolinas in April to finish out their winter tour. The band has yet to announce summer tour dates besides a few festivals (SweetWater 420 Fest, Summer Camp, Mountain Jam and All Good, plus the Dear Jerry show celebrating Jerry Garcia in May) but fingers are crossed that they'll at least spend a weekend at the Saranac Brewery in Utica this June. Keep an eye on NYSMusic.com for moe. news as dates trickle in.