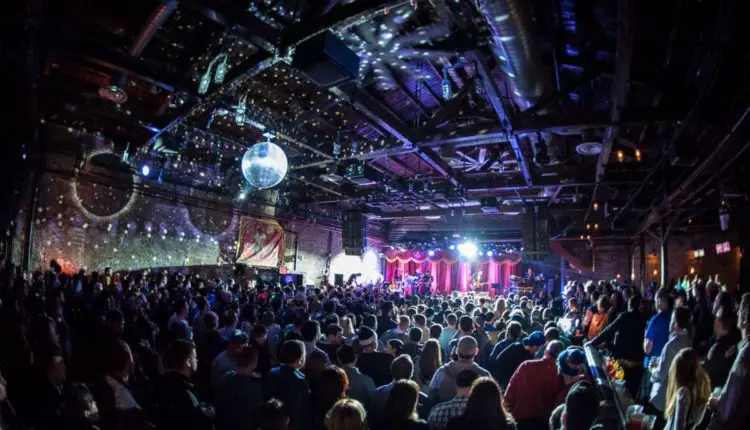 Bowlive VI – Day 3 – Bowlive for Kids, Cabinet, Soulive w/ Sam Kininger and Jennifer Hartswick
Shortly after night two of the eight night Soulive run came to an end, day three began for one of the hardest working men in music. Eric Krasno joined by bandmates Alan Evans, and Neal Evans, took the stage joined by The Shady Horns — Ryan Zoidis (sax) and Eric Bloom (trumpet) for the annual Soulive For Kids concert. Doors opened at noon and by the 2PM show time Brooklyn Bowl was jam-packed with families, kids of all ages were eating, and bowling while parents were enjoying a bloody mary or mimosa. Krasno, looking dapper in his suit and tie, led the band in classic Soulive funk laden tracks. The seventy-five minute set was brought to a close with covers of The Beatles' "Eleanor Rigby" and Sly & The Family Stone's "If You Want Me To Stay" which had fans of all ages singing along.
Bluegrass outfit Cabinet, who has been gaining quite a reputation on the festival circuit, was an interesting selection to open the third evening of Bowlive. Hailing from Scranton/Wilkes-Barre, Pennsylvania – JP Biondo (mandolin), Mickey Coviello (guitar), Pappy Biondo (banjo), Dylan Skursky (bass), Todd Kopec (fiddle), Jami Novak (drums). They brought their own Appalachian Chic stylings for a night out in Brooklyn. Off their newly released album Celebration, Cabinet original "Shine Like The Sun" sounded inspired by American Beauty era Grateful Dead with Pennsylvania bluegrass influences. While for "Bottom Of The Sea" and "Poor Man's Blues" Coviello and Skursky traded in their acoustic instruments for electric and the band took on an entirely new progressive jamgrass feel. The band returned to their acoustic instruments to close the set with the Biondo penned Susquehanna Breakdown a fast paced traditional bluegrass tune that definitely left the crowd wanting more.

For their second show of the day Soulive began the night with just the core three members on stage, for what was to be a night of classic Soulive collaborations. After just one song the band was joined on stage by original band member Sam Kininger (sax). Sam took center the stage and led the band through Soulive classics "Hurry Up and Wait" off of the 2001 album Doin' Something and "Rudy's Way" off of the 2002 Turn It Out. The Shady Horns then joined on stage while Kininger sat in with the horns section for the rest of the first set. Set two began with Kininger and The Shady Horns on stage for "Backwards Jack," before finally being joined by second special guest of the evening Jennifer Hartswick (vocals, trumpet) and the first surprise guest Bob Reynolds (Snarky Puppy, sax) for a soulful rendition of Etta James "Tell Mama". Next to join onstage was Chris Bullock (Snarky Puppy, sax) for Soulive original "Povo" and lastly Miker Maher (Snarky Puppy, sax) joined in on "Blues for Mama," the second set was brought to a close with the 2002 smooth jazz original "Tuesday Night Squad." This set already seemed to be the hands down winner for best set of the run so far before Jennifer Hartswtick led the trio in a building shaking rendition of Led Zeppelin's "The Ocean." Eric Krasno will spend the next two days joining some of the other hardest working men in music Phil Lesh and Warren Haynes at the Capitol Theater for Lesh's 75th birthday Phil & Friends show before returning to Brooklyn Bowl Tuesday night for the fourth night of Bowlive joined by Chris Robinson of Black Crowes fame.