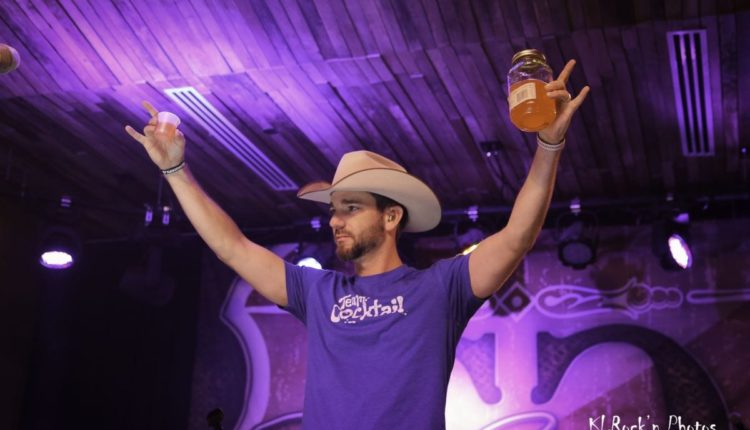 Toby Keith's I Love This Bar and Grill in Syracuse has done it again. National recording artist Craig Campbell partied with Syracuse Friday, November 14.
From the moment I met Craig Campbell I knew that he would not disappoint. Such an amazing talent with such respect and love for his fans. From the VIP meet and greet, through his entire show, and even after his performance by inviting every fan to his merchandise table for pictures and autographs, he proved just how important his fans truly are to him.
Performing his hit songs "Keep Them Kisses Coming", "Outta My Head", and "Family Man", Craig proved to Syracuse just what a class act he is. He and his band left the crowd cheering after every song and wanting more. Inviting two special fans up on stage to enjoy a shot of Ole Smoky Tennessee Moonshine (Big Orange Moonshine) and a beer while he played a few songs on the keyboard was simply amazing. He played a verse of Garth Brooks' hit song "The Dance" and the entire place sang it right along with him. Best of all, Craig Campbell shared a little piece of a song he wrote that Garth Brooks performs on his new CD!
Craig's entire performance was full of fun. I have to say that one of my favorite parts was while he was taking client's cell phones and videoing himself singing and of course, making funny faces. I'm hoping he comes back to Syracuse many times. I would go to every show!
Kim Richer: Craig, thanks for taking the time to speak to . it's so very nice to meet you.
Craig Campbell: You're quite welcome. It's my pleasure.
KR: So tell me a little about this tour you're on.
CC: Well this isn't really a tour. I enjoy going out and playing at festivals, bars and honky tonks. The size of the venues are nice because it gives me a chance to be on a more personal level with my fans. The shows that I've had this year have been great. This is the busiest year I've ever had coming off a top 10 song with "Keep them kisses coming". Things have been really good for me this year.
KR: That's great! Now do you find that you have more freedom doing shows this way instead of doing a tour?
CC: Well, there's pros and cons to everything. I want to be on a tour to expose my music to more people. I could go do shows all day long and have the same 1000, 2000 people show up but when you get on a tour you have the opportunity to play in front of 15,000 and there's a good chance that many of those 15,000 have never heard of your or never heard any or your music so that's the appealing side of being on a tour. You get to be in front of all of these people and try to get your music out to more as the percentage of exposure is way higher. There is something cool about doing your own show in a club, but then there is also something really neat about being able to play in front of a whole ton of people.
KR: That's true, but I must say from a fan standpoint I love the smaller shows because it's so much more fan friendly and on a much more personal level.
CC: Even more personal than that are the theater shows I've done where everyone is sitting down and you can talk to the fans and carry on and talk about the songs.
KR: If there is someone you could pick to go on tour with, who would it be?
CC: Oh gosh, I'd love to go out with Luke Bryan. I'd love to go out with Garth, Eric Church, anybody. I've made some good friends over the years in country music. It doesn't matter to me because I know no matter who it is we are gonna have fun no matter what.
KR: Now I understand you come from a pretty large family in Georgia. Is anyone else musically inclined or are you the only one?
CC: Well, everyone on my mama's side of the family had some sort of musical ability whether it be singing or just playing. I was always the only one that wanted to chase it down and pursue it.
KR: When you were young was there anyone that you aspired to be like?
CC: I was a big Travis Tritt fan. I listened to the way he sang, the way he wrote his songs and the way he played. He was a great musician. He was the all around music package, he could do it all, write, play and sing. He was someone that I absolutely looked up to.
KR: Have you had a chance to meet him?
CC: Yeah, actually he sang on my last record. He's a really really nice guy. It was a must on my bucket list to meet him so having him sing on my record was icing on the cake!
KR: I love Travis Tritt myself. I also understand your wife played a part in your last album with the song "Topless"
CC: Yeah, we wrote it together. She's an amazing singing and songwriter herself so she always has a place on my albums for at least one song. We wrote it and thought it would be perfect for that last record.
KR: Oh most definitely. It shows the fun side. A lot of married artists usually do something sweet and sentimental but it's nice to see the fun side as a couple too.
CC: I feel like both of us have a really good sense of humor so that was perfect for us.
KR: Can we look forward to her performing with you live anytime?
CC: Yeah, when she is on the road with me or if we are in her hometown or my hometown she will get up and do a couple songs. Eventually I would like to have her sing on my album, so we'll see. We'll cross that bridge when we get to it.
KR: I'm interested in hearing a little more about this corn hole tournament you host annually.
CC: During CMA Fest there is a lot going on. There are a lot of free shows, there's golf tournaments and all these other events going on for charity. I have always been geared toward Colon Cancer and Colon Cancer Research and awareness and I though man, nobody is having a corn hole tournament, let's have a corn hole tournament. So we started it two years ago and did it this past year and it was a great success. It actually was a big part of me becoming the spokesperson for Fight Colorectal Cancer which March is Fight Colorectal Cancer month and we are actually going to my next tournament in the month of March. It's going to be bigger and better and Bayer Heath Care is going to sponsor it so it's going to be huge.
KR: Oh, that's fantastic. I look forward to seeing that. I've played corn hole and I can tell you that I am not the best.
CC: Oh you don't have to be good as long as you're having fun. That's one of the reasons I chose that game. It's fun and anyone can do it.
KR: Have you been to Syracuse before.
CC: No, I've been to the area but never to Syracuse before. We actually played with the Hootn-Anges when we were in NY before out at Kegs Canal side.
KR: Are you working on a new album or are any new projects coming up?
CC: Yeah, my record label actually closed last May so I've been trying to get that worked out. Now that it is, I will have some announcements in the next few weeks.
KR: If there was anything in your career you could change, what would it be?
CC: I signed my record deal without having a manager. At the time it sounded like a good idea but in retrospect it wasn't a great choice. Just because there were no checks and balances. There was nobody on my side holding anybody accountable. For the most part though we've done really well and I would do it all over again.
KR: Have you always wanted to sing and write music?
CC: Yeah, even in high school I was at the bars as often as I could trying to get in with the bands to see if they would let me go in and sing a couple of songs. After graduation, I knew that music was something I couldn't shake so I decided to move to Nashville and chase it down.
KR: What was your journey like when you got to Nashville?
CC: It was long but I was making a good living in Nashville singing demos, playing and writing songs. I played piano for Tracy Bird and Luke Bryan. I got to do some really cool things and was putting food on the table so that was a success as far as I'm concerned.
KR: Has country music always been the choice?
CC: Yes, that's all I know.
KR: If I were to grab your ipod would it all be country?
CC: I listen to some other stuff. I like good singing. I love Bruno Mars, Adele, Boyz to Men, Brian McKnight but it's about 98% country.
KR: If you could sing with one person past or present, who would it be?
CC: Definitely Keith Whitley
KR: If you could give one piece of advice someone following your path, what would it be?
CC: It's either all or nothing. You have to be 100% and not take no for an answer.
KR: Do you have any regrets?
CC: Nope, not one. Every decision I've made has either been based on gut feeling, or prayed about it or decisions my wife and I have made together. It's all good stuff.