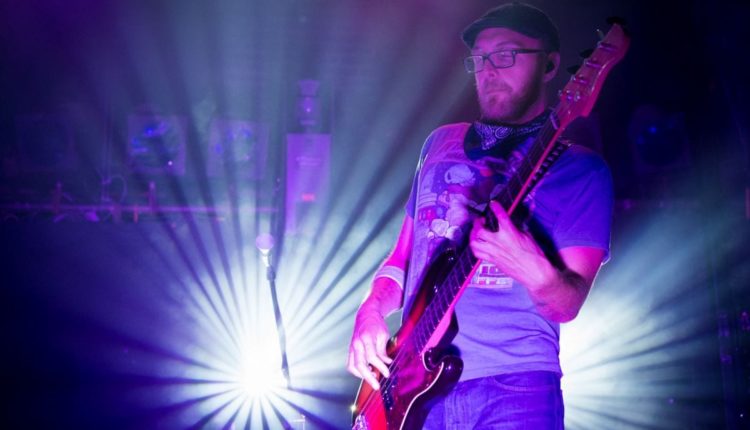 Dopapod axe-man Rob Compa motions towards the left side of Rochester's Water Street Music Hall's floor -"Right there! As a kid, I stood right there and watched Umphrey's McGee play." Rob's hometown enthusiasm (Rob is from East Rochester) would carry through a blistering two set/multiple encore night that even Light/Sound man extraordinaire Luke Stratton proclaimed on Twitter as "Best show of the tour so far!" – and that dude sees every show. 2014 has been a rocket ship year for Dopapod – filled with top festival spots and packed shows – and their performance on a warm Fall night in ROC-city showed abundant proof why.
Before the aforementioned Dopa-storm occurred, two other excellent performances would foreplay the crowd nicely. Stereo Nest – a one man looping experience project by multi-instrumentalist Collin Jones (also of Ocupanther and Haewa) – played an energetic set of organic jamtronica fusion as the floor filled up and got the people moving. Think Keller Williams gone EDM. Only a few shows deep into existence, Stereo Nest is proving to be a force to track.
After a fast 15 minute changeover NYC's Consider the Source came out and immediately laid into an extended middle eastern infused spooky-as-hell jam that perfectly complemented October's arrival. Everyone stared,  transfixed by the bands mind numbing instrumentation. Silence made an odd and welcome entrance throughout the crowd if only for a few fleeting minutes: People – in the rarest of occasions at a modern musical show – actually shut up and listened to the band. CTS is mental music at its absolute peak which can bring the listeners to the frayed edges of sanity. Much like an unexpected hostel tryst with a sexy debonair stranger – they might not always be exactly sure what's going on, but they know they like it and they want it to keep going. Highlights of the set included a mash-up of "Miserlou" (popularly known as "that Pulp Fiction Song") and the Beach boys "God Only Knows" along with a blazing outro jam replete with Star Wars teases. An apropos ending for three gentleman who have obviously attained Jedi powers.
Set-break ensued while people happily refilled their beers and rested their limbs for the last time that night. Water Street had gone a long time without the fizzy stuff due to an ownership change and it was great to throw back some brews yet again at one of Rochester's most historic of venues. Dopapod came out with the 2009 song "Roid Rage" – a song that starts off jazzy and unassuming before barreling into the fusion/prog/rock hodgepodge typical of 'Pods genre-wildcard style. Dopapod is one of those crossover bands that should give those fans that are music lovers but have a natural disdain for bands labeled as "jam" a reason to consider. This band is no Phish, no Dead – this band is a culmination of influences across the spectrum. Imagine if all your favorite bands played at once and you get a sense of what 'pod is all about. As the set continued the band visited several tracks off their upcoming release Never Odd or Even –  "Psycho Nature" "Hey Zeus" and perhaps one of the most epic songs ever – "FABA". "FABA" – an instrumental which no one seems to want to reveal what the acronym stands for – typically exceeds the ten minute mark and is a dictionary level study in the science of musical contrast.  Filled with more goose bump inducing air guitar raging peaks then the Alps, this song grabs the mind heart and soul and does not let go. As if that wasn't enough, the set ended with an exclamation mark – an absolutely mm/ rendition of Black Sabbath's "War Pigs" with all three members of Consider the Source joining the fun on stage.
At this point – being 12:30 AM on a weekday – sadly this reporter had to head to bed. The band continued with a full second set filled with some of the most revered songs according to the bands fan club – Dopafam – with enthusiastic reports on excellent versions of "Nuggy Jawson" "Onionhead" and "French Bowling" as well as a rare "Carolina" second encore that ended after 2 AM. When the 'pod hits the area again, that next day is getting taken off.
Dopapod Set List
Set 1: Roid Rage, Trapper Keeper, Psycho Nature, Hey Zeus!, FABA, Grow, Vol. 3 #86, War Pigs*
Set 2: Nuggy Jawson, Priorities->Off the Cuff->Priorities, Onionhead, French Bowling
Encore: Nerds, Carolina
* Black Sabbath, w/With Gabe, John, and Jeff from CTS
[FinalTilesGallery id='26']