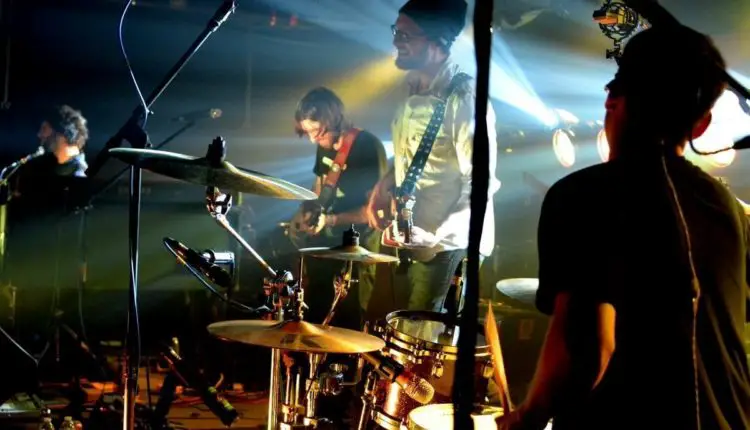 Brooklyn's Dopapod have announced that their 4th studio effort, Never Odd Or Even will be independently released on November 11th. Culminating from a combination of studio efforts and a gargantuan touring schedule bringing 'Pod all over the country, fans and band members alike are psyched. East Rochester native and shred-master/vocalist Rob Compa shares his excitement – "The Never Odd or Even sessions cultivated a serious growth in the band's creativity, each person stepped to the plate and put out great creativity and passionate playing, while inspiring everybody else involved in the project to do the same. We really feel that the material this time around represented a big leap forward, not just in the way we've been interacting as a band, but in the way our focus has become sharper in paying attention to things like melody, theme, lyrical imagery, and structure – all the elements that make a great song."
Organist/keyboardist Eli Winderman added his own thoughts about the recording process with friend and producer Jason "Jocko" Randall – "We lived at his studio for about a month for these sessions and it just clicked right away, with Jocko's attitude and approach to the recording process, we were able to really dial in the sounds we wanted, get those perfect takes we were aiming for, and have a blast the whole way through." Fans interested in the new album can visit the bands website to sign up for a mailing list which will get them a FREE digital download on release day as well as a chance to stream the first video released, "Picture in Picture".
Upstate fans will have several opportunities to catch Dopapod this fall starting with a homecoming show for Mr. Compa this Thursday, October 2nd at Water Street Music Hall  in Rochester with instrumental wizard trio Consider the Source. Local up and coming uber-talented guitarist Collin Jone's one man band Stereo Nest will start the show up in style. Ticket's are available online  and at several local ticket vendors ($12.50 pre/18$ door).
Check out our list below for more area Dopapod show opportunities.
10/23 Niagara Falls, NY – Rapids Theatre w/ Umphrey's McGee $27.50-$30
10/29 Binghamton, NY – Forum Theatre w/ Umphrey's McGee $25-$30
11/1 Oneonta, NY – Oneonta Theatre w/ Space Carnival $12-$15
11/21 New York, NY – The Gramercy Theatre w/ Alan Evans' Playonbrother & Teddy Midnight $16-$21