If Twenty One Pilots is not on your bucket list of a "must see" in concert, add it.  Wednesday, Sept. 10, 2014 the Quiet is Violent Tour came to Main Street Armory in Rochester, N.Y. and showed all who came what a concert is all about.   Vinyl Theatre and Misterwives  opened, making all the buzz from everyone saying "That was one of the best concerts I have been to."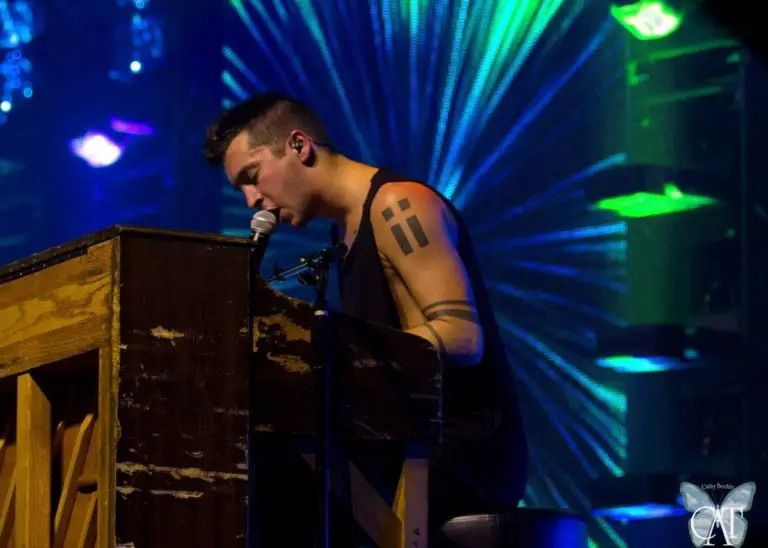 Two words for Twenty One Pilots – respect and inspiring – they are the result of hard work and determination showing that you can make it into this industry without being discovered. Mike Gibson, tour manager for Twenty One Pilots, shared with NYS Music prior to doors opening, why they have such a strong cult like following and operate differently from most. Growing up with the dynamic musical duo, he understands these two musicians like no other possibly could.  A professional clean-cut guy, he has his head on straight with an easy going vibe about him.  In fact,  Josh Dun and Tyler Joseph have surrounded themselves with people who have very specific traits that are important to their success from what I can tell, intelligence, focus, determination, they need to be goal oriented and must have values or they need not apply. All of this so they can successfully perform their music, have a blast while doing it and give fans an amazing show.
Mike explained more about the incredibly driven people to help make it all happen.  Starting with asking how many bands out there today consider that achieving "success" or "fame" is when that money from the first few shows come in and then goes directly into a band's pocket.  Perhaps it goes to support a glamorous lifestyle or even comfort from a van to a tour bus.  Well, this band should be a model example on how to handle finances.  As he continued, he thought that the strong values they were taught as they were growing up, close family ties, an awesome Manager (Chris Woltman) and of course the band's financial adviser (Mike's Dad)  make doing what these guys love continue to happen.  The rule they follow to always make the next show better than the last and to always invest back into the show.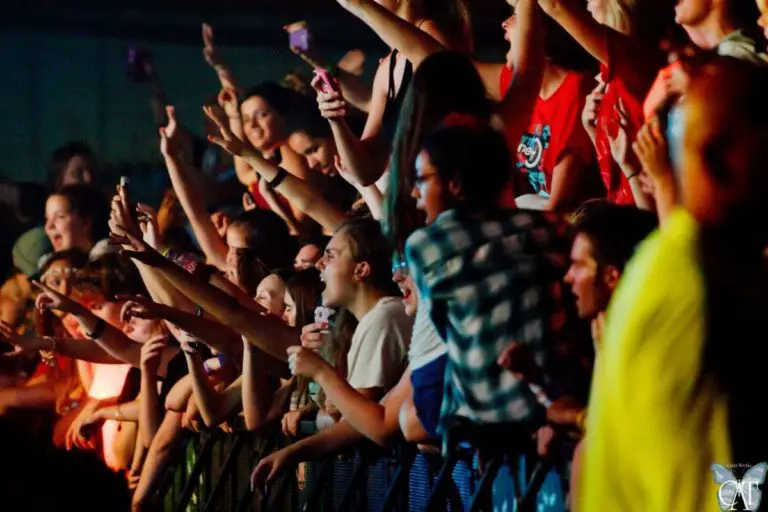 As Mike was reminiscing about the best times on the road it was not on the big tour bus that was parked in front of us, although truth be told he did say it was much more comfortable.  It was on the road in the van in the very beginning a couple of years ago.  They did not cash in early on well-paying gigs for personal comfort, instead they opted to reinvest in themselves and stay in the van.  They outlook, give a better performance, more lightning, better equipment and experience for the people who come to show and to make sure they are still having fun while performing what they love.
Clearly remembering about good times these guys have had by the look in his eyes as spoke about the cold winter nights were invigorating going from one city to the next and saying how those were some of the best times together.  Their alarm clock was parking lot security wherever they parked; being woke up as they were kicked out the next morning "Time to move on guys".   With a slight chuckle as we continued to talk I was brought into feeling that those were the times where it was an a whole new exciting adventure.  Young guys, in a band, on the road, in different cities, I am a smart women and know there are stories there, but listen, some things are just meant for a band to keep under "band code rules" and a writer to know better than to ask and to just to respect.
Now that they have grown they have a Manager that is best described as looking like Jesus (insert laughter from Mike and saying "he really does") who is great at making calculated and driven decisions with their goals in mind.  His name, Chris Woltman.  Mike elaborated about the path they have paved for themselves and feels that their faith early on as Christians while growing up helped them avoid some potholes along the way.  One pothole avoided, almost missing the opportunity to work with Chris.  During the time where they were talking with potential managers Chris's scheduled flight in to see a live performance did not take off.  The show was of epic and historic proportion for them and their hometown of Columbus at the Newport Music Hall.   A sold out show, three in history that have ever been able to accomplish this before at this venue, so when they stood outside and looked up at the marquee it was a moment to take in.  The band and the whole town pitched in selling tickets to this show, again grassroots efforts on how they became to be.  The guys didn't know what to think about Chris not being able to make this important show, but quickly focused on what they just did and the people who helped make it happen.  It turned out that Chris, was the one.  They met with a few others but similar to finding a spouse no else came close to the feeling that got from Chris.  They just knew he was the right fit.
So how does all of this lead to a concert review you ask?  The determination for performing, making sure it is doing what they love and showing the audience a performance that they have invested continuously back in, was mind-blowing evident that night.  Lightening was amazing from the color changes, directions, types, size, timing it was consistently changing to keep the mood of the performance.  Josh and Tyler giving all trust into the literally hands of their fans by having them holding them up as they perform on a platforms was crazy.  Fans watched in pure amazement as the energy as they act out their music and interact with them directly.  The music was not just heard, by watching reactions Twenty Pilots are also investing emotionally and physically directly into people in unique ways.  A concert is entertainment to listen, feel and watch.  It is astounding that how only two people on a huge stage  kept everyone's attention the entire performance.  The wonder of what was going to happen next look and surprised faces and expressions as confetti was being shot from the stage kept people wanting more and for the night not to end.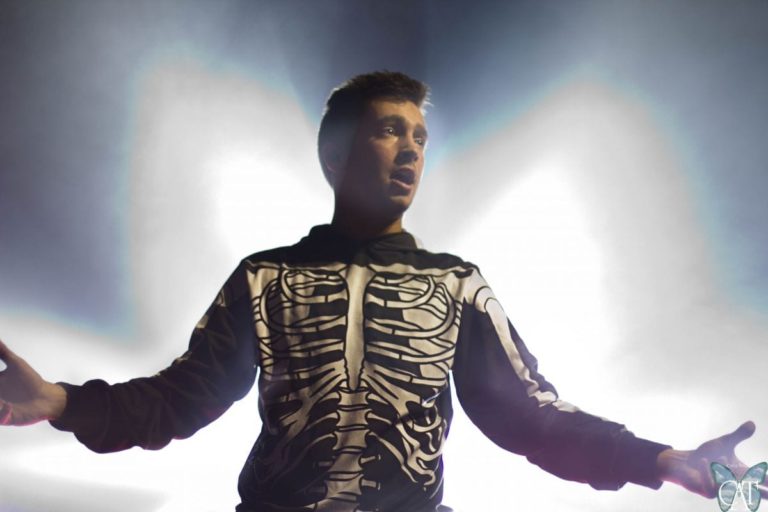 With ever concert there are opening bands and performances.  The first group to kick it off and get everyone moving and smiling was Vinyl Theatre.  They had won battle of the bands in 2013 to open for Twenty One Pilots, newbies to the music scene forming in 2012.  Gaining new fans with their sound of indie electronic rock that night they will surely keep them because of the passion.  Each member exudes it when they are on stage.  A trait of the performance that makes music worth watching.  This was starting to transform the night into what has long been lost in definition as a concert by transforming the music experience into a new level.  Their record label, Fueled by Ramen, seem to have targeted their artists having deep passion as they perform;  making the record label one to watch as the sign artists.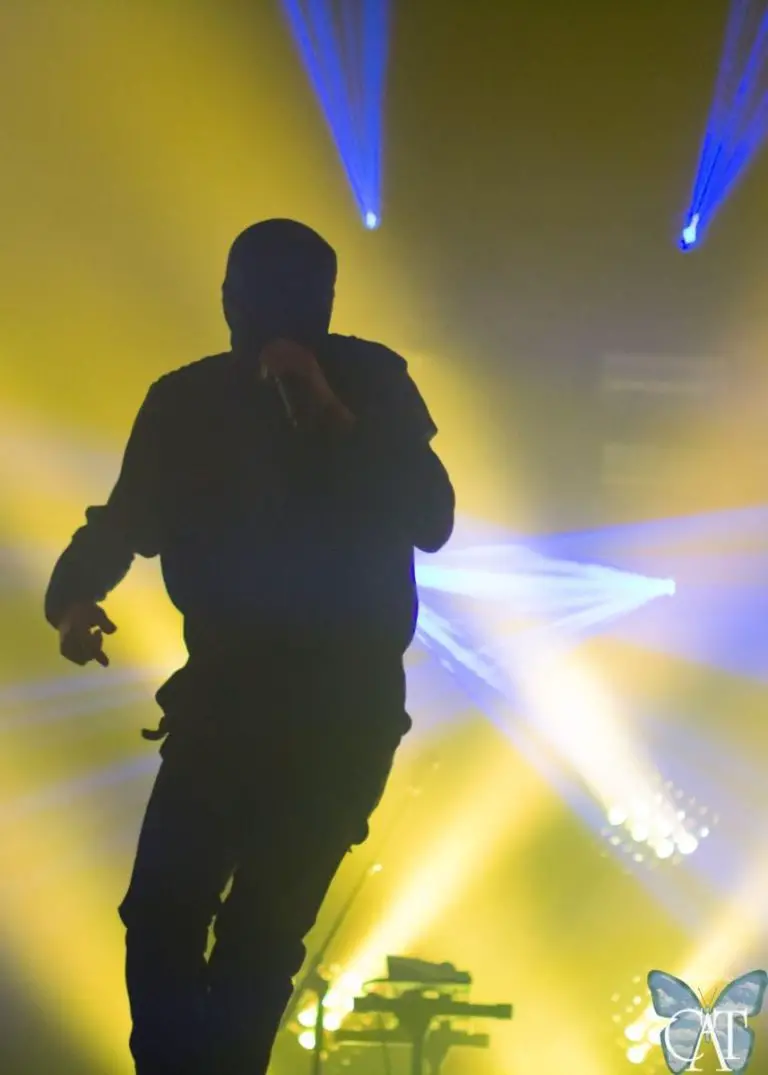 Misterwives added to the build up to the night amping up the crowd.  This group's carefree and fun spirits is contagious in the crowd.  Group participation as Mandy Lee, lead singer, led the audience to snap along with them during songs was a communication all of its own between the artists on stage and the people taking it all in.  The whole band is amazing.   Front women Mandy is a vocal powerhouse.  She is the full package when it comes to lead singers.  Has the energy to rock the whole performance with their pop style, has a personality that keeps it entertaining to watch and spot on vocals.  The ability to reach the back of the room with her voice from such a petite body but then would have people leaning in at the right times for the dynamics and drama.  Watching each of her Misterwives look as she performed smiling they all feed off one another with a pure look.   The talent they had paid off by the response from everyone.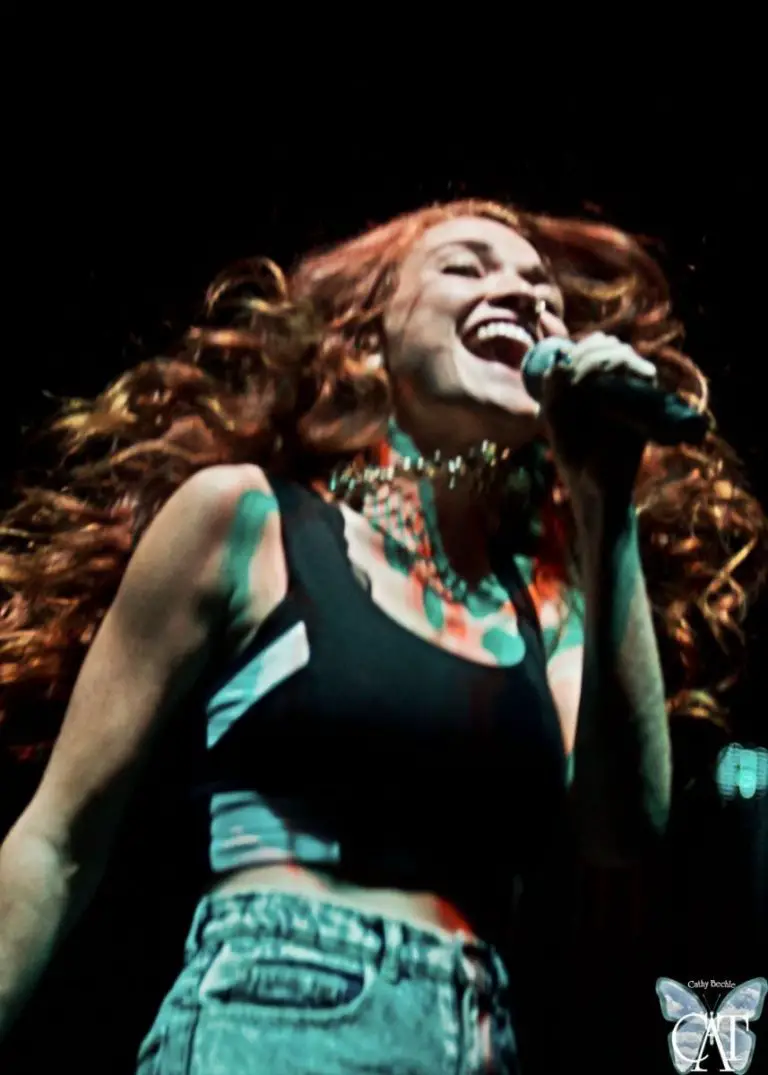 At the end of the performance, I caught up with Mandy to share how incredible her powerhouse of a voice is.  Giving me a huge hug she was bubbly with an amped up energy level.  She replied humbly with a huge smile hearing that their performance was so well received by their potential new fan base in Rochester, NY.  She was gracious to agree to with Andy DeLuca Photo making sure we caught it all live and putting this together for us to share:
Definition of a concert to me is a mass of people who could sing along to every fast paced lyric, got on the shoulders of their friends when the singer asked, displayed emotion as the music touched them at a personal level and musicians constantly looking directly into the sea of people and in return picking up the bands satisfaction as they performed is a concert that exceeds expectations.  This night was packed with pure satisfaction for the music and the people who were there to experience it. Commonalities of each group going up for their set and performance night after night is to share their passion of music as artists.
The last-minute of the show with only my phone video to record captures a glimmer of the definition of the word "concert".  Their hard work to this point in their career has captured more than a definition of a word.  It has captured an emotion, feeling and provides and experience to all that get to be entertained by their talent and skills. Thank you Twenty One Pilots, your support systems and management.  The Bands that you have on tour with you that share the same passion and drive yet have unique differences your fans to new musical creations.