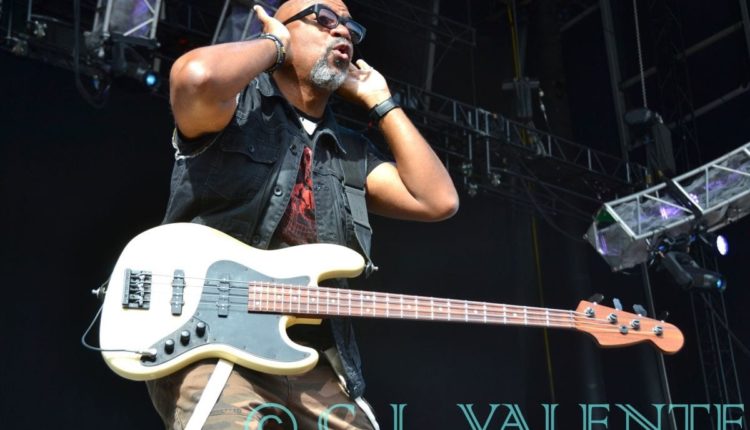 The Jamming Was On at Mountain Jam X
In honor of the tenth anniversary of Mountain Jam, which takes place in the glorious Catskill Mountains right here in our Upstate backyard, the weather decided to fully cooperate for the entire weekend (with the exception of literally one minute of rain late Thursday night)! Set within the beautiful backdrop of Hunter Ski Mountain, which forms a natural amphitheater with its sheer geography, the spectacular and constant sounds of pure musical genius were constantly being bounced off the mountains right back at you. It was even possible to take in the music and views from above via the Sky Ride (a.k.a., the ski lifts)! With the two main stages set up right next to each other, it was possible to see a continuous flow of music without having to leave your spot, but when the need arose to stretch your legs or take a break inside the Ski Lodge (where there was access to indoor bathrooms throughout the days and evenings), it was definitely worth visiting Healey Brothers Hall located inside the lodge, where several workshops were offered throughout the weekend. In addition, one could check out the variety of other activities going on on the mountain, including taking a yoga and gong sound healing class in the Learning Center; playing a game of Frisbee Golf; participating in a drum circle; cleansing your karma at the Karma Wash; or taking a nap in the Hammock Grove.
With the festival gates opening at 2pm on Thursday, there seemed to be some initial confusion amongst the security guards about exactly what was going on, which resulted in a few of the early arrivals to miss a bit of the first band, but thankfully, once the music started, it motivated everyone (including the security guards) to keep things moving. Diesel America from New York City held the esteemed position of being the opening band for Mountain Jam X, quite an interesting choice, as they played some of the hardest rock ever heard at a Mountain Jam, but they certainly helped kick things into gear. Next up was K-Jamm, a catchy "hipster rock" band, sounding a bit like Edward Sharpe and the Magnetic Zeros with some Rusted Root mixed in, and heavy on the Hammond, giving the band a real classic sound. Following K-Jamm were The Dirty Gems, a Brooklyn-based band who has won or been finalists in numerous Battle of the Band competitions. Having incredibly high energy, powerful lead female vocalist Raycee, during the first song, took a break to high-five the rest of the band members, and encouraged everyone in the audience to do the same! Performing a great cover of Alanis Morissette's "You Oughta Know" and then ending on a jazzy note, The Dirty Gems' parting advice was, "Be safe but not too safe!" After such a wise tip, Copious Jones, from Atlanta, Georgia, was next to perform on the West Stage. They had the exceptional ability to combine various genres of music within each of their tunes. During any given tune, you could be hearing straight up rock, jazz, folk, reggae, and even salsa. The lead vocalist, "Sniffles" Callahan, sounded an awful lot like Gogol Bordello, which was an added bonus! At one point, they had everyone dancing so hard, even one of the cameramen on stage was getting down! The final band to play on the West Stage on Mountain Jam, Day 1, was Citizens Radio Band from New Jersey, who was a whole lot of fun, and the first bluegrass band of the festival! In fact, they got the crowd psyched with a rousing rendition of "Bluegrass Breakdown", a real traditional number, and later on sang a beautiful version of "Silver Threads and Golden Needles", which had a New Riders of the Purple Sage sound to it. At certain points during their set, a saxophone made an appearance, which added a distinctive tone to an otherwise predominantly bluegrass and country set.
For the bands playing later in the evening, the music was switched over to the larger East Stage, so at this point in the festival, there was a mass migration from one stage to the other. To inaugurate the East Stage at this year's Mountain Jam was the legendary Dark Star Orchestra, a band famous for replicating entire Grateful Dead shows tune-for-tune, and as close to note-for-note as they can learn. Due to their two-hour time slot, they didn't have time for an entire Dead show, so they played one of their original sets, which was equally as well thought out and executed as a Dead set would have been. Included in their set were several of the Dead's more upbeat tunes, including "Mississippi Half-Step Uptown Toodleloo", "Midnight Moonlight", "Samson and Delilah", and "Eyes of the World". At several points during the set, it sounded like they were going to go into "China Cat Sunflower", and I could have sworn they were going to start "Women Are Smarter" when they actually went into "Iko Iko", but that just kept everyone on their toes, like the Grateful Dead used to do. The band closed out the set with a sentimental rendition of "The Weight", dedicated to Levon Helm, who coincidentally celebrated his 70th birthday at Mountain Jam just a few years ago. Dark Star Orchestra successfully channeled Jerry Garcia to all of us on this first day of Mountain Jam, and you could tell the band was feeling the love from the audience, as Rob Eaton, rhythm guitarist and vocalist, called the crowd a "Laurel and Hardy bunch"!
And now, for the headliner of the night, Umphrey's McGee! They came out on stage in the dark and started playing their first number "Le Blitz" before the lights came up, getting the audience pumped with a nice blend of acoustic piano and electric guitar. About halfway through their set, during "Space Funk Booty", some guy came running down the hill at full speed, and mumbled something to me on his way back up about getting so into the music, he may have even blacked out at one point! The band took the opportunity to garner some Umph Love for their new album Similar Skin, which came out just after Mountain Jam weekend, by playing the title track. To close out their first set, one of the hosts of the festival, the one and only Warren Haynes, joined Umphrey's on their last tune, "Thin Air", the first of many guest appearances made by Warren throughout the festival. Umphrey's McGee's second set consisted of several really dance-y songs, including super fast and flawless two-finger tapping on the guitar during "Cemetery Walk II" by Jake Cinninger, who was so hot, bassist Ryan Stasik had to fan him down; a vocal jam surrounding the phrase "Smoke it if you've got it" with the lights turned out on stage; and ending with a funky Police cover, "Driven to Tears". Umphrey's parting advice for the crowd was to "Drink more water!"
Day 2 of Mountain provided a longer 15-hour day of harmonious bliss, perhaps the busiest band being Brooklyn-based Afrobeat aficionados Antibalas, who made three separate appearances throughout the day, starting with an early set to get everyone on their feet from the get go, moving on to the Healey Hall stage for a mid-afternoon Afrobeat workshop, and ending the day with the last set of the day, starting at 1:00AM once again on the inside stage. A force to be reckoned with, with 11 band members on the stage, you could truly feel the steady beats and brass pulsing through you during their musical sets, and, although it meant missing some of the music going on outside, it was definitely worth participating in the Afrobeat workshop, during which Antibalas drummer Miles Arntzen taught the lucky group of participants two basic African claves (or rhythms), the Dorian scale, and "learning how to unlearn". Other bands that played throughout the day were NYC-based The Dough Rollers, who sounded a bit Tom Waits-y (and who also didn't seem too thrilled or prepared to be there); Robert Randolph and The Family Band, who were sounding as soulful and funky as ever, and ending with a last pedal steel riff over which he sang "Let's Go Rangers!" (as there was a game going on that evening, which was being shown at the bar inside the lodge); The Weeks, who were reminiscent of The Strokes; Trampled By Turtles from Minnesota, who played the fastest bluegrass I've ever seen; Reignwolf, playing some hard southern rock, with drummer Texas Jo playing with similar antics as Animal of Muppets fame; The Avett Brothers from North Carolina, whose true love of playing music really shined through in their heartfelt tunes, and who brought with them a dedicated fan base of all ages (in fact, the two little girls sitting with their parents in front of me seemed to know practically all they lyrics to their songs!); and Moon Taxi from Nashville, who provided the audience with some bouncier trippier music, and a truly fun and upbeat musical experience.
Bob Weir and Ratdog were the main act of Day 2 of Mountain Jam, and they very nonchalantly started off with "The Music Never Stopped", which proved to be an apt title for the rest of the set, with "Easy Answers", "West L.A. Fadeaway", "Don't Let Go", "Me and My Uncle", and "Deal" rounding out the first set. "Uncle" Warren joined Ratdog for the first of several songs of this spacier second set. During "Lady With a Fan", on which Bobby's lovely lilting voice truly shined through, drummer Jay Lane started a vocal jam going back and forth with the crowd, alluding to the fact that this would be a good opportunity for a "cell phone video"! Being a bass player myself, it was a true pleasure to get to experience such an upright bass virtuoso as Rob Wasserman, who really came through during the second set on "Terrapin" with some fancy bowing. After ending the set with "Sugar Magnolia", Warren came back to join the band for their encore of Chuck Berry's "Johnny B. Goode", featuring some crazy fast piano playing taking place by Jeff Chimenti.
To close out the evening, while Antibalas was providing the organic Afrobeats inside, for those willing to brave the chilly air, it was well worth checking out Beats Antique, who were throwing down their sounds and samples on the East Stage. Feeling bad that they were playing opposite one of their favorite bands, Beats Antique started out with some Antibalas samples, and went on to fuse genres as varied as flamenco and Gypsy jazz, and even included some of Les Claypool's distinguished bass beats. Performing with DJs David Satori and Tommy Cappel was Zoe Jakes, a belly dancer who provided an unusual yet pleasing visual element, which, in combination with the incredible lighting design, worked well to create the whole psychedelic scene that was taking place.
Feeling a bit low on energy on Day 3 of Mountain Jam, the incredibly talented and young (he's only 20 years old, if you can believe it!) Connor Kennedy, from the nearby artistic and musical community of Woodstock, got my butt kicked into gear with his inspirational songwriting and guitar playing. (Later on in the day, Connor Kennedy, Eric Earley of Blitzen Trapper, and Valerie June offered a songwriting workshop inside on the Healey Hall stage.) Day 3 also included performances by Blitzen Trapper from Oregon, who provided the audience with some good old-fashioned southern rock, heavy on the slide guitar; Sister Sparrow and the Dirty Birds, fronted by Arleigh Kincheloe, whose unbelievably commanding voice is on the same level of impressiveness as Janis Joplin, backed by a funk-soul band of seven powerhouse musicians including a horn section; Jeff Tweedy, taking it down a notch with his mellow singing and guitar playing, performing a mix of some new materials he was trying out and some "sloppy versions of songs [he's] played before", and joined by his gifted son Spencer on the drums for a few tunes; guitar hero Jonathan Wilson (who's not too shabby on the piano either), who continued the mellowness for a bit longer; Damian "Jr. Gong" Marley, who had "the counsel" made up of some of his friends and fellow band members fill up time with their own music until he himself showed up a half hour into the set, which he of course made up for by singing some of his father's big hits including "War", "Exodus", and "Get Up Stand Up"; and Valerie June from Tennessee, a singer who has one of the most enchanting and otherworldly voices, who when you listened to her, you truly felt like you had been transported to the 1930s and were listening to the record player.
On this third day of Mountain Jam, there were in a sense two headliners, namely Tedeschi Trucks Band (TTB)and Gov't Mule! TTB played us into the sunset with their amazing chemistry between husband and wife superstars Derek Trucks and Susan Tedeschi, as well as the nine other spectacular musicians who joined them on stage, including a horn section. Opening with a sweet flute solo on "Idle Wind" certainly didn't hurt matters. Soulive and Lettuce founder Eric Krasno joined TTB onstage for "Misunderstood" and the Traffic cover "Who Knows What Tomorrow May Bring". Tedeschi proved to be a superstar with both her guitars and vocals, which are like honey for the soul, and Trucks could play forever and that wouldn't be long enough.
Settling in for two superb sets of Gov't Mule, the band that has come to be known as the house band of Mountain Jam, those who had attended Mountain Jam in the past knew they were in for a real treat with the mix of originals and covers that Mule typically plays at this festival. Their first set demonstrated the band's musical prowess, with each and every instrument and voice sounding crisp and clean, while the second set saw more fun covers (including "Tell Me Something Good" by Rufus and Chaka Khan, "Creep" by Radiohead, and "Sugaree" by Jerry Garcia). Several musicians made guest appearances during the band's sets, namely Derek Trucks, Susan Tedeschi, Jackie Greene, and Eric Krasno. Government Mule was clearly paying attention to what was going on throughout the rest of the festival, as they teased "Rocky Mountain Way" by Joe Walsh, which had been covered earlier in the day by Blitzen Trapper, and they also kept in line with the underlying theme of bands throughout the weekend covering Led Zeppelin tunes, with a rocking rendition of "Since I've Been Loving You". To finish off their set, Mule encored with a Doors mini set, consisting of "People Are Strange", "Five to One", and "Break on Through"!
As if the crowd hadn't gotten their fill of music and dancing for the day, the music just kept going, with Jackie Greene playing on the indoor stage, and Pretty Lights playing outside on the main stage. Although it was a tough decision, having seen Jackie Greene on several other occasions, including previous Mountain Jams (and when he made a guest appearance with Ratdog earlier in the evening), I opted for checking out Pretty Lights. Led by Derek Vincent Smith, this extremely talented "sample collage artist" was able to bend sound and light in every direction, leading the audience to get sucked into the pretty lights that were going on in front of them. It was impossible not to dance to his brilliant selection of tunes that were sampled, starting with "Fight for Your Right" by the Beastie Boys, later moving on to "Midnight Rider" by the Allman Brothers (a very fitting choice given the occasion), and seamlessly throwing together a mash-up of several Led Zeppelin songs. But perhaps even more impressive than simply the tracks that he mixed so perfectly, were the lights that seemed to be so in sync with the music, and so spectacularly complicated, that you couldn't help but wonder how the artists put it all together. Lighting designer Greg Ellis and Production Manager/Audio Engineer Phil Salvaggio, both natives of Upstate NY, played equal parts in making the precisely choreographed Pretty Lights experience what it was. At one, point, Ellis somehow managed to create colored wedges of light outlined by thin white laser lights; imagine how much work must go in to that! Pretty Lights was truly a mind-blowing experience.
Waking up on Day 4 of Mountain Jam is always a bittersweet experience: you know you have one more day full of all the music you can dream of, but you also have in the back of your mind that this inconceivably fun time you've had over the past four days is going to come to an end. But in the meantime, Anders Osborne from New Orleans brought us some of his soulful singing and guitar playing and his inspiring lyrics, and even brought out special guest Marco Benevento, who was accompanied on stage by two little girls who I can only assume to be his daughters. The Treetop Flyers from London brought the audience some beautiful three-part harmonies and good time rock-and-roll, leading up to the Chris Robinson Brotherhood, who sounded nice and gospel-y (Chris Robinson is another one of those singers whose voice makes my heart), but the keyboards seemed to be overly synthesized. A very pleasant surprise for the middle of Day 4 was The Ghost of a Saber Tooth Tiger (GOASTT), headed by none other than Sean Lennon and Charlotte Kemp Muhl. Listening to their music had a way of putting you into a dream state, being so psychedelic in nature, featuring some really radical percussions that looked like they consisted of two pots taped together, a maraca, and a tambourine just sitting on top of a folding table! Lennon definitely inherited his parents' talent genes, as he demonstrated through his creative songwriting, vocals, and guitar skills. GOASTT had a definite Sergeant Pepper's look about them as far as their outfits were concerned, and even the sound had an underlying Beatles feel to it.
Still in a dream-like state of mind, after being wished a "Happy 4:20, because it's always 4:20 on the Mountain!" by an announcer, Patrick Carlin, George Carlin's brother, came out to introduce probably one of the most positive bands out there, Michael Franti and Spearhead! Successfully combining dance beats, electronic effects, and infectious and encouraging lyrics, this band is certainly a force to be reckoned with, leaving not one single face in the crowd without a smile. Franti has such amazing chemistry with the crowd; no matter whether you are seeing him in an intimate club or at an immense festival such as this one, he still interacts with the audience, and today gave shout-outs to the person smoking a joint in the green shirt, and the guy dancing around with a fly swatter, among others. For me, throughout the whole set, I was pleasantly distracted by the fact that I knew he was going to be coming out into the crowd and standing on a block set out for him literally right next to where I was standing! And sure enough, during "11:59", Franti made his way over to the block, and put out his hand for a gentleman in his 50s to join him, referring to him as his "brother from another mother", and inviting him to sing along during his brief cover of the Lumineers "Ho Hey"! I had never actually seen a positive aura surrounding anyone before, but I can now say that I've seen one around Michael Franti. (And the gentleman who he had on the block with him was basking in the glory of that experience, glowing for the rest of the evening.)
Although the anticipation was building for the Allman Brothers Band, who were up next on the East Stage, there was still one more band on the West Stage, and that was Lucius from Brooklyn. Getting shafted out of 15 minutes of their time slot due to Michael Franti running over during his set, Lucius graciously started right in with their super fun style of indie pop rock, and sucked the audience right in with their catchy rhythms and tight harmonies. The whole act was a very symmetrical experience, with one side of the stage practically being a mirror image of the other, down to the outfits worn by and hairstyles of all five of the band members!
And now, last but most certainly not least, the much anticipated and highly esteemed Allman Brothers Band (ABB), who wrote the song after which the Mountain Jam festival was named, came out on stage for what would be one of their last performances ever, as the group has decided to hold their final show at the fitting Beacon Theater this October after touring for 45 years. To commemorate this auspicious occasion, ABB treated us fans to a performance of their entire first two albums, Idlewild South and The Allman Brothers Band. Even though the band was sticking to a strict set list, that certainly didn't prevent the jamming from happening. A particularly special moment during the first set came during the "Drums" they segued into from "In Memory of Elizabeth Reed", during which you could practically hear a melody coming through, even though solely percussions were being played; ABB has always had the unique ability to accomplish this task, perhaps because they have three percussionists up there who have been doing this together for decades. Today was an extra special day for Derek Trucks, as he celebrated his 35th birthday playing with ABB at Mountain Jam! This fact just reinforced his outstanding musical capabilities, as the crowd was reminded of the fact that Trucks hadn't even been born yet when ABB recorded either of the albums performed tonight! But he has certainly mastered all their music and then some, adding his own unique twists. It was most definitely an honor to get to see The Allman Brothers Band perform for what might be my last time seeing them.
[youtube http://www.youtube.com/watch?v=6-RykGqj8mg]
With all the tremendously diverse musical acts that performed at this year's Mountain Jam, including several world-renowned artists, it is no surprise that the festival was feeling the growing pains of becoming an expanding festival, with a more corporate backing this time around, as made evident by Awareness Village being replaced by a Budweiser beer tent and Blu electronic cigarettes booth. But despite that, the overall positive energy that always seems to linger over Hunter Mountain during the Mountain Jam festival each year was still there. Between the awesome musical collaborations that took place throughout the weekend, with Bob Weir joining the Avett Brothers (and even doing some yodeling with them!), Jonathan Wilson joining Bob Weir and Ratdog, Derek Trucks and Jackie Greene joining Government Mule, and, of course, Warren Haynes making appearances with several bands throughout the four days; the lucky audience member who got to propose marriage to his girlfriend on stage during Michael Franti and Spearhead's "Say Hey (I Love You)"; Jeff Tweedy telling the audience that he wouldn't mind if someone got him a baked potato, since the baked potato vendor was in his line of sight throughout his entire set (and then when someone actually got him one, he sheepishly complained about it having sour cream on it, as he is lactose intolerant!); and someone in the audience handing me a balloon during Moon Taxi's set, and actually being able to feel the vibrations of the music come through the balloon halfway up the mountain! That just goes to show you how truly powerful the music and vibe at the Mountain Jam festival can be. Whether you have not been to one yet, or you are a veteran, Mountain Jam is not to be missed for those who appreciate virtually any type of music, as with the wide array of bands the festival features, your genre of choice is sure to be covered by at least a couple of the bands there, and you will be introduced to many more that you will be asking yourself why you had never seen before.
[youtube http://www.youtube.com/watch?v=OrcHBLOoEIc]
You can download recordings from Mountain Jam below.
Gov't Mule, Bob Weir and Ratdog, Jeff Tweedy, Anders Osborne