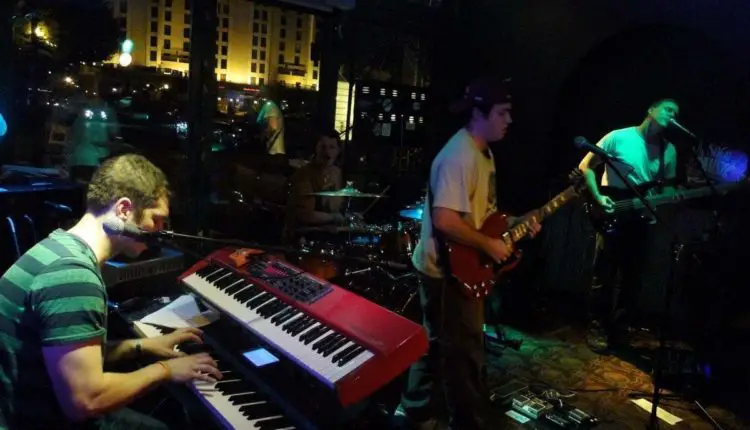 Taking the Ride with School Bus Yellow & Feeling the Flow from Formula 5 at The Hollow
The Hollow in Albany overflowed with jams last Saturday, October 5th, with the help from rock veterans School Bus Yellow and the up and coming Formula 5. The dancing never stopped with high energy music lasting late into the night. School Bus Yellow opened the night by shouting "Thank you, this is a very important venue for us", only to have the crowd yell "Thank You!" right back. An authentic Upstate band, School Bus Yellow has been around for almost a decade and it's no surprise given their unexpected splendor of light reggae rock tunes. Greg Bell from Guthrie/Bell Productions attended the show stating, "This is the band that got drum circles cancelled at BellStock," an understandable fact when those bongos add a unique and ear catching rhythm, causing a primitive stir that unfolded in the crowd. Their set included teases of the Harry Potter theme as well as the Indiana Jones theme song, plus fresh psychedelic funky jams. As the saying goes, "You're either on the bus…or off the bus" so trust , when we say make sure you get on board when they stop in your town.
It has been months since Formula 5's last show in the Albany area, creating much anticipation among fans and the band. The almost three hour set was a nonstop musical roller coaster ride, complete with guest sit-ins, plenty of teases and a few solid covers. As the band urged Chuck Valentine from School Bus Yellow to join them on stage, Greg Marek's fire filled drum solo brought him running to the stage along with the entire crowd chanting his name. Few bands can take on the challenge of covering the legendary jam band Phish but Formula 5 always rises to the occasion, especially with their rendition of "Weekapaug Groove." Strangers quickly became friends as anyone on the dance floor got caught interlocking arms in a huge crowd free for all. One of the highlights was the short riot caused during "3 Ring" when Formula 5 teased "Killing in the Name Of" by Rage Against the Machine, a harder look into their upbeat jazz styling. Each band member shone as their music blended perfectly together, a key ingredient for any successful band. Formula 5's improvisational jams have reached new levels as there were consistent peaks with jaw dropping flow that Albany has been sincerely missing.
Setlist: The Clear -> Goin Down, Earthbound Tim, Rising Tide, Chuck Song@ -> Drums -> Weekapaug Groove+, Nu-Gen -> 3 Ring -> Perch -> 3 Ring%, Movin On* -> Catch Me, Excalibur, Sledgehammer -> The Clear Ending, Hot Box
E: Grey Seal #
@ Impromptu Band and Crowd collaboration to urge Chuck out of the basement and onto the stage
+ w/ Chuck Valentine of School Bus Yellow on guitar
% "Killing in the Name Of" (Rage Against the Machine) teases
* "Backstroke" (Fatback Band) teases throughout, "Push On Til the Day" (Trey Anastasio) teases
# Elton John Cover