Note: This show is now available for download/streaming at livephish.com 
I first heard of this band called Phish in the middle of my first year of college at SUNY Alfred from a fellow architecture student. He had a few tapes which he copied for me (which in turn I was able to trade for a box full which now resides in the "dusty memories" corner of my basement). This was back in the day where you couldn't just turn on YouTube or cruise to the Phish spreadsheet to hear whatever show you wanted – you had to actually work for it! Despite my musical background, which was mostly metal and classic rock at that point, the band impressed me immediately. The juxtaposition of incredibly structured songs wrapped in periods of 'anything goes' was completely new to me and I became engrossed in learning about all things Phish.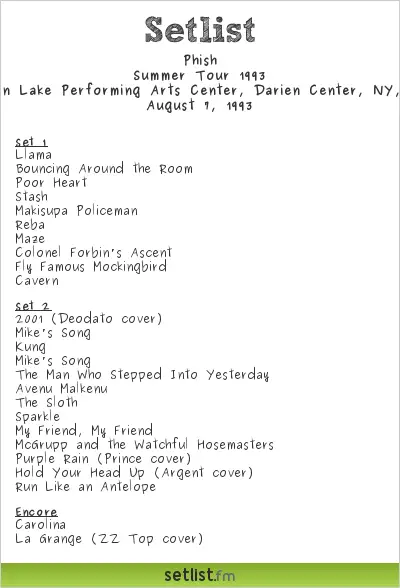 It wasn't until the summer of '93 that I finally had an opportunity to catch the band live, but by then I had heard dozens of tapes, knew the studio albums by heart, and was beyond psyched for my first experience. My friend Ron and I traveled up from Candor, NY, just south of Ithaca, up to Buffalo to meet some of his friends. As luck would have it, his friends parents were quite well-off and we spent the early afternoon in a gorgeous custom pool with attached hot tub before collecting everyone and heading towards Darien Lake. After a quick and delicious stop at Buffalo's Mighty Taco we got to the venue a few hours before show time.
After scoring my first ever lot grilled cheese and a nice fan-made "Gone Phishin'" t-shirt, we wandered in to find a good spot on the lawn. The weather was perfect and the shrieks of nearby tourists in the next door amusement park only added to the overall excitement in the air. I was immediately taken aback by the crowd, while it certainly reminded me of the two Grateful Dead experiences I had gone on, there was something different about it, almost intangible…
The band wasted no time coming out of the gate with an especially "Taboot" version of "Llama", arguably one of the greatest openers in the bands repertoire. While my ears remained transfixed to the auditory mastery unfolding before them, my eyes started to wander around the crowd around me, trying to quantify that intangible feeling I had noticed earlier. What I observed was astounding. Everyone stood, transfixed by the music. Chatting was minimal. The sea of people knew every word, every note, every nuance of the songs being performed. People danced to their own hearts, with no qualms of judgement. This was not a place to worry about mortgage statements, exes or bosses that make you work all weekend. This was a time to live in the moment and become immersed in the pureness of music mastery. The rest of the set was loaded with treats for new timers and seasoned veterans alike. From the simple recreation of "Bouncing around the Room" to the fierce peaks and improvisation in a "Reba>Maze" pairing, which remain as some of my favorite versions of those songs to this day.
Then stuff got awesomely weird as the first notes of Colonel Forbin's ascent rang out and the crowd collectively shit their tie-dyed britches. The Colonel went on quite the journey this sunny August day, as Trey's narration appropriately took us through the "roller coaster of the mind" as unknowing park dwellers went on their own metal and wood coaster journey's nearby. Eventually the Colonel found the Famous Mockingbird and the band closed the set with a spirited version of classic set closer "Cavern."
After far more than the 15 minutes Trey promised us, the band came back for the second set and launched into the familiar notes of Strauss's "Also Spracht Zarathrusta". More typical lengthwise to the 3.0 versions of this tune, it was a quick one and launched immediately into my very first experience with Mike's Groove. Mike's Groove has had a lot of variations throughout Phishtory, but the standard is the trio of "Mikes Song", the segue instrumental "I am Hydrogen", and the raging rock of "Weekapaug Groove" to close it.  This particular Mike's would stray far from the standard. Two distinct jams in the Mike's section, with the second being so atypical it is often marked on setlists as "Irish Diddy Jam". Sandwiched in the middle of this monster was my first experience hearing (or knowing about) the Jon Fishman penned poem "Kung". We stood up, we ran to the hills, we imagined 1000's of stampeding golf carts hell-bent on stealing our rich minerals. I gave Ron the 10th of what would be dozens of "Did that just really happen?" looks that night.
Little did I know, this Mike's was just getting started. Instead of the typical segue into "I Am Hydrogen" the band went into yet another rarity, the beautiful and succinct Trey instrumental "The Man Who Saw Into Yesterday". Continuing the groove madness, the Phish version of the Jewish prayer "Avenu Malkenu" came next. "Our Father, Our King, be gracious with us and answer us, even though we have no deeds; treat us with charity and kindness, and save us." But who would save us? Instead of the typical "Weekapaug" exclamation point, "The Sloth" came down from the ghetto to slice our nipples. No one complained.  In fact we all felt like laughing. And we laughed and laughed until we fell apart during the ensuing "Sparkle" which was set on super-holy-phuck-turbo speed. No bathroom songs in this show. The set continued with a well executed version of THE original Gamehendge song,  "McGrupp and the Watchful Hosemasters" which segued into a hilarious take on Prince's "Purple Rain" with the typical Phished up version of Argent's "Hold Your Head Up" to follow. The set then closed with arguably Phish's greatest show closing tune, a rip roaring, unrelenting "Run Like an Antelope" complete with fireworks and a laser light show from inside the theme park.
Two decades later this show still resounds as one of the greatest experiences I've had. Five Gamehendge related songs, a Kung, audience signals, the most atypical Mike's Groove I have seen to this day, and just the overall experience of euphoria and belonging in the air made it something I will never forget. It was truly a life changing experience and Phish has endured as a major portion of my being ever since. I wear a handcrafted gold Phish ring on my hand. My car is adorned with a PH1SH license plate. I saw my 3oth show on my 30th birthday. My son was conceived during Coventry weekend. Twenty years later, I'm still upside down.
Setlist via Phish.net
Set 1: Llama, Bouncing Around the Room > Poor Heart > Stash[1] -> Makisupa Policeman, Reba[2], Maze, Colonel Forbin's Ascent > Fly Famous Mockingbird[3] > Cavern
Set 2: Also Sprach Zarathustra > Mike's Song[4] -> Kung -> Mike's Song > The Man Who Stepped Into Yesterday > Avenu Malkenu > The Sloth, Sparkle, My Friend, My Friend[5] > McGrupp and the Watchful Hosemasters -> Purple Rain > Hold Your Head Up, Run Like an Antelope
Encore: Carolina, La Grange
[1] Unfinished.
[2] No whistling.
[3] Narration dealt with the "Roller Coaster of the Mind."
[4] Aw Fuck! and Oom Pa Pa signals.
[5] Beginning featured Trey on acoustic guitar.