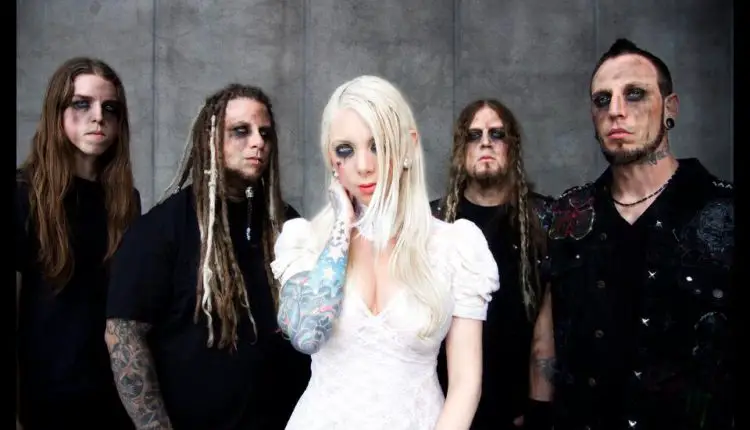 In This Moment has come a long way in their colorful music career. On November 18, Black Widow, the bands fifth studio effort will be released. Each album from 2007's debut Beautiful Tragedy, to their breakthrough 2012 album Blood have all been very different from one another. So what direction did Black Widow take?
The album starts off with a short little intro track called "The Infection" then goes into the recently released single "Sex Metal Barbie." This track is a very awkward track. The combination of riffs, popish-like sound, dubstep beats, and silly lyrics do not blend well at all.   It's hard to grasp to hear In This Moment release this kind of sound. When Blood was released, the combination of Metal and Dubstep was done very well. On "Sex Metal Barbie" it doesn't work. Producer Kevin Churko did not do a good job with this track at all.
The next track "Big Bad Wolf" is great track. It has a heavy, Nu Metal sound to it. This is definitely a track that finally got me hooked on this album. This has frontwoman Maria Brink going back to the more angry, heartfelt vocals we used to. And "Dirty Pretty" is a decent track.
The title track "Black Widow" again goes back to the similar poppy overproduced sound that "Sex Metal Barbie" had. It's a shame. Maria Brink is just oozing with talent, her vocals shouldn't have to be produced at all. Makes you miss her raw singing and screaming vocals on Beautiful Tragedy.
Brent Smith of Shinedown makes a guest appearance on the track "Sexual Hallucination" Hearing them sing together is absolutely mesmerizing, so another high point on this album. It has a pop beat to it still, but the vocals of Maria Brink and Brent Smith mesh so well that it doesn't matter.
Lead single "Sick Like Me" is a pretty solid track. One of the heavier tracks of the album, this track reminds us how talented In This Moment is when the band is clicking on all cylinders. "Blood Creature Poster Girl" is a charming track as well.
"The Fighter" is an absolutely beautiful track. It features Maria Brink using her powerful voice over piano and string arrangements. Definitely the best track. It takes you back to the days of 2008's The Dream.
The album continues with some good tracks with "Bones" and "Natural Born Sinner" then it segues with "Into The Darkness" which serves as an intro to another great piano ballad "Out Of Hell." At the end, Black Widow finishes heavy with "Turn You" before closing track "Rib Cage" kicks in to end it on a high note.
Overall, the album has some very low points from the band. It's clear in some tracks they're trying to move toward a more poppy sound. It is also disappointing that there are no guitar solos from Chris Howorth. Chris is a brilliant guitarist and a hell of a song writer. It's a damn shame this album did not highlight his talent more. However, it is still an, In This Moment album, and there are some fantastic songs mixed into the album. So it seems lop-sided. It's a blend of great songs and some head scratching songs mixed throughout the album.   That falls clearly on producer Kevin Churko and the band making the switch from Century Media Records (who have been a staple of some great metal bands) to the mainstream Atlantic Records may have played a key role in the output of the sound of Black Widow. Moving forward it will be nice to see the song writing process return solely to Maria Brink and Chris Howorth like it was during the time of their earlier albums and away from Kevin Churko. People who are expecting the old In This Moment sound will be in for quite a shock when listening to this album. Even people who are expecting Blood Part 2 may have their hopes too high. But nonetheless, a fair album from In This Moment which would make this easily the weakest entry. This album could have done so much better if you take out some of the "pop" tracks that are infused in it. Take those out, and you have a solid album.
You can purchase the album here.
Key Tracks: Big Bad Wolf, Sexual Hallucination, The Fighter
[soundcloud url="https://api.soundcloud.com/playlists/58810014?secret_token=s-Jg6uP"]