Making their Saratoga Springs debut, the force was strong with Spafford on Thursday, May 4th. Delivering an awe-inspiring, booty shaking performance full of type-II improvisation, buttery smooth segues, spacey textures and more dynamic soloing than even Han could handle, the highly talented quartet proved once again that when it comes to pure jams, Spafford is light years ahead of the pack.
Putnam Place served as our cantina for the evening, and while you will surely find a more wretched hive elsewhere, on this evening there were no villains here, only friends with plenty of character. You see, despite it being Spafford's first time in 'Toga, the electro-funk jam band has been around for more than a decade now. Developing a strong following via old-fashioned word of mouth and fan interaction, frequently sharing high quality live streams and relentless touring, those that already know, know, and these so-called "Spaff-Nerds" will happily travel far and wide to see these jam band Jedis play. For many in attendance, it was a no-brainer making the trip to Putnum Place, a venue with an almost mythical status as being a "rite of passage" for improv acts.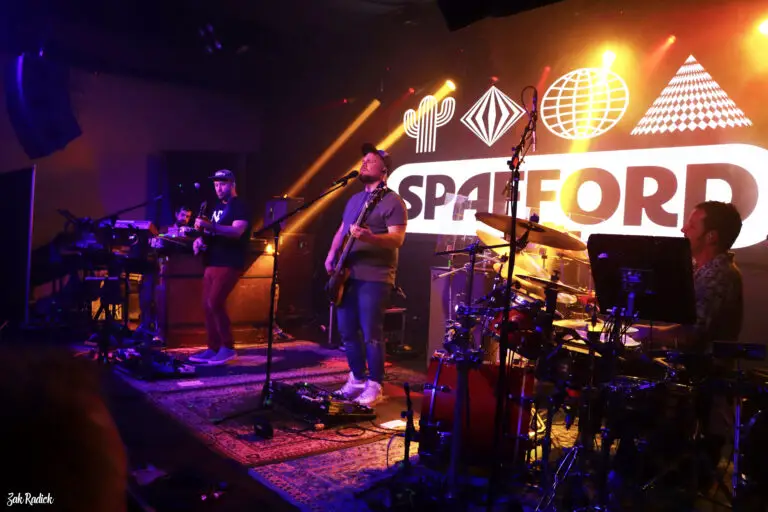 Originally formed in a place far, far away in Arizona, Spafford is comprised of Brian Moss (Guitar), Jordan Fairless (Bass), Corey Schechtman (Keys), and Nick Tkachyk (Drums), and have actually orbited around the Capital Region numerous times, previously playing venues like the defunct Lucky Strikes in 2017, the Palace Theatre (supporting Umphrey's McGee) and headlining "Jam Night" at Albany's Alive at 5 concert series last summer, thus making their long awaited Putnum debut all the more surprising and overdue. Making up for lost time and determined to leave a lasting impression, the evening with Spafford kicked off with a spunky version of "Left on the Runway" from their latest album, 2022's Simple Mysteries.
Acknowledging the familial vibe early and flowing straight into "All My Friends," the collective buzz in the room immediately went up a notch. That's because longtime Spafford fans know "All My Friends" is almost always paired up with "Bee Jam," one of their most coveted improv vehicles. Sure enough, the Bee would take flight on this night, soaring through Saratoga with an absolutely stellar, 18 minute rendition that contained everything from head banging grooves, crunchy funk-drenched breakdowns, the first huge guitar solo from Brian Moss and sonic exploration that effortlessly dipped into a murky type-II atmosphere, only to emerge on the other end with "Mind's Unchained." Corey's Schechtman's tasteful piano textures really came through here, adding a layer of beauty that made you want to close your eyes and live in the moment for as long you could. Slowly building to the song's blissful crescendo, the song would cap off an impressive 40 minutes of uninterrupted music to start the show. Little did anyone know the biggest jam of the first set was still yet to come.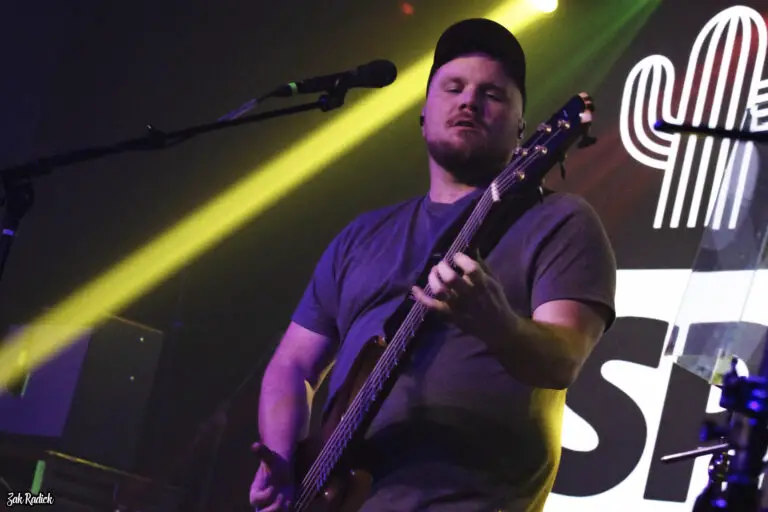 As bassist Jordan Fairless slapped away at the intro of "Dog House," his voice was in top form and so was his playing. Picking up the pace as the song shifted into "Part II," we'd get another tasty organ solo from Corey, before the song would showcase some of the bands more jamtronic and improg influences with "the human metronome" Nick Tkachyk navigating the ship. Taking you along for a colorful, sonic journey into the musical unknown, the song would ultimately clock in at the 19 minute mark and bring the scorching first set to a close.
After a smoke-filled intermission, Spafford would stay on target and turn the heat up even higher for set two. Once again choosing a song from their latest studio album to kick things off, the band came out of the gates swinging for the fences with a 21 minute "Diesel Driver" that was, simply put, a home run. Despite being a relatively recent song, Spafford played the ever-loving snot out of it, showing a maturity and patience well beyond their peers. Then working their way through the Braveheart-esq sounding "Pursuit of Madness," for me, it was all about the "Broken Wing" that would follow. An absolute showcase of what this band is capable of, if you were able to stand still during this song, sorry not sorry, but you might want to check your pulse.
Going with dank grooves for days and yielding an all-out dance party that reminded you of what the Putnum Place was like before the pandemic, the energy here was through the roof. Yet another 20 plus minute jam, it was around this time I realized, "holy smokes, they haven't stopped playing this entire set!" Maybe that was their plan all along? Almost on que, as if they could hear my thoughts, "Broken Wing" then melted into "Plans" in the most buttery-smooth way. Giving guitarist Brian Moss and his custom Raven one last chance to shred, every time I get a chance to watch this man play is awe-inspiring. The entire second set alligatored together as one frame of music, I've been saying it for years, but if that didn't make you a believer in this band, then I give up trying to convince you.
Thanking the audience for packing out the place despite it being their first time there, Moss would speak from the heart and address the crowd by saying, "What a blast we had this evening. What a beautiful town, great food, great people. Should we come back?" After a resounding cheer, minus the one guy who jokingly gave a thumbs down, Spafford would cure us all and send everyone home happy with a 13-minute encore of "The Remedy." While it may have taken them several years to find their way to Saratoga Springs, east coast jam fans won't need to wait nearly as long to see the guys again. With the promise of planning something spectacular and unique, up next the band is preparing for an intimate three-night run of shows at NYC's famous Blue Note Jazz Club beginning May 29th. Later in June, you can catch Spafford performing at the picturesque Lincoln Hill Farms in Canandaigua, NY.
Spafford | May 4, 2023 | Putnum Place | Saratoga Springs
Set 1: Left on the Runway, All My Friends > Bee Jam > Mind's Unchained, Doghouse > Part II
Set 2: Diesel Driver > Pursuit of Madness > Broken Wing > Plans
Encore: The Remedy