After three successful shows here last year, Phish and its summer tour returned to Atlantic City over the weekend of August 5-7. Night one of the three-show run went off without a hitch, with a setlist full of classic tunes mixed with newer jam vehicles. With the stage set up right between the legendary Atlantic City Boardwalk and the ocean itself, each set, and even the encore, had some decidedly shore-like vibes.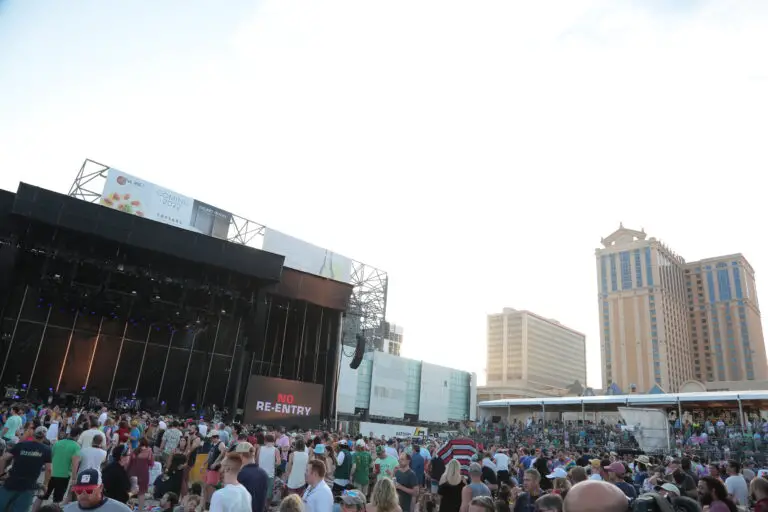 The night began with the venerable "Chalkdust Torture" in the opening spot, with its customary high-energy thrust to get things started. A sudden shift to "Wilson" followed, eliciting cries of the same from beach folk throughout. Things then got decidedly funky with the next clean segue into the all-too-appropriate "Sand," with Mike Gordon leading the rhythmic charge on bass. The opening set also featured a moody "Theme From The Bottom" with its aquatic undertones only adding to an already picturesque setting.
The first set's closing sequence was one to behold, starting with a "Sigma Oasis" that yielded a mesmerizing jam that saw the song get stretched out further than it ever has before. Eventually, the familiar opening chords to "Cities" took form and Phish launched into this always welcome cover song. The set then came to a close with a brief but euphoric "More."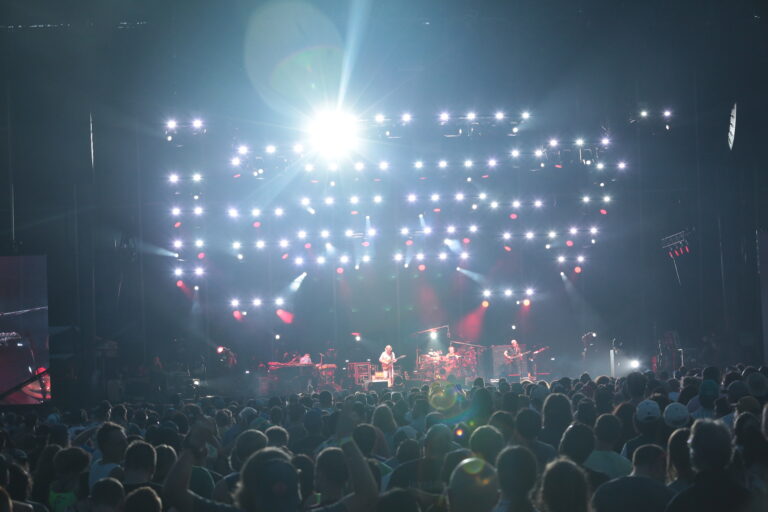 The second set saw the jam button still very much in the "on" position, with stalwarts like "Soul Planet," with its ocean-filled lyrics, and "Down With Disease" prominently involved. And nestled in between the start and finish of "Disease" was the aptly-titled "Ruby Waves." This newer addition to the Phish catalog, pulled from guitarist's Trey Anastasio's ever-expanding solo material, continues to explore new roads and push boundaries of live improvisation.
The second set came to a close with a pairing of Phish heavy hitters. "Story Of The Ghost" featured its traditional roundhouse punch of rock, this time with some serious "No Quarter" teases thrown in for good measure. "Harry Hood" then tied a bow on the set, with a brilliant jam that patiently built to an especially joyous peak. A "Sleeping Monkey" that certainly "took it on down the shore" served as a more than fitting encore selection before a surprising, but explosive, "Free" served as one last final jam to whet the collective appetite for what's sure to be another two nights of incredible music.
Setlists via Phish.net
Phish Atlantic City Beach – Atlantic City, NJ 8/5/22
Set 1: Chalkdust Torture->Wilson > Sand > Plasma, Theme From The Bottom > Back On The Train, Sigma Oasis->Cities > More
Set 2: Axilla (Part II) > Soul Planet >Down With Disease > Ruby Waves > Down With Disease> Ghost> Harry Hood
Encore: Sleeping Monkey > Free
Soul Planet contained a tease of Dave's Energy Guide from Trey and a tease of Dog Log from Mike. Trey teased Midnight Rider in the first Down with Disease and No Quarter in Ghost. Shipwreck was quoted in Sleeping Monkey. Mike teased Dave's Energy Guide in Free.
Saturday night's show in Atlantic City may not have had as many aquatic themes as its predecessor, but the jams continued to be rich and plentiful. The opening set began in fairly tame fashion with a straightforward "46 Days" that steered right into "The Moma Dance" in its familiar two-spot in the lineup. "Olivia's Pool," aka "Shafty" before "Shafty," then made another rare appearance, only the third one since being revived at Alpine Valley in 2019 after a near 22-year shelving.
A first set "Bathtub Gin" finally offered some of the first real intensive jams of the evening, with Page McConnell throwing down vigorously on both the baby grand and electric pianos. Fittingly, Phish then dusted off another number, this time it was Page's "Heavy Rotation" from his self-titled 2007 album. It was the first one performed in more than seven years and only the second one ever. And instead of ending the first set in typical fashion, Phish tacked on a rip roaring cover of David Bowie's "Moonage Daydream," with Trey Anastasio unleashing a bevvy of musical peaks with his soloing efforts.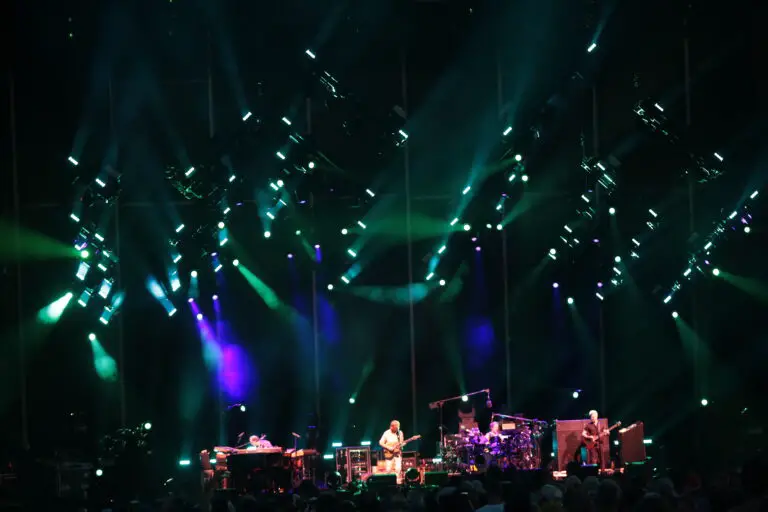 Saturday's second set started with some Atlantic City fireworks in the background and maintained that explosive demeanor throughout, starting with a set opening "No Men In No Man's Land." The ensuing jam then progressed into a "Tweezer" that almost felt expected at that point, with the second set staple offering another ample platform for improv. Another second set favorite in "Simple" was played to perfection and later transitioned into a "Backwards Down The Number Line" that had the entire beach kicking up sand in various directions.
The set then closed with another pairing of Phish classics. "Golgi Apparatus" featured a stretched out and somewhat different ending, showing the band continue to rework songs that have long been established. "Slave To The Traffic Light" then brought another complete second set to an end before an encore of "A Life Beyond The Dream" > "Tweezer Reprise," ironically the same exact encore of last year's middle night, sent everyone on their way along the Atlantic City Boardwalk.
Phish Atlantic City Beach – Atlantic City, NJ 8/6/22
Set 1: 46 Days > The Moma Dance, Olivia's Pool > My Soul, 555 > NICU > Bathtub Gin, Heavy Rotation > Character Zero, Moonage Daydream
Set 2: No Men In No Man's Land > Tweezer, Set Your Soul Free > Simple > Backwards Down The Number Line > Golgi Apparatus > Slave To The Traffic Light
Encore: A Life Beyond The Dream, Tweezer Reprise
Trey teased Norwegian Wood in 555. Heavy Rotation was performed for the first time since July 22, 2015 (253 shows). Trey teased Under Pressure in Simple. During the soundcheck, Beth was briefly sung by Trey and Knuckle Bone Broth Avenue contained Shipwreck quotes as well as If I Only Had A Brain teases from Trey and Mike.
With one night left to play, Phish treated Atlantic City to a customarily thorough and enjoyable Sunday show. "Wolfman's Brother" kicked things off, the first time its done so for a show since 2016, and the band instantly got locked back in with another groove-centric jam. This carried right over in the "Tube" that followed and wasted no time finding a path all its own courtesy of a jam that changed both keys and moods. An opening set "Fluffhead" was well received as Phish navigated their way through this vintage tune with relative ease. "Gumbo" found a nice home towards the end of the set which came to a rousing finish thanks to "Carini" and another breakneck jam created in its wake.
The band found no reason to stray far from the classics in the second set, made evident with a traditional "Mike's Groove" sequence that got everything started. A breath of "new" air was inserted with "A Wave Of New Hope" with this addition continuing to impress by producing one monstrous jam after another. A flawless "You Enjoy Myself" then followed, with yet another "second" jam following the vocal one, another sign of Phish continuing to tinker with the classics. An encore pairing of "Wading In the Velvet Sea" and "First Tube," replete with Anastasio guitar theatrics, then closed out the second, and hopefully not the last, run for Phish on the beach of Atlantic City.
Phish Atlantic City Beach – Atlantic City, NJ 8/7/22
Set 1: Wolfman's Brother, Tube, Mountains In The Mist, Ocelot > Fluffhead, Mecury > Gumbo > Carini
Set 2: Mike's Song > I Am Hydrogen > Weekapaug Groove, A Wave Of New Hope > You Enjoy Myself > Suzy Greenbeg
Encore: Wading In the Velvet Sea, First Tube
Trey teased Mr. P.C. in YEM.
photo gallery by Filip Zalewski