Seagle Festival has announced its 2022 schedule. Going into their 107th season, the Adirondack theatre & opera organization and vocal training company will hold seven shows from late June to early September.
2022 marks a return to normal for Seagle Festival, after a heavily adjusted 2021 season and full cancellation in 2020. Hosted at the Oscar Seagle Memorial Theater, the season will begin on the 25th with a performance of Old Friends & New at 7:30 pm. This will be followed in July by legendary Broadway show Hello, Dolly! with nighttime performances on the 6th, 7th, and 9th, and a matinee performance on the 8th.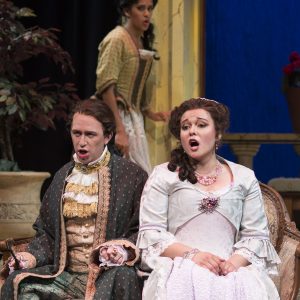 July will also feature an 11:30 am tour stop on the 9th by children's opera The Three Bears, and joint performances of Giacomo Puccini operas Suor Angelica and Gianni Schicchi from the 20th through the 23rd.
August will open with Fellow Travelers, a love story about two men working for the U.S. government during the 1950s McCarthy era, with showings on the 3rd through the 6th. Following is Once Upon A Mattress, a famed musical adaption of the fairy-tale The Princess and the Pea, running from the 17th to the 20th.
Last on the schedule is Happily Ever After, a revue of music from late composer Stephen Sondheim which will make a tour stop at the Oscar Seagle Memorial Theater on September 5.
Located in Schroon Lake, Seagle Festival is the oldest summer singing training program in the country. It was founded by world-renowned baritone singer Oscar Seagle, who made several concert tours in the U.S. and Europe, along with recording a number of hit songs such as the World War I anthem "Dear Old Pal of Mine." Before running his own instructional program, he served as a teaching associate in Europe to Polish singer Jean de Rezke from 1903-1914.
Information regarding tickets, times, and more can be found on the Seagle Festival website.
The Oscar Seagle Memorial Theatre is located at 99 Charley Hill Road, Schroon Lake.
Seagle Festival 2022 Performance Schedule
Old Friends & New – June 25, 7:30 pm
Hello, Dolly! – July 6, 7, 9 at 7:30 pm, July 9 at 2:00 pm
The Three Bears – July 9, 10:00 & 11:30 am*
Suor Angelica & Gianni Schicchi – July 20, 21, 23 at 7:30 pm July 22 at 2:00 pm
Fellow Travelers – August 3, 4, 6 at 7:30 pm, August 5 at 2:00 pm
Once Upon a Mattress – August 17, 18, 20 at 7:30 pm, August 19 at 2:00 pm
Happily Ever After – the music of Stephen Sondheim – September 5, 7:30 pm*
The Seagle Festival is has also recently introduced the 2022 Seagle Festival Emerging Artists, a group of 32 talented singers selected through a rigorous audition process.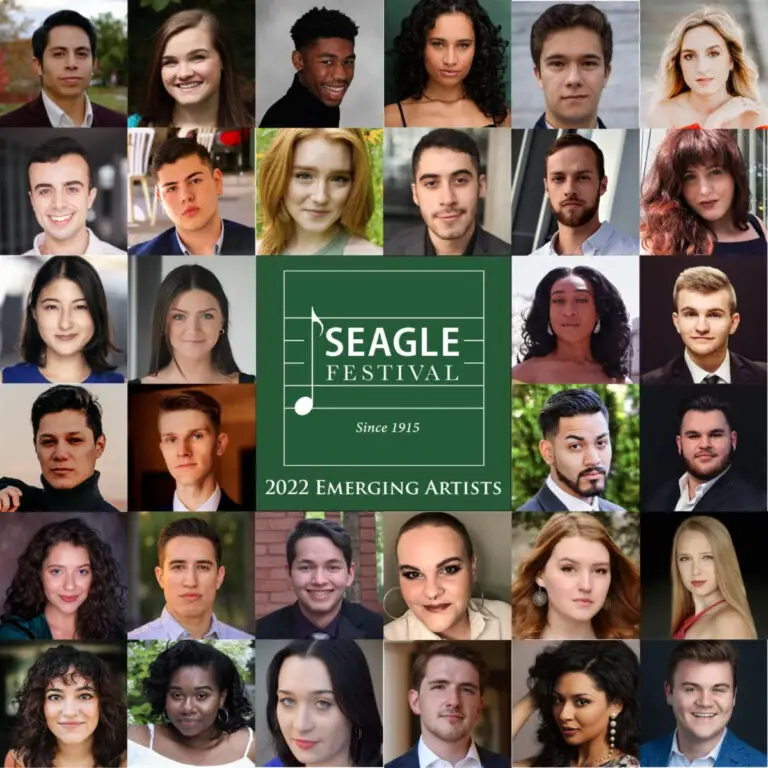 Top row (l-r): Elias Aguirre, tenor; *Justine Alexander, soprano; Amaan Atkins, tenor; *Andrianna Ayala, soprano; *William Casper, tenor; Jenna Rose Cipolla, soprano
Second row (l-r): *Joel Clemens, baritone; Abraham Isai Cruz, bass-baritone; Annika De Jonge, soprano; Samuel Enriquez, baritone; *Nicholas Fahrenkrug, baritone; Julia Fertel, mezzo-soprano
Third row (l-r): Emily Finke, soprano; *Grace Heldridge, mezzo-soprano; Hannah Jones, mezzo-soprano; Daniel Laverriere, baritone
Fourth row (l-r): *Daniel Esteban Lugo, tenor; Nathaniel Malkow, baritone; *Sergio Mandujano, tenor; *Mario Manzo, baritone
Fifth row (l-r): Kate Morton, mezzo-soprano; *José Olivares, bass-baritone; *Adam Partridge, bass-baritone; Lindsey Polcyn, mezzo-soprano; *Grace Reberg, mezzo-soprano; *Shannon Richards, soprano
Last row (l-r): *Jasmine Rodriguez, soprano; Jazmine Saunders, soprano; Anna Thompson, soprano; William Thompson, bass-baritone; Tiffanie Trujillo, soprano; Thomas Valenti, tenor
(*indicates a returning artist)