The longevity of the hip hop era has yet to cease. Its influence within the music industry, as well as the significant role it plays in cultural shifts worldwide is ever-growing. With the help of stellar records, powerful performances, captivating music videos and the puissant storytelling, hip hop has become engrained in everyday life, down to basic communication. Over decades it has been fragmented into sub-genres with its origins deriving globally, with one of the most bodacious being drill music. It may have first originated from Southside Chicago, but nonetheless has extensively embedded itself within the rap game forever.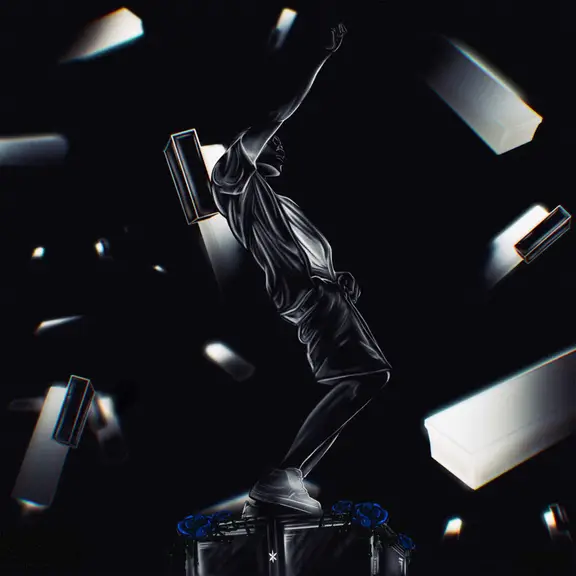 This sub-genre of music began in the early 2010s and was pioneered by the notable, King Louie and Chief Keef. Nonetheless, drill has yet to falter, as it has grown from underground to mainstream music, preeminently within New York and the United Kingdom. Every drill song has a storyline, centered around gun violence, disses, and gang culture which touch upon the realities of surviving the streets. Its raw nature is what also connected people, as well as led rappers from a life of poverty, a higher degree of institutionalized racism, and crime within the hood, to a better life with riches and fame. After consummating such accomplishments, many take on the role of the hero within their hometowns and devote their time, as well as their money to giving back.
Fivio Foreign, Alicia Keys, and Ye, also known as Kanye West, are the three prominent artists who collaborated to create the timeless song, "City of Gods". Considering the trio's hometowns are New York City and Chicago, the cultures from both were intertwined to perfection.
In an interview with DJ Clue on 105.1, Foreign compared his song with another credible record by Keys and Jay Z, "Empire State of Mind", which is a New York classic. The idea for "City of Gods" was first established by none other than musical genius Ye. When Foreign first received the beat, it was a sample from The Chainsmokers' 2015 song, "New York City". Soon after creating his verse, he shared everything with Ye, who then envisioned a new path for it. Ye not only mixed up the beat, but also encouraged the drill rapper to alter some of his lyrics to further reinforce his message. After adding in his own verse, the only thing missing was the chorus and Ye knew undoubtedly, the one person who could tie this masterpiece together was Keys.
At first I had said 'ain't no King of New York, nobody really in charge' and Ye like 'yo you gotta say you the King of New York, you the one that's in charge.'

Fivio Foreign
Not only did Foreign tribute "City of Gods" to New York City, especially his hometown of Brooklyn, but he dedicated it to his friend and fellow drill rapper, TDott Woo, who was fatally shot soon before the record was released. This tragedy is a prime example of the message behind the passionate lyrics, "New York City please go easy on me tonight. New York City please go easy on this heart of mine." These are more than just lyrics for another hit song but are words that electrify the hearts of so many who experience the same livelihood of violence and crime within their neighborhood.
Kid Flvsh's vision, for the cover art of "City of Gods", was to make a statement with the vibe of New York City, as well as all of the emotions from the song. The drawing is in honor of TDott Woo who mirrored what drill is all about.
According to Foreign, "City of Gods" is what New York sounds like. Therefore, within his second verse he mentions three iconic dances within the Black community that originated from fellow Brooklyn rappers. Foreign paid homage to 2 Milly with the Milly Rock, Bobby Shmurda with the Shmoney Dance, and Pop Smoke with the Woo Walk.
"City of Gods" is a biblical term that refers to Heaven, which is why Foreign chose it to represent the city that means the absolute world to him. Additionally, the drill rapper shares this nostalgia with New York City natives, Nas, and Jay Z, who are viewed as "gods" within the world of hip hop. All-embracing, Foreign knows the massive impact his city holds, regarding the rap legends it birthed.
Throughout the record, Foreign continued to shed light on how much he appreciates love from his city and is always considering ways to improve its livelihood, especially for people of color. Nonetheless, he spoke of its terrors and how to survive them, which correlates to his album title B.I.B.L.E., Basic Instructions Before Leaving Earth.
On Ye's verse he mentions "It's a Sunday Service in Brooklyn", which refers to the time when him along with his gospel group, performed at DMX's Memorial in Brooklyn. Sunday Service was recognized globally after their appearance at Coachella on Easter of 2019.
Ye proceeds with a juxtaposition, "It's the city that come with the lights. I'm with the drillers that come with the night." The first line describes the city that never sleeps, specifically Brooklyn and how it is a city of light. However, the next line emphasizes how dark and gloomy it is at nighttime, considering all the violence that occurs. This topic is nothing new to Ye, as he once bared witness to the crimes of Chicago growing up.
New Yorkers continuously support and respect Ye's music, cultural influence, and commitment to his artistry. Resultantly, every chance Ye receives he praises New York, hence his reference to Frank Sinatra, "I feel like Sinatra in these streets." Sinatra is accoladed with being one of the greatest musicians of the 1900s, which Ye compares to how the world views himself in this generation. Additionally, the 20th century singer once created a record in honor of the city, called "New York, New York".
I'm from the Chi but I'm always New York. In the city, they treat me like Jesus is walkin.

Ye
Although, many claim drill music to be detrimental to the culture and that it supports ongoing violence, Foreign is an advocate of the contrary. In fact, he firmly believes this style of music provides people with the freedom to express themselves and discuss what their ferocious world entails daily. Furthermore, rising to stardom, provides an opportunity for monetary gain, which leads to a better life and keeps more Black men off the streets. Notwithstanding this perspective, he discusses that many artists do not write their own lyrics, and according to Foreign, would make it unjust for laws to be used against them based on the messages relayed.
As a respected voice of this generation, Foreign is currently planning to unify distinguished artists in support of one another to cultivate change. Those he mentioned who were already in agreement are Ye, Jay-Z, Dave East, 2 Chainz, Fabulous, Jim Jones and more. Moving forward, Foreign would love for younger artists to connect and take part in this brotherhood.
Essentially, no matter how much recognition and fame Foreign receives worldwide, he knows that his home will always be right here in the "City of Gods".
"City of Gods" Lyrics
New York City, please go easy on me tonight
New York City, please go easy on this heart of mine

Nigga, this my shit
Welcome to the city of Gods
Pop was the king of New York
Now I'm the nigga in charge
Only the drillers, the city is ours
We found out the opps and we pick 'em apart
I give 'em my time so I give 'em my heart
If the city love me, then I'm really a star
New York City, please go easy on me tonight
New York City, please go easy on this heart of mine
'Cause I'm losing my lover to the arms of another
New York City, please go easy on me

Yeah, look, this is the city of money and violence
Everything we do is gon' come with a challenge
Every bitch you fuck is gon' come with a balance
Every shooter with me is coming in silence
And you niggas better pick a side
You niggas side hoppin'
If I want 'em to not let you come into the city, it's my option
This is the home of the fly shoppin'
This where the bitches gon' watch pockets
When I'm on TV, I gotta look good
'Cause I know the whole block watchin'
If you chill with the opps, we is not vibin'
If I see 'em in person, we Fox 5 'em
Yeah, the police is on us, we not stoppin'
(Yeah, the police is on us, we not stoppin', nah)

This is the town of the big drip (big drip), smooth talk (smooth talk, ha)
Milly Rock (Milly Rock), Shmoney Dance (Shmoney Dance), Woo Walk (Woo)
You will not survive being too soft
Been a long time, we took a new loss
Shooters shootin' 'til we got a new corpse
If we stop then we lettin' it cool off
New York City, please go easy on me tonight
New York City, please go easy on this heart of mine
'Cause I'm losing my lover to the arms of another
New York City, please go easy on me

We went off the grid
We ain't watch the throne, we took it
We went viral on 'em, they lookin'
It's a Sunday Service in Brooklyn
It's the city that come with the lights
I'm with the drillers that come with the night
They ain't do four years in college
But they'll do 25 to life

We make money every night
Never too big of a price
After I buy the Chicago Bulls
Imma go link with Mike
And if I let 'em have my wife, niggas should thank me
With this Balenciaga and Balenci' boots and a new blue Yankee

This is Ye, I'm so focused, throw on a mask, no COVID
Imma turn your life to a meme, let Justin LaBoy post it
You got an album? Postpone it
I drop two and they both going
I got a feeling they in they feelings
They filmin' a show, but won't show it

You gotta watch me in slow motion, I'm in that wide-body Benz
I go back to college, do an album, and then drop out again
Took me a minute to get here, my vision is crystal clear
Ayy, Fivi', excuse me, but this the feature of the year

I feel like Sinatra in these streets
Me and Drizzy, we at peace
This the backpack with the Polo and the first Jesus piece
I'm from the Chi' but I'm always New York
In the city, they treat me like Jesus is walkin'
I been through the pain and all of the torment
I'm sayin' His name, I make that important

Now it's time to give 'em hell
Ask my staff, I pay 'em well
This afternoon, a hundred goons pullin' up to SNL
When I pull up, it's dead on arrival
They act like they love you, they don't even like you
They throw a party, won't even invite you
I seen the same thing happen to Michael

You black and you rich, they sayin' you psycho
It's like a cycle
If you text me anything hype
You better text back and say it's a typo
The city of Gods, no city is like you
This the new New York, Ye is the GOAT
Fivi' is viral and this is the B.I.B.L.E.

New York City, please go easy on me tonight
New York City, please go easy on this heart of mine
'Cause I'm losing my lover to the arms of another
New York City, please go easy on me

Don't leave me, go easy, go easy, go easy
Don't leave me, go easy, go easy, go easy
Don't leave me, go easy, go easy, go easy

New York City, please go easy on me