Brooklyn-based indie rock band Big Thief played an intimate performance to a sold out Kings Theatre on Friday night. This was the first night of two-night residency for the band which has been touring in support of their new double album, Dragon New Warm Mountain I Believe in You, since late-January.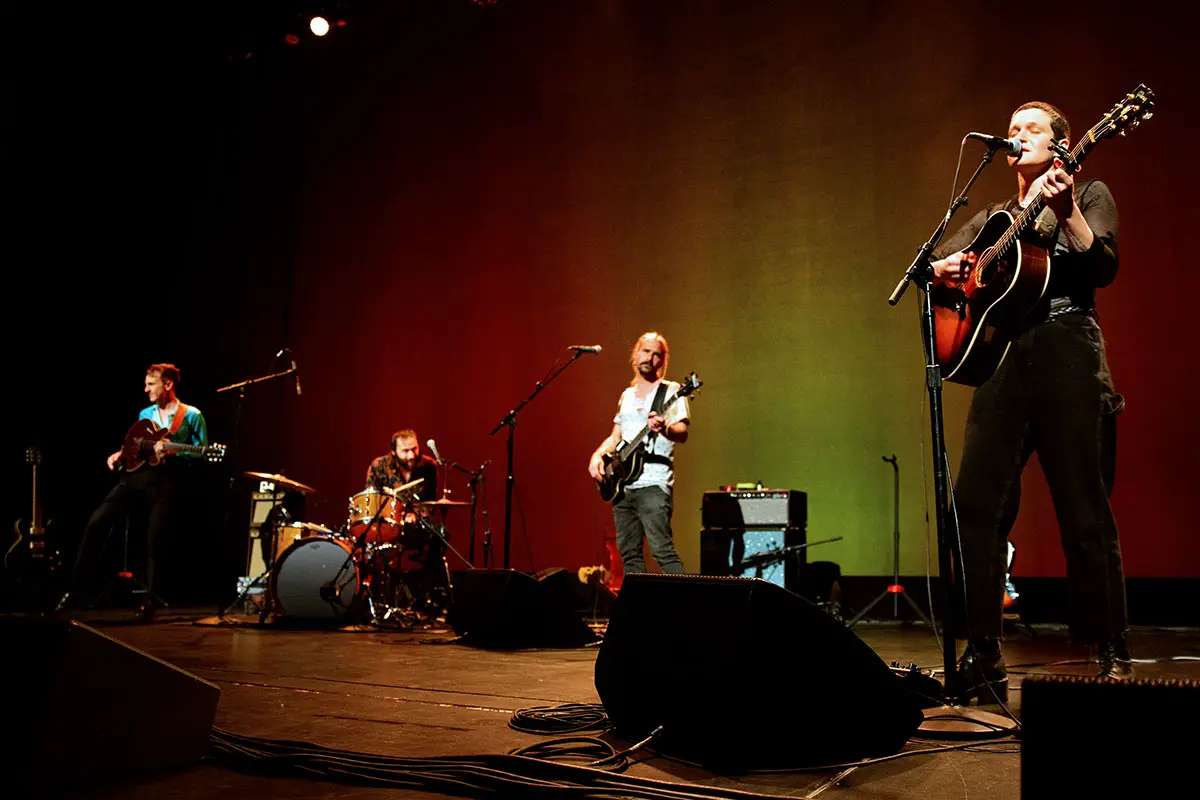 Canadian composer and musician, Kara-Lis Coverdale (K-LC), opened the night with a moody electronic set. K-LC will be on tour with Big Thief for the month of April while they make their way out west for a number of shows going through June.
Big Thief started their set with title track "Change" off of Dragon New Warm Mountain I Believe in You, playing a mix of songs new and old throughout the evening including "Not" and "Certainty". Dragon New Warm Mountain I Believe in You is the indie rock band's fifth studio album which was released February 11, 2022, featuring 20 tracks. In addition to celebrating the recent release of Dragon New Warm Mountain I Believe in You on tour, guitarist and vocalist Adrianne Lenker announced that drummer and producer James Krivchenia dropped his second solo album Blood Karaoke this past week.
The indie rock band took several opportunities to address the crowd during the show, thanking everyone for their support and singing along. One of the most notable moments was guitarist and backing vocalist, Buck Meek, reminiscing about his days spent busking in New York City parks with Lenker a number of years ago to a now sold out King Theatre which seats over 3,000 people.
Another highlight of the evening was Lenker inviting her little brother, Noah, on stage for their last song, "Spud Infinity" where he lends his talents with a jaw harp to add a bit of twang to the track. Meek commented after the song, "I wish we could keep playing all night, but we're actually out of time so goodnight!"
Find Big Thief's Dragon New Warm Mountain I Believe in You anywhere you stream music and watch them perform"Spud Infinity" with the joy of Noah's jaw harp for The Tonight Show here.
Big Thief at Kings Theatre, Friday, April 15 – Setlist
Change, Dried Roses, Certainty, Cattails, Shoulders, Black Diamonds, Forgotten Eyes, Not, Dragon New Warm Mountain I, Believe in You, Sparrow, Simulation, Swarm, Flower of Blood, Secret Side of You (Buck Meek song), Like a Rose (Lucinda Williams cover), Rock and Sing, Happy With You, Shark Smile, Real Love, Spud Infinity (with Noah Lenker)
Thank you all for making it out here…and Kara-Lis Coverdale…take care of yourselves, take care of each other. Thanks for coming. Love you! Bye!"

Adrianne Lenker closing out the night with genuine thank you to all.