We have some big birthdays on the horizon and what better way to celebrate Tom Petty's birthday, than with a documentary film on his life. Somewhere You Feel Free: The Making of Wildflowers reminds us of the true humble being this rock star really was, bringing you a closer look over his incredible career. It's hard to believe that we lost him only four years ago. The theatrical release will, of course, be on Petty's birthday, October 20, featuring a one-night global celebration via Trafalgar Releasing with another encore screening in select cinemas on October 21.
Be sure to be there to get the full experience on the big screen with immersive surround-sound, that is before the YouTube Originals worldwide release. But that'll be later this year for free in full 4K resolution.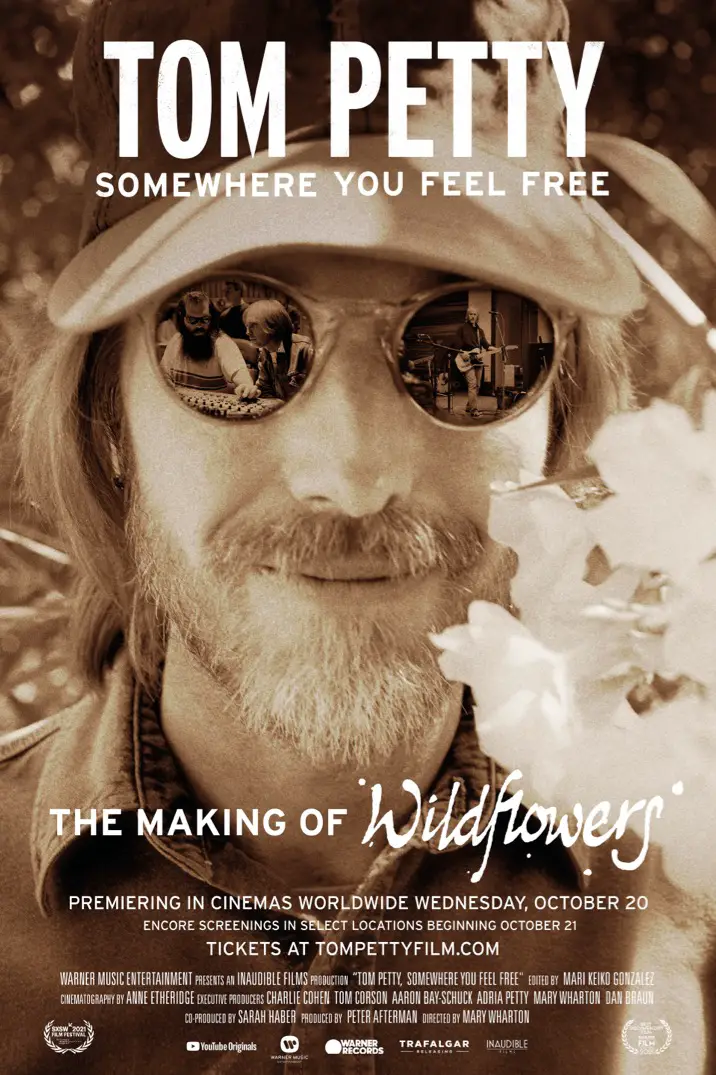 This documentary has so much potential, already winning the Audience Award at SXSW 2021 and Best Documentary Film at the Boulder Film Festival. Director Mary Wharton aimed to please after releasing the critically acclaimed Jimmy Carter: Rock and Roll President, Sam Cooke: Legend, Elvis Lives!, and The Beatles Revolution.  After the gold reissue of Wildflowers & All The Rest from Warner Records, we have been waiting for the second half of Tom's autobiographical masterpiece.
Somewhere You Feel Free: The Making of Wildflowers will almost make you feel like Tom is back and rocking right in the room with you. This documentary will focus on the period of 1993-1995, where, if you forgot, Tom was working with legendary producer Rick Rubin for the first time. You'll see some never-before-seen footage of the boisterous life of a rock and roller and innate genius. Filled with new interviews from album co-producer and Heartbreakers guitarist Mike Campbell along with Heartbreakers keyboardist Benmont Tench, the documentary is waiting to blow you away.
Warner Music Entertainment and Warner Records with Peter Afterman, Mary Wharton, Dan Braun and Adria Petty produced a documentary that will illuminate an insider look on Tom Petty in his height of iconicity.
If you want to hear a little more. Mary Wharton and Adria Petty spoke about the film with rock author/journalist David Fricke on SiriusXM's Tom Petty Radio. Tickets can be found here